NBA Rumors: Patrick Ewing Would Be Ideal Coach for Charlotte Bobcats
April 6, 2017
Brett Deering/Getty Images
New York Knicks legend Patrick Ewing has been an assistant coach in the NBA for nine years, working with the likes of Yao Ming and Dwight Howard. Now he wants to be a head coach, and one of his good buddies happens to be in the market for one.
Michael Jordan bought majority ownership of the Charlotte Bobcats in February of 2010. The team was decent in 2010-2011, but then set an all-time low for ineptitude with seven wins in 2011-2012.
Take that in for a second and realize how utterly terrible that is; let the wave of awfulness wash over you as you realize they lost 23 straight games to close the season; understand just how bad a team has to be to lose 59 of 66 games in a given year. Heck, MJ could probably win seven games by himself still today.
Now take a second and realize that it cannot get any worse for MJ's Bobcats—seven losses in a season is truly rock bottom as no team has ever fared worse.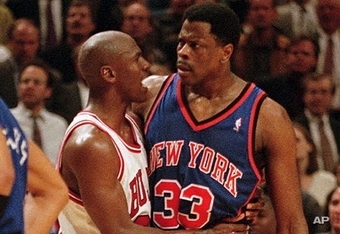 Things can only go up from here, and it starts with the hiring of their new coach. MJ doesn't have to look far to find the right guy, in fact, he knows him extremely well, starred in a movie with him and...oh yeah, used to play against him regularly in the playoffs.
There is a lasting, mutual respect between MJ and Ewing that goes back deep into their playing days. It would be fitting if the two, who were well known for carrying their teams in their day, came together to help lead the Bobcats out one of the most dismal displays of basketball the league has ever seen.
According to the Marc Berman of the New York Post, it's not just a possibility, but actually has a "good chance" of happening. Berman writes:
If Ewing is going to land a head-coaching job in the near future, this could be his best shot as the friendship and mutual respect he shares with Bobcats owner Michael Jordan can't be overstated. The interviews are being conducted by president Rod Higgins and general manager Rich Cho, but Jordan is expected to make the final call.

One person familiar with the situation said this was hardly a courtesy interview, that Ewing has a "good chance'' of being Paul Silas' successor.
Jordan's decision-making as an owner has been questioned before, but he's playing with house money (something he knows plenty about) after the Bobcats set a league record for lowest winning percentage in history.
This team is still in the infant stages of Jordan's care and Ewing would be a first-time head coach. There is no better opportunity for MJ to gamble on a guy he knows and trusts despite having no previous head coaching experience.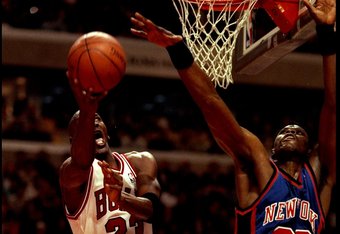 Doug Pensinger/Getty Images
The Bobcats roster boasts two genuine seven-footers and a promising young big man in Bismack Biyombo. Ewing would obviously have charge over the whole team, but if there is anyone that can teach Bismack about playing in the NBA it's the "Big Fella."
Jordan has nothing to lose here because there are absolutely no expectations for this team. They're likely going to land a top three pick this season, giving them three lottery players in the last two years alone, and the only direction they can go in is up.
MJ is the first ever former player to own an NBA team outright, so why not be the first to give Ewing, a Hall of Fame big man, the chance to lead his franchise?
There is too much good that can come of this to not give it a shot.