Spurs vs. Clippers: Game 3 TV Schedule, Live Stream, Spread Info and More
May 18, 2012

Steve Dykes/Getty Images
For the second consecutive game in this series, the Los Angeles Clippers put up a fight for a half, but ultimately were blown out by the San Antonio Spurs, as the Spurs took a commanding 2-0 lead in their second round series.
Heading back to the Staples Center for Game 3, can the Clippers slow down this San Antonio juggernaut that's now won 16 games in a row and 27 of their past 29?
Thursday's 105-88 victory marked the 13th time in the past 16 games that San Antonio has won by double-digits, as there is absolutely no sign of Gregg Poppovich's team slowing down anytime soon.
One thing that's for sure is if the Clippers are to have any chance of winning Game 3 they must get better production from their two stars: Chris Paul and Blake Griffin.
Paul struggled shooting the ball for the second consecutive game, scoring only 10 points on 4-of-9 shooting. For the series, the All-Star point guard has scored only 16 points and has made only 7-of-22 shots from the floor.
Griffin, on the other hand, despite scoring 20 points in Game 2, grabbed only one rebound on the night in 37 minutes of playing time. 
That can't happen again for the Clippers to have any shot at getting back into the series.
For the Spurs, not many adjustments are needed as they look like a team that may not lose a playoff game for awhile.
San Antonio's outstanding depth has proven vital as through six postseason games, the Spurs have nine different guys averaging over 7.2 points per game. If the Clippers try and take one guy out of the game, someone else will step up and get the job done.
With that being said, let's take a look at everything you need to know for Game 3 of this Western Conference playoff matchup.
When: Saturday, May 19 at 3:30 p.m. EDT
Where: Staples Center in Los Angeles, California
Watch: ABC
Live Stream: None
Betting Line: San Antonio (-5)
Spurs Key Injuries (Per ESPN)
No Injuries Reported
Clippers Key Injuries (Per ESPN)
No Injuries Reported
What They're Saying
After Game 2, the defensive job by San Antonio point guard Tony Parker drew rave reviews from teammates and journalists alike. Parker's teammate Manu Ginobili was especially complimentary, saying (per ESPN):
"Tony set the tone," Ginobili said. "It was very aggressive and always in front of him, not getting screened. When he plays that kind of defense, he's really contagious. He makes us all better. He was fantastic."
That's a bad omen for the Clippers chances the rest of the series as ESPN's Pedro Moura feels that if Paul doesn't improve his play, San Antonio will finish off the clippers very soon.
The Los Angeles Clippers are going to get swept by the San Antonio Spurs if Chris Paul keeps playing the way he has so far this series. That's the truth of the matter. ... San Antonio is too good, too complete of a team. And the Clippers are too flawed, especially without a full-strength Paul in their arsenal. The question that's going to determine how soon their season ends, then, is whether or not it's possible Paul can be at full strength by Saturday afternoon's Game 3 in Los Angeles. He's still being bothered by the strained right hip flexor he suffered in Game 5 of the Clippers' first-round series against the Memphis Grizzlies.
Most Important Player to Watch: Chris Paul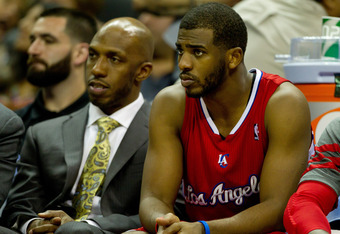 Justin Edmonds/Getty Images
I hate to keep harping on the play of Paul, but he's that important to any success the Clippers could possibly have.
As good as a facilitator as Paul is, the Clippers are a better team when he's looking for his shot. 
Nine attempts from the floor won't cut it and while he's been bothered by Parker and the rest of the Spurs defense, Paul is going to have to find a way to come through with a big game.
Key Matchup: Tim Duncan vs. Blake Griffin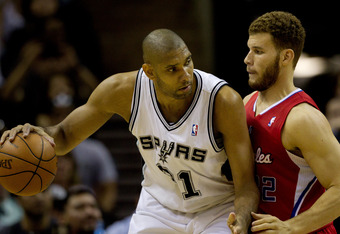 Justin Edmonds/Getty Images
Maybe I should have said the Spurs bigs vs. the Clippers bigs, but I want to look at the veteran Duncan's production compared to the second-year pro in Griffin.
The two aren't matched up head-to-head exclusively, but Griffin could still learn a lot from the future Hall of Famer Duncan.
So far this series, the crafty Duncan has averaged 22 points and 7.5 rebounds, compared to the 17.5 and 5.0 Griffin has averaged. I respected Griffin's effort for gutting it out through pain, but not only do the Clippers need much more from him on the offense end, but on the defensive end as well.
If the Clippers allow Duncan to match the numbers he's put up so far and if Griffin is a non-factor rebounding the basketball, then they have no chance.
Prediction
Spurs 99, Clippers 91