Are the New York Jets Setting Up Mark Sanchez to Fail?
May 18, 2012

Al Bello/Getty Images
What on earth is going on with the New York Jets?  I hardly ever agree with Stephen A. Smith, but he is absolutely right.  The fix is in for Mark Sanchez.  In case you haven't been paying attention to the brewing drama that is happening in Florham Park, let me bring you up to speed.
The Jets acquired Tim Tebow from the Broncos in March.  Their spin was he would be Sanchez's back up and run the wildcat, handling the ball approx 20 snaps per game.  In other words 1/3 of the snaps.  Setting aside how stupid that is, the Jets also claimed that they could use his football skills in other situations.  Like maybe on special teams.
And then there was this.  Who holds a press conference for a backup quarterback? 
Which brings us to this week.  For some reason, the previously rarely-heard from Jets QB coach Matt Cavanaugh gives an interview where he flat throws Sanchez under the bus.  Which is interesting for a couple of reasons.  First of all, why is Cavanaugh speaking for the team?  Shouldn't it be Rex Ryan or Tony Sparano?  Second, it is mindbogglingly dumb to criticize Sanchez's performance when you are his QB coach.
As if that wasn't enough, two days later, Cavanaugh gives another interview where he glowingly describes Tebow's greatly improved mechanics and footwork.  That is laughable on so many levels. 
First, a little history.  Malcolm Gladwell wrote a book called Outliers.  One of the ideas explored in the book is that it takes about 10,000 hours of repetition (practice) to master one's trade at a very high level.  In other words the actions become such a part of your muscle memory that you can do them correctly automatically.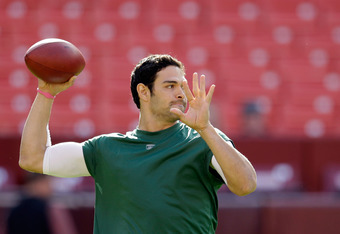 Rob Carr/Getty Images
I think the opposite it just as true.  If you've been doing something the wrong way for a very long time, it is tremendously hard to break those habits.  Tebow's mechanics and footwork are awful.  That is fact.  But Tebow earnestly says that he has spent the off season working on his mechanics.  That is true.  It was at UCLA with the assistance of Noel Mazzone(coincidentally a former Jets coach. Hmmm.) And apparently, the only reps he has taken in  practice have been at QB.  Nothing on special teams.  (Fascinating side note—Tebow claims nobody has talked to him about special teams.  Mike Westhoff says otherwise.  You decide)
And now he looks "great" at practice with his new team.  I'm sure he does.  But I'm not buying this line the Jets are selling. 
Here's why.  When Tebow was getting ready for the NFL Draft, the scouting report on him was just what you'd think:  good teammate, great leadership skills, winner, awful mechanics.  So, Team Tebow, in an effort to improve his draft status (read: not get drafted as a fullback) publicly spent a great deal of time working on his mechanics.  There was even an ESPN special about it.  But the second the real bullets started flying in games with the Broncos, all that went out the window.  Watch some film if you don't believe me.  I have no reason to believe that will change.
As if all that wasn't enough, now we have the new Jets offensive line coach Dave DeGuglielmo (imported from Miami)  gushing over how great the line is with a specific emphasis on how he thinks Wayne Hunter is the best right tackle ever.  What?!  This is the same guy who was a human turnstile last year, almost got Sanchez killed, and the Jets tried to trade in the offseason.   Doesn't it tell you something that no one would make the deal?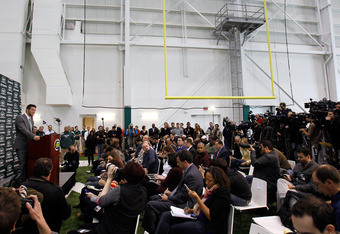 Mike Stobe/Getty Images
By the way, Tebow throws lefty.  This is the guy they are counting on to protect his blind side.
The collective spin is so laughable that it is embarrassing. 
I feel bad for Nacho.  The conventional wisdom is that if he plays well he'll keep his job.  Except I think the Jets have already set him up to fail.  They still have a huge problem on the right side of the line.  And Mario Williams is in the division now.  Guess who the Jets play first?  The Buffalo Bills.  Nacho spent his off season adding muscle and bulk and directly attributed it as a hedge against the brutal hits he knows he'll take again this season because nothing has changed with the line. 
Prediction:  no matter how Sanchez plays Week 1, Tebow starts game two against Pittsburgh.  After all, he beat them in the playoffs and Sanchez never did that.  I don't think Rex Ryan will be able to withstand the impassioned pleas for Tebow to start coupled with what looks to be his own Texas-sized bromance crush on Tebow.
Actually, the way that the Jets seem to be setting things up in the media, I will not be the least bit surprised if prior to training camp, Ryan declares that there will be an open competition at quarterback. 
I don't even have to tell you who would win that.  The Jets want Tebow to start.  It's going to happen.
I'm sorry Mark.  You deserve better than this shabby treatment.  And maybe by the time the Patriots crush the Jets in Week 7 (like they have every time they have faced Tebow) the calls for you to return under center will give you some measure of redemption.
Until then, we'll all just have to wait and see.