NFC North: Green Bay Packers' Much-Too-Early Preview
May 18, 2012
2011 Record: 15-1
Fresh off their Super Bowl XLV victory, the Green Bay Packers won their first 13 games in 2011.
They finished the regular season with a 15-1 record and entered the playoffs as the No. 1 seed in the NFC.
All was great in Packer Country.
After the fourth-seeded New York Giants dominated the fifth-seeded Atlanta Falcons, Eli Manning and company headed to Green Bay to play the Packers at frigid Lambeau Field. As dominant as league MVP Aaron Rodgers was throughout the regular season, the Giants' defense held him below his usual numbers.
Dropped passes and leaky pass protection plagued the offense, while the defense failed to generate any pass rush, allowing Eli Manning to throw for 330 yards and three touchdowns.
While the 15-1 Packers were arguably the best team in the league all season, they were one-and-done in the playoffs.
The Packers were stunned. Green Bay was silent.
Entering the offseason, the Packers had several glaring needs on defense, and GM Ted Thompson used the draft to address these holes. After selecting USC outside linebacker Nick Perry with his first-round pick, Thompson uncharacteristically traded up twice in the second round to select Michigan State defensive lineman Jerel Worthy and Vanderbilt cornerback Casey Hayward.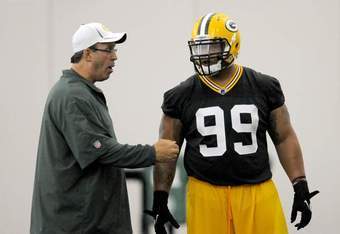 On the edge of Green Bay's 3-4 scheme, the Packers were desperate for a pass-rushing complement to Clay Matthews.
Thompson's solution? Perry.
When Cullen Jenkins left Green Bay for Philadelphia last offseason, the Packers had an undeniable need for an interior pass-rusher.
Jenkins's replacement? Worthy.
After releasing three-time Pro Bowl safety Nick Collins due to concerns about his neck, Green Bay may be forced to do some shuffling of its defensive backs.
If Charles Woodson sees some time at safety, who could take his spot at cornerback? Hayward.
On paper, it appears that Ted Thompson knocked the ball out of the park in the draft by adding three players capable of making an immediate impact. The Packers clearly weren't comfortable with the personnel already on their roster, so they looked elsewhere to address their defensive line, linebacking corps and defensive backfield.
Check, check, check.
Heading into 2012, Green Bay hopes to have an improved defensive unit to go along with its elite, high-powered offense.
Early 2012 Prediction: 13-3 (1st in NFC North)
Although the numbers suggest that Packers had the league's worst defense in 2011, Green Bay has too many good players to be considered a bad defense.
Charles Woodson's performance as a pure cover cornerback has been on the decline in recent years, but his instincts continue to make him an invaluable asset to Green Bay's aggressive defense. Woodson's bookend at cornerback, Tramon Williams, also took a step back in production last season after a Pro Bowl-caliber 2010 campaign.
Like Williams, the Packers are counting on Sam Shields to return to his 2010 form. Shields and second-round pick Casey Hayward will be heavily relied upon in the likely event that Woodson, at least temporarily, kicks inside to play safety.
Despite Clay Matthews registering a career-low six sacks last season, he still graded out in the top five 3-4 outside linebackers according to Pro Football Focus—just ahead of Pittsburgh standout James Harrison.
In the past three seasons, Green Bay's defense has consistently been significantly worse when Matthews is off the field, and the Packers figure to be less reliant on him with fellow USC alum Nick Perry now in the fold.
Despite a unit up front that struggled for the majority of 2011, the Packers hope that by adding Worthy to the defensive line, B.J. Raji will be able to return to his 2010 form by way of a lower snap count.
As the league continues its push towards being a full-blown aerial assault, elite quarterbacks are more valuable than ever. Regardless of how well or poorly the defense plays this season, quarterback Aaron Rodgers and his plethora of weapons will be enough to win a lot of games.
The Packers have every type of weapon you can imagine on offense—vertical threats on the perimeter in Greg Jennings and Jordy Nelson, starting-caliber reserves in Donald Driver and James Jones, an athletically elite tight end in Jermichael Finley and an emerging star in the slot in Randall Cobb.
However, while Green Bay's offense appears more than capable of outscoring teams in a shootout, defense always proves to be a deciding factor in determining the fate for contenders in December and January.
Green Bay's shortcomings on defense trumped its stellar offense and ended the Packers' playoff run before it even got started last season, and they now appear to be better prepared defensively for a deep postseason run in 2012.