Stanley Cup Finals 2012: 20 Best Players to Never Win a Stanley Cup
Jim McIsaac/Getty Images

One of the ways we judge NHL superstardom is by the number of times a player has his name engraved on the Stanley Cup. In a team sport, that's not totally unfair, but it can be a bit misleading when considering the greatness of an individual player.
There are many things that can conspire against an individual player and prevent him from ever lifting the Stanley Cup. Injury, the team he is drafted by, the ability of that team to surround him with solid teammates, unfortunate trades and bad decisions at free agency can all hold a player back.
Not every player can have the good fortune of Henri Richard (11 Cups). What follows is a tribute to the top 20 players to never lift the Cup overhead.
Begin Slideshow

»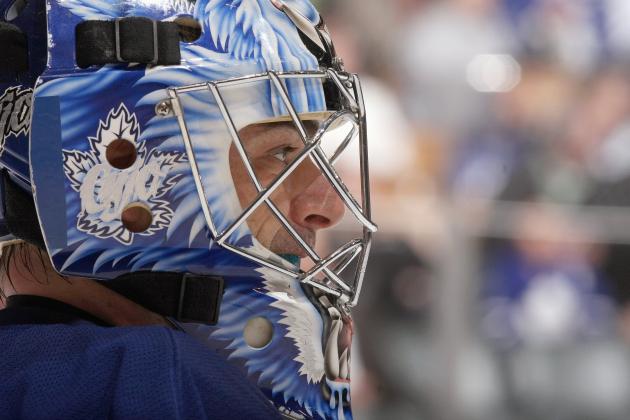 Dave Sandford/Getty Images

Curtis Joseph had a long and successful NHL career, beginning in 1989-90, when the undrafted goaltender made his debut with the St. Louis Blues. In all, Joseph would play for the Blues, Edmonton Oilers, Toronto Maple Leafs, Detroit Red Wings, Phoenix Coyotes and Calgary Flames, racking up 943 regular season games, putting together a winning record of 454-352-90.
The playoffs did not treat Joseph as kindly as the regular season, and through 132 games, his record was below .500, at 63-66.
While Joseph would play on some teams that had success on international ice, most notably the 2002 Olympic Gold Medal team for Canada, he would never win a Stanley Cup in his almost 20-year NHL career.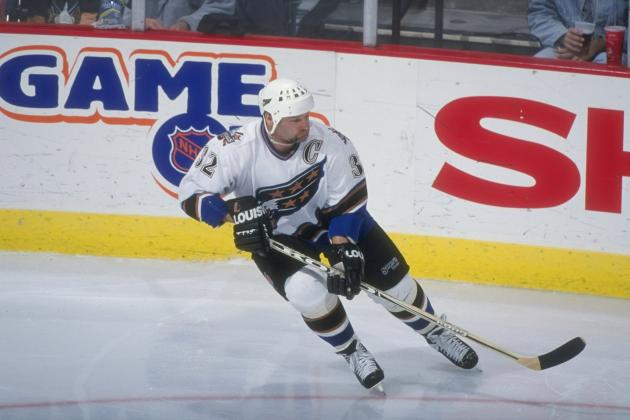 Al Bello/Getty Images

If you ask someone about Dale Hunter's reputation as a player, the first words that usually come up are tough and, often, dirty.
One word that does not often get mentioned is talented, and that is a shame. Hunter played in 1,407 career regular season games, and the number that most people will mention as what defines those games is the 3,565 penalty minutes he ran up during that time.
What often gets forgotten is that he also scored 1,020 points, and while he played over 1,000 games, you don't put up that many points without having some sort of talent.
During his NHL career, he spent time with the Quebec Nordiques, Washington and the Colorado Avalanche, playing in 186 career playing games and scoring 118 points. He would play for the Cup only once during that time, making it to the Finals in 1998, where his Capitals were swept by the Detroit Red Wings.
The story on how Peter Stastny came to join the Quebec Nordiques as a 24-year-old player is the stuff of legends. How he and his brother, Anton, defected from Czechoslovakia is an incredible story that if you are unaware of it, you should find it right now. It's an almost unbelievable tale better suited to a politician escaping a country than a hockey player.
As a rookie, Stastny scored 109 points for the Nordiques. He would follow that up by scoring a career high of 139 points in his sophomore season.
Like many players on this list, Stastny never had the deepest talent pool around him during his time in Quebec, New Jersey and St. Louis.
Stastny finished his career playing in 977 regular season games, scoring 1,239 points. As far as his playoff accomplishments, he played 93 games in the postseason, totaling 105 points.
Until the recently-retired Nicklas Lidstrom entered the NHL, Borje Salming was known as the best defenseman to ever come out of Sweden. To this day, he remains ranked near the top of any list naming the best Swedish NHL players to ever step on the ice. In 1996, he became the first Swedish player to enter the Hockey Hall of Fame.
For all his talents, Salming was only one player, and the team he played for, The Toronto Maple Leafs of the 1970's and 80's, needed a lot more than one player to contend. Due to that fact, Salming only played in 81 playoff contests, never getting past the second round.
Salming would play one season with the Detroit Red Wings before retiring with 1,148 regular season games to his name.
For a generation of Toronto Maple Leafs fans, Mats Sundin was the player that best represented the team. Sundin came to the Leafs in a trade with the Quebec Nordiques; the deal sent Sundin, Garth Butcher, Todd Warriner and a first-round pick to Toronto in exchange for Wendel Clark, Sylvain Lefebrve, Landon Wilson and a first-round pick.
The lockout of the 1995 season delayed Sundin's start with the Leafs, but from the first moment he donned the blue and white sweater, he had an impact, averaging a point per game in that shortened season. In his next season, he would put up 83 points, and from that point on, he never scored less than 72 points during his tenure with the Leafs.
Through 13 seasons in Toronto, Sundin took the team to the playoffs a total of eight times, never advancing past the Eastern Conference Finals.
Sundin would spend the last season of his career with the Vancouver Canucks, closing out his time in the NHL with 1,349 points in 1,346 regular season games. As far as the playoffs were concerned, he played 91 games, netting 82 points.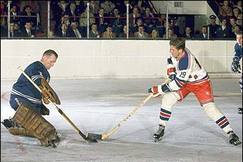 Jean Ratelle was another one of those vastly talented players that just couldn't catch a break, playing for the New York Rangers and Boston Bruins during some of the leaner times for those franchises.
Ratelle played 1,281 regular season games for the two teams and scored at nearly a point per game average during his time in the NHL, netting 1,267 points. While his average in the playoffs was lower, scoring 98 points in 123 games, those totals are not to be overlooked.
While Ratelle would never win a Cup, he would earn individual accolades, most impressive being his 1972 run, when he won the Lady Byng and the Lester B. Pearson Awards.
Gilbert Perreault played his entire career with the same team, the expansion Buffalo Sabres. Perreault was an immensely talented player and, along with linemates Rick Martin and Rene Robert, formed one of the most feared lines of the 1970's, "The French Connection."
In 1975, each member of that trio finished in the top 10 in league scoring, with all three topping the 95-point mark. They then ran the team all the way to the Stanley Cup Finals, where they were stopped by the "Broad Street Bullies" edition of the Philadelphia Flyers. That would be Perreault's only chance at the Cup.
When his 17-year NHL career came to a close, he had played 17 seasons, scoring 1,326 points in 1,191 regular season games and adding 103 points in 90 playoff games.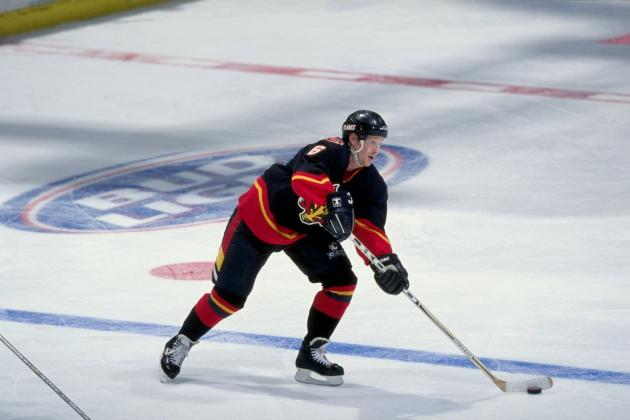 Donald Miralle/Getty Images

When one runs down the list of the highest scoring defensemen of all-time, they surely remember Ray Bourque, Paul Coffey, Nicklas Lidstrom, Denis Potvin, Chris Chelios and Bobby Orr, but in that group are a few players that often get overlooked. Among that group of forgotten stars is Phil Housley, a player that ranks fourth all-time in regular season scoring for defensemen, racking up 1,232 points over a career that spanned 1,495 games played.
One reason that Housley is "forgotten" is his lack of individual accolades, never being named to a postseason All-Star team and never winning a Norris Trophy. Another reason that Housley is often passed by is due to the fact that he never won a Stanley Cup; in fact, he only played 85 playoff games over the course of his 23-year NHL career, and 18 of those came in 1998, when he made it to the Cup Finals with the Washington Capitals, only to be swept by the Detroit Red Wings in four games.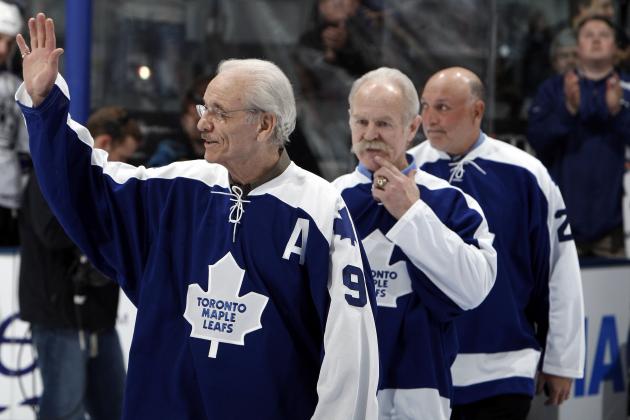 Abelimages/Getty Images

Norm Ullman began his NHL career in the Original Six era, breaking in with the Detroit Red Wings during the 1955-56 season, and when his NHL career came to a close in 1975, he had played in 1,410 regular season games and accumulated 1,229 points while adding 106 games and 83 points in the playoffs. During that time, he never received the pleasure of lifting the Stanley Cup overhead.
Glancing at the list of Stanley Cup winners, it seems as if Ullman had some bad luck during his career. Between 1950 and 1955, the Red Wings won the Cup four times. During his time with the team, from 1956 through 1968, they finished as runner-up five times.
Ullman then joined the Leafs for the 1968 season. From 1962 through 1967, that club lifted the Cup four times, with the last coming in 1967, again the year before Ullman joined the club.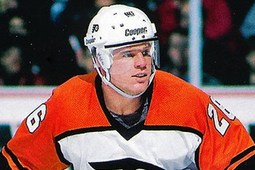 The Philadelphia Flyers fans love their alum, and Brian Propp, who played parts of 11 seasons with the Flyers, is definitely among that group of beloved former Flyers.
Propp was selected by the Flyers with the 14th pick in the 1979 NHL entry draft. He then made his debut during the 1980 season, scoring 75 points. Propp's most successful regular seasons were the 1985 and 1986 campaigns, scoring 97 points in each season.
For most of his career, the left winger was criticized for his lack of playoff success, but in 1987, he put together an excellent postseason, racking up 28 points in 26 games. Alas, Propp and the Flyers would fall to the Edmonton Oilers that year in seven games.
All told, Propp had five appearances in the Cup finals, three in Philly, one in Boston and one in Minnesota, but he never played on a Cup-winning club.
If you ask a fan of the Toronto Maple Leafs to name their top 10 favorite Leafs players of all-time, one of the names that will likely end up near the top of every list is Darryl Sittler.
Sittler was the No. 8 draft pick in the 1970 NHL entry draft. In his first two years with the team, he scored 18 and 32 points. In his third year, he took off, scoring 77 points and never going below that number until 1984, when he scored 63 points for the Philadelphia Flyers.
Leafs teams that Sittler played for made the playoffs 10 times, but never made it to the Cup finals.
Sittler would retire having played for the Leafs, Flyers and Detroit Red Wings, playing a total of 1,096 NHL regular season games and scoring 1,121 points. His playoff numbers added 76 games and 74 points.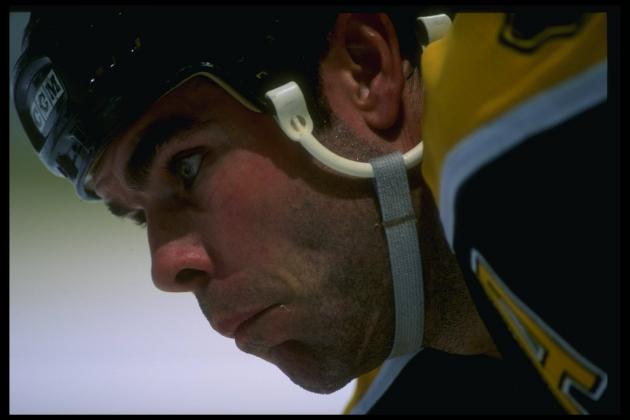 Glenn Cratty/Getty Images

It's hard to believe, but Adam Oates, the man that would finish his NHL career with 1,337 regular season games and 1,420 points, went undrafted, inking a free-agent contract with the Detroit Red Wings. Oates would play for the Wings for parts of four seasons before being moved to the St. Louis Blues with Paul MacLean in exchange for Bernie Federko and Tony McKegney.
It was with the Blues that Oates flourished. Oates was teamed up with Brett Hull, and during their time together, they became one of the most feared duos in the NHL, with Oates dishing the puck to Hull, who, more often than not, would score a goal upon receiving the pass from his teammate.
From there, Oates would spend time in Boston, where he would score 142 points during the 1993 season, putting him behind only Mario Lemieux and Pat LaFontaine in the scoring race.
Following his time in Boston, he would move to the Washington Capitals for parts of six seasons before bouncing to the Philadelphia Flyers, Anaheim Ducks and Edmonton Oilers.
Oates' playoff scoring was almost as prolific as his regular season scoring, as he scored 156 points in 163 postseason games.
Mike Gartner was one of the most consistent players in the history of the NHL. Gartner, the fourth-overall pick in the 1979 NHL entry draft, would spend 19 years in the NHL playing for the Capitals, Minnesota North Stars, New York Rangers, Toronto Maple Leafs and Phoenix Coyotes. In that time, he scored 30 or more goals in 15 consecutive seasons, a record that he shares with Jaromir Jagr.
In total, Gartner scored 708 regular season goals, placing him among elite company, as only Wayne Gretzky, Gordie Howe, Brett Hull, Marcel Dionne and Phil Esposito scored more goals than Gartner.
For all his talent, Gartner unfortunately did not play on the most talented teams, making the playoffs in 15 seasons, but never getting to the Stanley Cup Finals.
When Gartner retired, he had played in 122 playoff games, scoring 93 points.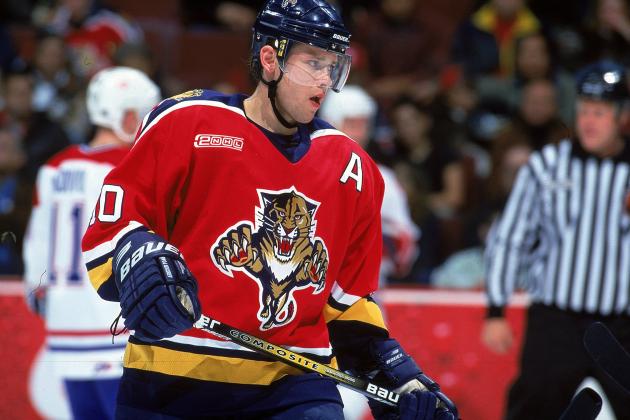 Robert Laberge/Getty Images

Pavel Bure, the man known as "The Russian Rocket," had a painfully short NHL career, competing in only 702 regular season games. He was a player that you couldn't keep your eyes off of when he was on the ice, tearing through the opposition on his way to the net with speed and skill that had few rivals.
Knee injuries cost Bure his career and possibly prevented him from realizing his dream of winning a Stanley Cup. Had he remained healthy, there's no doubt he would have been on of those players that teams pursue for the specific reason of making a run at the Stanley Cup.
Bure made it to one Cup Final. In 1994, his Vancouver Canucks were stopped in seven games by the Mark Messier-led New York Rangers, but it wasn't due to lack of effort on Bure's part. He led the playoffs with 16 goals that year and added 15 assists to finish second to the Rangers' Brian Leetch in scoring. Leetch totaled 34 points that season on his way to the Conn Smythe Trophy.
Dale Hawerchuk, the first-overall pick in the 1981 NHL Entry draft, heard his name mentioned in the same sentence as Wayne Gretzky when he entered the NHL. When he scored 103 points in his rookie season, those comparisons seemed to be justified.
The problem for Hawerchuk was that during his prime, he never had the talent surrounding him like Gretzky did in Edmonton, or even in Los Angeles, a fact that made it easy for the opposition to hone in on the talented player that went by the nickname of "Ducky."
Hawerchuk would play in the Stanley Cup Finals once, as his Philadelphia Flyers were swept by the Detroit Red Wings in 1996-97.
Through his career he would score 1,409 points in 1,188 regular season games. In the playoffs, he was also a point per game player, playing in 97 games and scoring 99 points.
Eric Lindros was one of the first players tagged as "The Next One," a moniker that we know by now is impossible for anyone to live up to. But there he was, a man among boys at the 1991 NHL entry draft, where he was selected by the Quebec Nordiques with the first overall pick.
Lindros had informed the Nordiques that he would not play for the team if they drafted him, and he stayed true to his word, forcing the Nordiques to trade him to the Philadelphia Flyers for a plethora of players, including the Flyers' draft pick in 1991, Peter Forsberg, along with $15 million in cash.
The trade provided the Flyers with a star that many felt would lead them to a Stanley Cup, but that never came to be. Lindros packed arenas wherever he played, but in Philly, his injuries and the influence his family held over him created a contentious relationship with team general manager Bob Clarke.
Lindros' time in Philly came to an ugly close, with him sitting out the 2001 season before the team dealt him to the New York Rangers for Jan Hlavac, Pavel Brendl, Kim Johnsson and a draft pick.
The Lindros trade had some positive sides, but those were mostly business-related, as the trade never produced the desired Stanley Cup.
Lindros would retire from the NHL having played 760 regular season games, scoring 865 points. His playoff totals were 57 points in 53 games.
Brad Park was selected by the New York Rangers as the second pick in the 1966 NHL entry draft. Unfortunately for him, that team was in the midst of a long lasting Stanley Cup drought. The Rangers made it to the Finals in the 1972 season, but the team fell to the Bobby Orr-led Boston Bruins in six games.
Park would move to the Bruins during the 1976 season, making it to the Cup Finals in 1977 and '78, but the team fell short, losing to the Montreal Canadiens in both series.
Park was extremely talented, but he had the unfortunate honor of playing during the Orr era, finishing second to Orr in four seasons for Norris voting. He also finished second behind Denis Potvin on two occasions.
Park's 896 regular season points rank him as the 13th-highest scoring defenseman in NHL history.
Cam Neely finally got his name on the Stanley Cup in 2011. Sadly, it was not as a player, but as the president of the team he had his most success with as a player, the Boston Bruins.
Neely was drafted by the Vancouver Canucks with the ninth pick in the 1983 draft, spending three years with the Canucks before he was traded along with a draft pick to the Boston Bruins for Barry Pederson.
In his first year with the Bruins, Neely exploded, scoring 72 points, coming close to doubling his previous high of 39. While with the Bruins, he would develop into the prototypical power forward, the player that could not only fight and deliver huge body checks, but could score. Neely created the mold that players like Brendan Shannahan and Eric Lindros would make more famous.
As a member of the Bruins, Neely would make it to the Stanley Cup Finals twice, but he would never lift the Cup as a player. Injuries plagued his career, and he retired early, playing only 726 regular season games in his career, scoring a total of 694 points. For his playoff numbers, Neely played in 93 games and scored 89 points.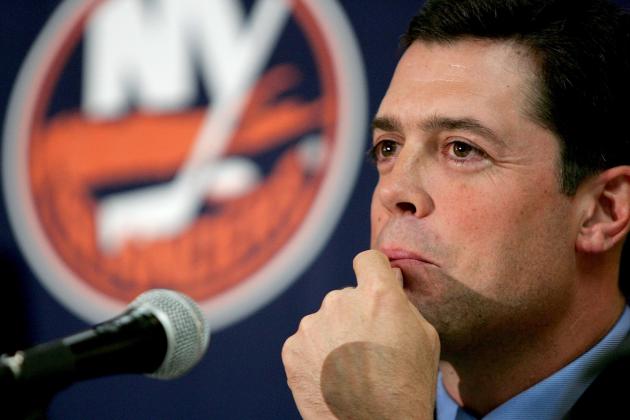 Mike Stobe/Getty Images

At the 1983 NHL entry draft, the Minnesota North Stars and Hartford Whalers had the first and second picks. The North Stars chose first and selected Brian Lawton; the Whalers picked second and walked away with Sylvain Turgeon. If those teams had to do things again, they may have selected the players that went in the three and four spots. Pat LaFontaine went to the New York Islanders at No. 3, while Steve Yzerman went to the Detroit Red Wings at No. 4.
LaFontaine would make one trip to the Stanley Cup finals, as his Islanders fell to the Edmonton Oilers in five games during the 1984 finals. He would never again skate in the Stanley Cup Finals.
LaFontaine was an immensely talented player that played for the Islanders, Buffalo Sabres and New York Rangers before concussions put an early end to his career. When he retired, he had played in 865 regular season games and scored 1,013 points. For his playoff career, LaFontaine competed in 69 games and put up 62 points.
He retired as one of the greatest American-born players in NHL history.
Marcel Dionne was the second pick of the 1971 entry draft. The only player drafted higher than him was Guy Lafeur, who went to the Montreal Canadiens. Sadly for Dionne, he was chosen by the Detroit Red WIngs, who were nowhere near the juggernaut they are today.
Dionne spent four years with the Wings before signing a five-year free-agent deal worth $1.5 million with the Los Angeles Kings. He would play parts of 12 seasons with the Kings, making the playoffs in eight of those years, but never advancing anywhere near the Stanley Cup Finals.
Dionne would spend his final years in the NHL with the New York Rangers, making the playoffs once in three years.
In all, Dionne played 1,348 regular season games in the NHL, scoring 731 goals and adding 1,040 assists while only playing a total of 43 playoff games.
The man drafted in front of him, Lafleur, would play fewer regular season games and score fewer regular season points, but when it came to the playoffs, Lafleur towered over Dionne, playing 128 games and scoring 134 points while seeing his name etched on the Stanley Cup a total of five times.