WWE Over the Limit 2012: Predictions for PPV Card's Secondary Matches
May 18, 2012

While most of the focus ahead of Over the Limit has been on the card's three marquee matches, there are three other encounters that shouldn't be overlooked. After all, for a WWE pay-per-view to succeed, the entire lineup has to shine.
With that in mind, let's talk about the three matches that not many people are talking about leading up to Sunday night and make predictions for each of them. It should be a good show, as the company looks to regain some of the momentum it lost since WrestleMania.
Kane vs. Zack Ryder
In a rare example of extended storyline continuation, Zack Ryder and Kane will battle on the pre-show. Ryder suffered multiple kayfabe injuries at the hands of Kane a couple of months ago and has never been given another push.
For whatever reason, it appears the company has completely lost faith in Ryder. He became a fan favorite after creating a YouTube show where he frequently referenced the WWE not giving him a chance, but nothing has come of it after a brief United States title run.
Even though Ryder needs a victory more than Kane, I fully expect the "Big Red Monster" to come out on top. His booking since returning with the masked gimmick has been spotty, but he's had a better build than the "Long Island Iced Z" recently.
Prediction: Kane
Kofi Kingston and R-Truth vs. Dolph Ziggler and Jack Swagger
While the tag team division has taken a serious hit in recent years, giving the belts to established superstars like Kingston and R-Truth at least make fans care about the matches. Primo and Epico simply couldn't get over with the crowd.
Ziggler and Swagger have been working with Vickie Guerrero for a while now. That's helped Swagger remain relevant, but it has been holding Ziggler back. He has main-event talent, but rarely gets featured in the prominent feuds he deserves.
Hopefully this match is used to allow Ziggler to break off from Swagger and Guerrero, giving him a chance to shine on his own. The best way to make that happen is for Kingston and Truth to retain the tag team belts by pinning Swagger.
Prediction: Kofi Kingston and R-Truth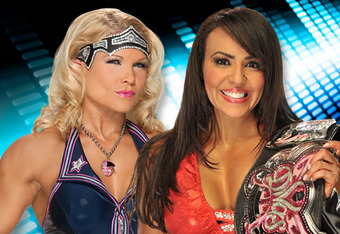 Layla vs. Beth Phoenix
Layla returned from an extended absence to win the Divas Championship at Extreme Rules, defeating Nikki Bella, who had taken the title from Phoenix a few days earlier. It's like one big circle that will be completed on Sunday night.
The WWE Universe continues to wait for a storyline between Phoenix and Kharma. It's the only match that would make the Divas division relevant after a string of quick matches and minimal storyline advancement in recent years.
Having been gone for nearly a year, it's only a matter of time before Kharma finally makes her full-time comeback. Phoenix should have the belt when she does, leading to a feud between the two dominant Divas that leads to SummerSlam. Look for a win by the "Glamazon."
Prediction: Beth Phoenix