NL Worst of the Night: Ian Desmond Goes 0-for-5 with 4 Strikeouts in Nats Loss
May 18, 2012

Highlighting a bad performance from the previous night in baseball might seem like a harsh way to start the morning. But look at it this way: If you had a rough night or bad day, here's someone who may have had it worse.
Thursday night in the National League featured several worthy candidates for "Worst of the Night" honors. 
Zack Cozart and Drew Stubbs of the Cincinnati Reds combined to hit 0-for-9 with five strikeouts. Arizona Diamondbacks catcher Miguel Montero went 0-for-5 with two Ks, and left four men on base. Chris Volstad only lasted two innings for the Chicago Cubs, giving up four runs, six hits and three walks. And Rex Brothers gave up four runs in two-thirds of an inning for the Colorado Rockies. 
However, neither of those guys played with first place on the line. Ian Desmond and the Washington Nationals had a chance to stay on top in the NL East going into interleague play this weekend. Instead, they're a half-game behind the Atlanta Braves, thanks in part to Desmond's 0-for-5, four-strikeout performance.
To be fair to Desmond, none of the Nationals batters were getting hits early in the game, as Pirates starter James McDonald was throwing a no-hitter with 11 strikeouts through the first five innings. So Desmond wasn't the only one doing some swinging and missing.
Most importantly, Desmond squandered several opportunities to drive in runs for the Nats.
In the fifth inning, with runners on second and third base and no outs, Desmond grounded out and failed to drive in a run. 
Desmond had runners on second and third again in the seventh, this time with two outs. But he swung and missed at a Juan Cruz slider to end the inning and scoring threat.
In the ninth, the Nats had two runners on, giving them another chance to tie the game at 5-5. But Desmond struck out on three pitches against Joel Hanrahan, once again whiffing on a slider, to end the game and tag the Nationals with a 5-3 loss that knocked them out of first place.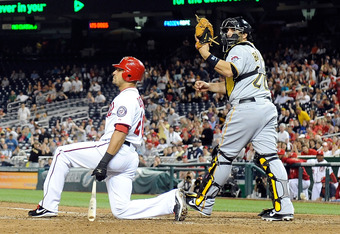 Greg Fiume/Getty Images
Altogether, Desmond left six men on base. If he puts the ball in play during one of those last three plate appearances, the Nationals could very well have won the game. 
No, it's not do-or-die this early in the season. But beating teams you're supposed to beat, and taking advantage of opportunities when they're presented to you, is often the difference between finishing over or under .500, between winning a division and losing one.
It's just one game, of course. But the Nationals need more from Desmond at the top of their batting order.
He's having a decent season and is surely miscast as a leadoff hitter. But if he can't get on base, the Nationals' RBI men don't have anyone to drive in. And this team will continue struggling to score enough runs. 
Follow @iancass on Twitter