Heat vs. Pacers: Game 4 TV Schedule, Live Stream, Spread Info and More
May 18, 2012

Mike Ehrmann/Getty Images
Coming off a tough three-point loss to the Indiana Pacers in Game 2 of the Eastern Conference Semifinals, the Miami Heat looked to regain their advantage in Game 3. Instead, the Pacers took command in the second half and cruised to an easy 94-75 victory to go up 2-1 in the series.
With Chris Bosh sitting out due to an abdominal strain and Dwyane Wade turning in the worst postseason performance of his career, the Heat simply couldn't get anything going on offense. The Pacers were dogged on the defensive end of the floor and received offensive production throughout their lineup in a total team effort.
The Heat were heavily favored to win this series and represent the Eastern Conference in the NBA Finals, but with the way the first three games against the Pacers have gone, that is far from a certainty now. Miami desperately needs a win in order to right the ship, but Indiana will be doing everything possible to keep the Heat down in Game 4.
Here is your complete guide to a pivotal Game 4 matchup between the Heat and Pacers in the Eastern Conference Semifinals on Sunday.
Where: Bankers Life Fieldhouse in Indianapolis, Ind.

When: Sunday, May 20 at 3:30 p.m. ET

Watch: ABC

Live Stream: NBA.com/Mobile

Listen: 790 The Ticket AM (Miami) and ESPN The Fan 1070 AM (Indiana)
Betting Line: Miami (-1.5)

Heat Key Injuries (via CBS Sports)

Out: PF Chris Bosh (abdomen)
Probable: PG Mario Chalmers (wrist)
Pacers Key Injuries (via CBS Sports)

No Injuries to Report

What They're Saying
Miami's 19-point loss to Indiana in Game 3 has many believing that a Pacers upset is a very real possibility. Perhaps even more telling than the result was an incident where Dwyane Wade got into a heated argument with head coach Erik Spoelstra. Many viewed that as dissension in the ranks, but Spoelstra downplayed the incident, according to Joseph Goodman of the Miami Herald.  
That happens, Spoelstra said. Anyone who hasn't been a part of a team, you don't know how often that happens. It's the good, the bad and everything in between.
Most Important Player to Watch: Dwyane Wade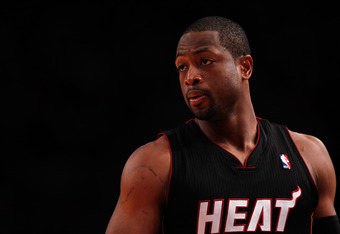 Jeff Zelevansky/Getty Images
It's true that the Heat have the league's MVP in LeBron James, and he will have to be great on Sunday for Miami to triumph, but perhaps even more important is the play of Dwyane Wade. The Heat star failed to register a single point in the first half of Game 3 and ended up with just five points total on 2-of-13 shooting. With Chris Bosh out for the remainder of the series, the Heat can't afford to get another effort out of Wade.
It looked as if Wade was nursing some sort of hand injury after knocking it against the rim on a block attempt. Perhaps that explains his troubles, but Wade will have to fight through that. For as much criticism as James receives, Wade is supposed to be the guy who elevates his game in the playoffs. He has been to the top of the mountain before and is widely regarded as a big-game player. Sunday's game will be huge, and Miami needs Wade to play that way.
Key Matchup: LeBron James vs. Pacers Bigs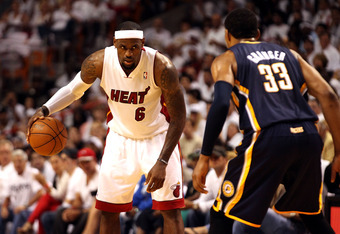 Marc Serota/Getty Images
With Chris Bosh out, LeBron James is being asked to play a somewhat unfamiliar position in power forward. There is no doubt that King James has the size and physicality needed to excel, but he simply isn't used to the pounding that an interior player endures. James has already called playing power forward taxing, and it was clear that Indiana's rough-and-tumble play affected him a bit in Game 3 because he netted just 22 points in the Heat's loss.

The likes of David West, Danny Granger and even Roy Hibbert weren't shy about getting in LeBron's grill in Game 3, but he can't let it bother him in Game 4 if the Heat are going to have any success. There may be no stronger player in the NBA than James, so he has to deal with the bumping and grinding that is going to take place in the paint. If the Pacers can bog him down again, then Miami will be in huge trouble.
Prediction
Heat 88, Pacers 83 
Follow @MikeChiari on Twitter