Heat vs. Pacers: Indiana Routs Miami, Wade Yells at Spoelstra—Are Heat Done?
May 18, 2012

Jonathan Daniel/Getty Images
In today's world of focusing on the most recent event, many are writing off the Miami Heat. After last night's 94-75 dismantling of the Heat by the Indiana Pacers, there are plenty of broken ankles from jumping off the moving Heat bandwagon.
A reasonable response or typical overreaction? That's what we're here to discuss.
In Chris Bosh's absence the Pacers frontline was dominant, led by Roy Hibbert's 19 points, 18 rebounds and five blocked shots. Danny Granger had 17 points, seven rebounds and four assists while David West had 14 points and nine rebounds.
For the Heat, Joel Anthony, Ronny Turiaf and Udonis Haslem combined for 15 points and 12 rebounds.
The only player that played well for Miami was Mario Chalmers with 25 points, six rebounds and five assists. LeBron James? Twenty-two points on 10-of-22 shooting with seven rebounds and three assists. Just OK. With no Bosh and Dwyane Wade scoring five points on 2-of-13 shooting, LeBron can't just be OK.
Ever since LeBron and Bosh came to Miami, there has been talk of their weakness at center. A perfect draft choice for the Heat would be former Syracuse center Fab Melo, but I digress.
That weakness was on full display last night. Miami not only had no answer for huge Pacers center Hibbert, but it had no understanding of the question. In this series, the Pacers have outscored the Heat by 30 points with Hibbert on the court. While big Roy rests, the Heat have outscored the Pacers by 17.
And what do we make of Wade yelling at Heat coach Erik Spoelstra? Not a big deal at all, according to Spoelstra. I agree. These things happen all the time in the heat of a game, especially a big playoff game that isn't going well. Spoelstra has demonstrated an ability to handle his players and the media very well during his time as coach in Miami. He's had plenty of practice handling difficult situations.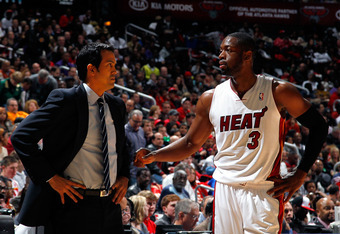 Kevin C. Cox/Getty Images
So back to our original question. Are the Heat done?
The Heat have not always reacted well to being punched in the face. Make no mistake about it, the Pacers smacked the Heat right between the eyes. This is the moment LeBron has always been criticized for—the lack of killer instinct.
There are two things to consider here: 1. Do the Heat have the intestinal fortitude to punch back? and 2. Do they have the weapons on the court to do so successfully?
I'm answering both questions with a no. The Heat might win Game 5 in South Beach but won't be back for Game 7.
What does that mean for next year? Fab Melo would absolutely be a great addition for the Heat. His size and defense are exactly what they need. Should they trade one of the Big Three? I don't think so. Let's not diminish the loss of Bosh. A little more size up front and they can come back strong next year.
Follow me on Twitter @sprtsramblngman