Boston Celtics Step-by-Step Guide to Winning NBA Title
May 18, 2012
Jim Rogash/Getty Images
Since the All-Star break, the Boston Celtics have looked as primed as any team to upset the Miami Heat for a bid to represent the Eastern Conference.
Though Doc Rivers' club has run into a few hiccups upon dealing with the arduous postseason grind, his troops are still in good position to make one last run before this aging roster enters a period of uncertainty not seen since before Kevin Garnett and Ray Allen arrived to save the day.
With the clock ticking and urgency at an all-time high, Boston needs to follow three simple steps to seize a golden championship opportunity.
First Step: Put an End to the Second Round
There's no diplomatic way around the fact that Boston's key pieces are on the back-ends of their careers. With the exception of 26-year-old Rajon Rondo, the rest of the Celtics' stars are well into their 30s.
The risk of imminent decline has been overstated to be sure, but there's still no question this roster could use some rest before the Conference finals. It may sound premature to treat this second-round series outcome as a foregone conclusion, but the point is that Boston would be much better off winning in five games than seven.
Age aside, Paul Pierce's sprained MCL could use some rest too. Whether a victorious Boston ended up facing Miami or Indiana, time off could be decisive in giving this squad a legitimate opportunity.
Second Step: Draw Up Some More Plays for Kevin Garnett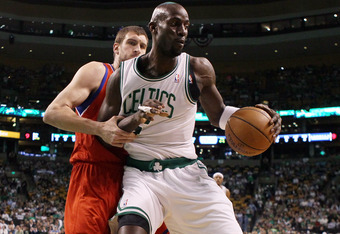 Elsa/Getty Images
KG has been incredible for the Celtics in these playoffs. He's averaged over 20 points and 11 rebounds through nine postseason contests.
Meanwhile, the Celtics have struggled when Garnett doesn't get enough shots. He had just 12 field goal attempts in each of Boston's two most recent losses. With Paul Pierce having an up-and-down series thanks to his bum knee, Garnett's offense becomes a necessity.
Third Step: Take Nothing for Granted
The Boston Celtics aren't a lock to win anything. All three of the teams left in the Eastern Conference are entirely capable of beating this team on any given night. Even if we know the Celtics have the better chance to survive this second-round matchup against Philly, the 76ers can keep any game close and make a toss-up of it.
It goes without saying that both Indiana and Miami have a more than decent chance to derail the Celtics' title hopes.
The Celtics will have to find that elusive balance between confidence and complacency. Fortunately, the veteran leadership in this locker room is second to none. And besides all that good intangible stuff, Rajon Rondo has proven his determination and ability to singularly alter games. If he continues to play like every game is his last, the Celtics might just hang around long enough for one more NBA Finals campaign.