Will Any Big Ten Running Back Overtake Wisconsin's Montee Ball in 2012?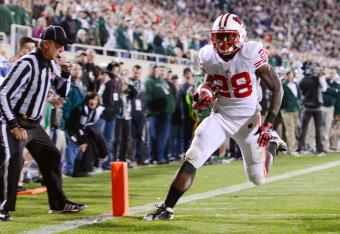 The Big Ten will feature plenty of backs that can contend with Wisconsin's Montee Ball in 2012
Mark Cunningham/Getty Images
The 2011 college football season was chock-full of outstanding breakthrough performances by running backs who became some of the year's biggest breakout stars.
Last season, we saw Alabama's Trent Richardson step out of Mark Ingram's shadow after two years of waiting and finally earn the title of college football's best running back.
We also watched as Virginia Tech's David Wilson became the next great Hokie rusher, as he ended up leading the ACC with over 1,700 yards on the ground in 2011.
And we of course witnessed the arrival of Oregon's De'Anthony Thomas, who went out as a true freshman and proved that he's got what it takes to be one of the most dominant and dangerous offensive weapons in the country for the next three years.
Still, out of all the great performances we got to see from some of college football's elite backs last year, there was one in particular that really stuck out as being truly special; the campaign that Wisconsin's Montee Ball put together.
Going into the 2011 season, many onlookers, including myself, figured that the Badgers would have one of the most dynamic rushing duos in the country comprised of Ball and fellow backfield mate James White. The two runners basically had identical stats in 2010, as White rushed for 1,052 yards and 14 touchdowns on 156 carries while Ball rushed for 996 yards and 18 touchdowns on 163 attempts.
That's why most fans figured that the two would split carries evenly once again last season, but as we found out, that wouldn't be the case.
Ball emerged as the team's featured go-to back early on last season, and he continued to demand as many touches as possible throughout the year. The coaching staff was happy to keep feeding him the rock, and Ball was happy to reward them with consistent production.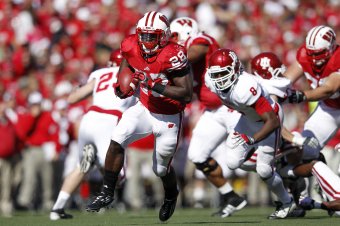 Joe Robbins/Getty Images
The dependable and durable Badger back ended up playing a major role in Wisconsin's run to a Big Ten Championship and the team's second straight Rose Bowl appearance. Ball rushed for 1,923 yards on 307 carries (6.2 yards per carry) and caught 24 passes for 306 yards in 2011.
By the time the season was in the books, he led the Big Ten in both rushing attempts and rushing yards, and he had accumulated 2,286 yards of total offense and accounted for 40 total touchdowns (33 rushing, six receiving and one passing).
For his efforts, Ball was rewarded with numerous postseason honors and awards and he was placed on almost every different type of All-American team you could imagine. Most importantly, though, he earned himself an invitation to New York City as one of five Heisman finalists.
Ball ultimately finished fourth in the Heisman voting, but the fact that he was able to make such a special and rare trip is a tremendous accomplishment in and of itself.
On the heels of his sensational junior season, many expected that the 2011 Big Ten Offensive Player of the Year would leave Madison and take his talents to the NFL and become a likely second-round pick in the 2012 draft. However, Ball shocked pretty much everyone when he announced that he would put off the jump to the pros and instead return to Wisconsin for his senior year.
The 5'11", 210-pound senior will now enter the 2012 season as one of the most decorated and celebrated players in college football, and he'll likely find his face on plenty of magazine covers and his name on plenty of preseason Heisman watch lists this summer.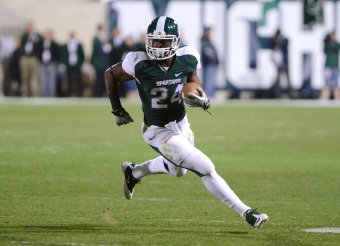 Mark Cunningham/Getty Images
Therein, lies some intriguing questions: What is Montee Ball going to do for an encore? And is there any chance that he could somehow repeat the rare feats he accomplished in 2011?
The reality is, the chances of Ball putting together a performance like the one we saw last year are slim. There simply seems to be too many outside forces conspiring against Ball for him to have the type of superior success he had last season.
This year's version of the Wisconsin offense is going to look dramatically different than the one we saw in 2011.
Gone is offensive coordinator Paul Chryst, who left town to become the head coach at Pittsburgh.
Also gone are three key pieces of the overpowering offensive line that helped pave the way and open up gigantic running lanes for Ball in 2012. The presence of two of those linemen—OG Kevin Zetiler, a first-round pick in this year's draft, and center Peter Konz, who was taken in the second round—will certainly be missed up front.
The toughest blow of all, though, is the loss of dual-threat quarterback Russell Wilson.
Wilson forced defenses to remain honest last season, and he helped deflect a lot of their attention off Ball, which obviously aided his productivity. Without Wilson around any more, Ball will now definitely be the main focus of every opposing defense he faces in 2012.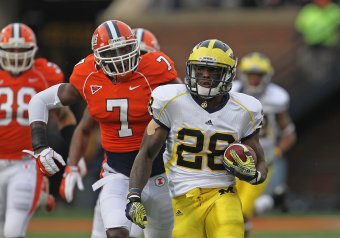 Jonathan Daniel/Getty Images
Trying to meet the expectations and match the hype that is going to build around Ball over the offseason surely won't be easy for the senior back. Plus, it doesn't help that he's going to have a lot of new, unproven faces surrounding him in the huddle in 2012.
You have to wonder if the door might just be open for another Big Ten back to rise up and challenge the defending champion for the conference rushing crown this season.
Only one of the Big Ten's top 12 most productive rushers from last season won't be back this year (Iowa's Marcus Coker transferred to Stony Brook during the offseason), which means there will be plenty of experienced competitors that are going to be trying to chase down Ball in 2012.
Going into the season, there appear to be four backs that have a legitimate shot of overtaking Ball and winning the Big Ten rushing title this year.
Personally, I think Michigan State's Le'Veon Bell has the best chance to steal the spotlight away from the Wisconsin back in 2012.
The Spartans could arguably have the best offensive line in the conference this season, and now that Edwin Baker has left school for the NFL, Bell should see plenty of carries this year.
The 6'2", 238-pound junior is built like a bulldozer, and he possesses the size, speed, strength, vision and running instincts to either run by would-be-tacklers, or better yet, run over them. Last year, Bell powered his way to 1,215 total yards of offense and he scored 13 touchdowns.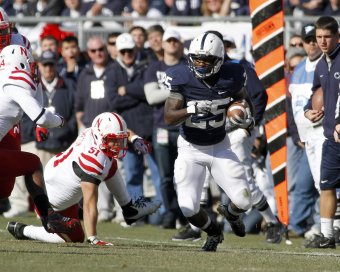 Justin K. Aller/Getty Images
With an unproven quarterback and an inexperienced group of wide receivers, Michigan State will likely turn to the running game often in 2012, and that means that Bell has the chance to put up some monster numbers this season.
There's also another back in the state of Michigan who could give Ball a real run for his money, and it's Michigan's Fitzgerald Toussaint.
While star quarterback Denard Robinson will soak up most of the preseason attention this offseason, if the Wolverines really want to contend for a conference championship, they're going to need Toussaint to play an integral role in the offense as well.
The 5'10", 190-pound junior ran for over 1,000 yards and scored 10 touchdowns in 2011, and the scary part is, Toussaint seems to be just beginning to scratch the surface of his true potential.
Another back that showed flashes of his prodigious potential last season was Penn State's Silas Redd.
As just a true sophomore in 2011, Redd finished fourth in the Big Ten with 1,241 rushing yards and he turned out to be one of the most consistent runners in the country.
Bell, Toussaint and Redd all put up terrific numbers last season, but none of them could match the rushing total of Nebraska's Rex Burkhead.
Last year, Burkhead proved to be a perfect fit for the Cornhuskers' power rushing attack, as the strong and physical 5'11", 210-pound senior ran for 1,357 yards and scored 17 total touchdowns.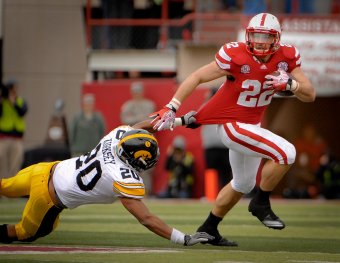 Eric Francis/Getty Images
It seems as though Ball is going to have plenty of competition from backs within his own conference in 2012, and it should be interesting to see how he responds to the challenge.
There's no disputing that Ball is one of the most gifted backs in the country, and yes, Wisconsin should once again have one of the country's biggest and strongest offensive lines, led by future high NFL draft picks OT Ricky Wagner and C Travis Frederick.
Nevertheless, since he won't have QB Russell Wilson by his side to help take some of the pressure off, and since he'll likely have to defer a few more carries to teammate James White this year, Ball may not be the slam-dunk, sure-thing pick to win the Big Ten rushing title this season.
Montee Ball has been blessed with a lot of physical gifts such as big, broad shoulders, which have helped him break plenty of tackles during his football career.
But in 2012, Ball will have to make sure that he's constantly looking over them, as there will be no shortage of worthy contenders who will be looking to overtake him and steal away his throne this season.
This article is
What is the duplicate article?
Why is this article offensive?
Where is this article plagiarized from?
Why is this article poorly edited?