Alabama Football: From Locker to Bateman, Crimson Tide Set Until 2015
May 18, 2012

Andy Lyons/Getty Images
I know what some are thinking: What in the world does Locker have to do with anything? Well, with Doug Nussmeier at the helm of the Tide's offense beginning in 2012, Jake Locker is pertinent. (All stats are from Scout.com, and are linked via the player's name.)
Here are stats from their junior years in high school (since that's the only three-way comparison we have):
Jake Locker: 1314 pass yards with 16 TDs, 987 rush yards with 15 TDs, a 13-2 record to finish second in the Washington State 3A Championship. Locker entered the recruiting ring as the No. 7 QB in his class with a 4-star rating.
A.J. McCarron: 145/232 for 2,540 yards, 25 TDs and only three interceptions. McCarron entered the recruiting phase as the No. 17 QB in his class (No. 4 according to ESPN) also with a 4-star rating.
Cooper Bateman: 2,484 passing yards with 25 TDs. He is currently the No. 4 QB in his class, and brings yet another 4-star rating to the Capstone.
Now, since they didn't all play in the same region or in the same offensive scheme, the comparison isn't all apples-to-apples, but the comparison is still informative.
Locker was selected No. 8 overall in the 2011 NFL draft and was the second quarterback picked. (Behind only Cam Newton, the No. 1 pick.) (via NFL.com)
Locker and McCarron both led their teams to state championships in their senior years. (Bateman's senior year will be under heavy scrutiny by many institutions, and a state championship would certainly make it to this page.)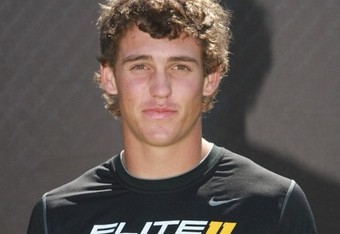 Here's the bottom line: Locker credited Nussmeier with preparing him mentally for the quarterback position in college (via AL.com).
If the physical training (strength and conditioning) is up to Scott Cochran (which, of course, it is), then McCarron is about to develop into a lethal quarterback that will make Aaron Murray look like Jordan Jefferson.
Okay, maybe McCarron won't make Murray look THAT bad, but McCarron will be more than just a serviceable game manager.
After McCarron is finished developing into a first-round draft pick, Bateman should be ready to take over for the Tide under center.
So, with Nussmeier's street cred via Jake Locker, Tide fans can most likely expect a solid quarterback at the Capstone until the 2016 NFL draft. (That's even IF quarterback recruiting slips for the next year or two, which is a minor possibility.)
Roll Tide!