Carolina Panthers: 5 Players No One Is Talking About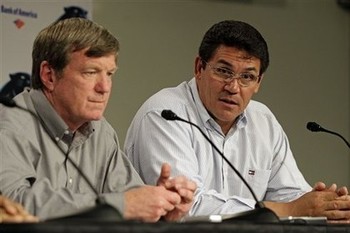 AP Photo
That silence existing about certain members of the Carolina roster isn't only due to baseball, basketball and hockey having free reign of the stage until NFL training camps begin in late summer.
With the Panthers wrapping up their OTA's this week, most of the talk is focused on the new blood wearing the black and blue. But who are the players that no one seems to be talking about?
There are more than a few key names going unmentioned within the Carolina locker-room. Some have fallen under the radar due to return from serious injury, while others look to get their career back on track.
It's possible that a few of these Panthers being overlooked by many today will hold a key to tomorrow's success. On the following slides, you'll find out the members of the organization who deserve to be part of the conversation.
Wide Receiver David Gettis Returns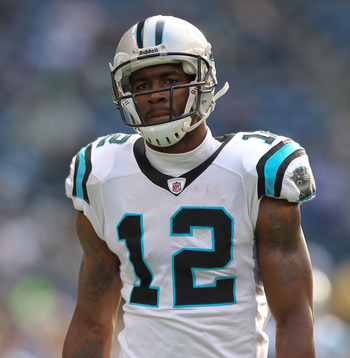 Gettis could pay huge dividends in 2012.
Otto Greule Jr/Getty Images
David Gettis has never been given the consideration he may deserve by those that follow the Panthers organization close.
While the conversation seems to be about finding a number two receiving option opposite Steve Smith or Panthers fourth-round draft pick Joe Adams, the player who might adequately fill the role when the whistle is blown is the 24-year old out of Baylor University.
Gettis had 37 receptions for 508 yards and three touchdowns as a rookie in 2010. Before you roll your eyes at the stats, it's important to remember that he had Jimmy Clausen throwing to him for much of that year.
A guy named Cam Newton runs things in Carolina now. With him at the helm, Gettis will have the chance to become a star that develops under the radar.
Gettis has some question marks surrounding his health, which could be a reason for the lack of discussion about him. Last August, he tore the ACL in his left knee and missed the entire 2011 season. Gettis is a big kid that has shown the ability to make the big play in the past. His 88-yard touchdown catch against the Ravens during his rookie season is the longest in Panthers team history.
Don't be shocked if Gettis is able to improve upon his rookie numbers and head into 2013 as one of the organization's cornerstones at the position.
Jimmy Clausen: Forgotten Man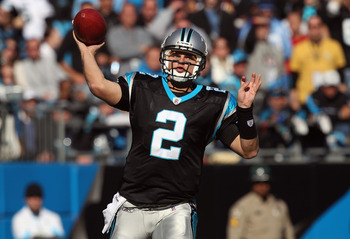 Will the former Notre Dame product be in Carolina at season's end?
Streeter Lecka/Getty Images
Jimmy Clausen isn't part of your Panthers conversation for all of the wrong reasons.
In just a year, the Notre Dame graduate went from being considered the quarterback of the future by one regime in 2010 to being a game day inactive for most of the 2011 season.
A rookie season that concluded with a 58.4 passer rating extended into a disappointing 2011 in which he lost the back-up job to Derek Anderson. And if you've seen Derek Anderson for any length of time, this is not good for your NFL career.
Clausen isn't going to be the starting quarterback in Carolina again unless something very unfortunate takes place. That doesn't mean that he can't reclaim some respect around the league and open some doors in the way of opportunity for his own future in the meantime.
It starts with Clausen's 2012 training camp. Last year, I saw a player who continually opted for the safe throw while locked in a battle with Cam Newton for the starting job. Clausen fell victim to the check-down route and compiled a conservative stat line, while Newton made a few more throws vertically to the organization's approval despite taking more risks.
Clausen needs to take off the shackles and do his best in practice and preseason action to show the organization that he can execute the vertical throws in Rob Chudzinski's offense. If Clausen can do a moderate job at this, there's a decent chance that the strong-armed Anderson could play his way out of the back-up job.
My belief is that the majority of Carolina fans would like to see a refreshed Clausen recuperate from his feeble state and give them some kind of a return on the second-round pick the team invested in him. Clausen must play like he has nothing to lose in every opportunity, or his future may be just that: lost.
Greg Hardy Has Heightened Importance
Can Greg Hardy be the Panthers sackmaster?
Christian Petersen/Getty Images
Seven sacks and 76 tackles in 31 career games.
Is it terrible? Not at all. Is it enough to become a focal point of a defense and a consistent threat that opposing teams need to gameplan around? Not hardly.
Greg Hardy will enter the season as one of the team's starting defensive ends. If you watched enough SEC football, you saw him wreak havoc on Saturdays at Mississippi to the tune of 26.5 sacks (including an SEC-best 10.0 in 2007). There are lead indicators that tell us that Hardy is capable of much greater heights in this game. He was also considered to be one of the top prospects of his entire draft class.
The Panthers ignored the need of defensive linemen for the most part in the draft. While Frank Alexander could turn into a nice player, he should expect to experience the same learning curve to the NFL that Hardy has undergone.
If Hardy can total the number of sacks he has to this point in his career this upcoming season, the Panthers will have a nice foundation to build upon in the trenches. If Hardy duplicates the performance of the prior two seasons, then the team will likely be looking for upgrades in the near future.
Rob Chudzinski Is the Man Behind the Curtain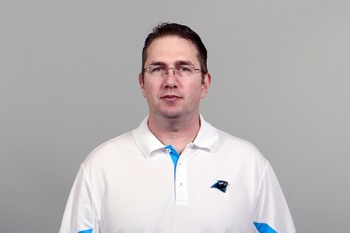 Chudzinski will receive head coaching opportunities if he duplicates last year's performance.
Handout/Getty Images
The Panthers ranked fifth out of 32 NFL teams in scoring in 2011. In terms of yardage, the Panthers were ranked seventh in the league. The reason wasn't only because of Cam Newton.
While the next member of this list isn't a player within the organization, he doesn't get anywhere near the recognition he deserves.
Rob Chudzinski is offensively brilliant. The Panthers will be lucky enough to employ his services for at least another season. Spend some time watching offensively-challenged teams from around the NFL bang their head against a wall for an entire Sunday afternoon. Only then will Chudzinski's integrative attack be fully appreciated.
Never afraid of the big play, Chudzinski masters the art of getting everyone in the offense involved and innovative run plays that utilize skill-set runners like Newton, Jonathan Stewart and DeAngelo Williams out of the same backfield on the same play.
Chudzinski isn't afraid of a risk, and he isn't easy to prepare for as a defensive coordinator. The Panthers have a versatile assortment of weapons available again on Chudzinki's chess-board in 2012. Chudzinski secured head-coaching interviews with Tampa Bay, Jacksonville and St. Louis this past offseason.
While Panthers fans held their breath, the man affectionately known as "Chud" was probably busy drawing up a wide receiver pass play that ends with Cam Newton in the end zone.
Jon Beason Will Be Back with a Vengeance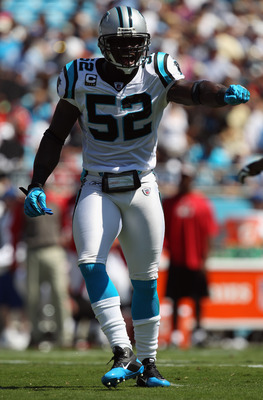 Beason will be back to claim what's his in 2012.
Streeter Lecka/Getty Images
While Cam Newton is the organization's crown jewel, the heart and soul of the Carolina Panthers remains Jon Beason.
It seems like a lifetime ago that we were able to truly enjoy the gifted talents that the linebacker brings every down, every Sunday each autumn. Beason's season ended last year in the season opener in Arizona when he tore his left Achilles tendon. His unit suffered in his absence, finishing 27th in the NFL in points allowed.
While the man they call "Beast" has been out of sight, he wasn't out of mind. Some people may have spent the offseason wondering if we will see the same dominant player return in the middle of the Carolina defense. Updates from the organization have sporadic.
Recently, YouTube videos of what appears to be a bigger and badder Beason have surfaced. If you trust in the things that he says at the end of that video, Beason is about to become a major part of the conversation again in a league-wide setting.
Beason made the Pro-Bowl three times in his career, with his finest season coming in 2009. If he's fully recovered, he'll be part of that honored squad again and should be playing his best football around the time of year that the Panthers clinch a playoff berth.
It's important not to expect too much too soon, but offensive players will be sure to keep their head on a swivel if Beason is on the field close to full strength in 2012.
Keep Reading

Carolina Panthers: Like this team?