Chris Bosh Injury: Breaking Down How Miami Heat's Defense Will Crumble Sans Bosh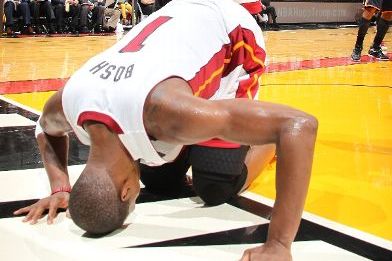 Chris Bosh is often criticized for being a half of the Miami Heat's "Big 2.5", but the star power forward's abdominal strain keeping him out indefinitely definitely hurts the Heat's defense.
The Heat (No. 4 scoring defense by allowing 92.5 points per game) found that out in consecutive losses to the Indiana Pacers in the second round of the Eastern Conference playoffs.
Why is the Heat's defense weaker even though the point total is lower?
The following slides provide a few reasons.
Begin Slideshow

»
The Miami Heat lack size, and balling in the playoffs without Chris Bosh would hurt their defense significantly.
Bosh is a very skilled power forward who the Heat shifted to center so Udonis Haslem could start at power forward.
Bosh has the versatility and skill to play both post positions well, and his 6'11" frame helps contain tall opponents like the Indiana Pacers' Roy Hibbert (7'2"), the Philadelphia 76ers' Spencer Hawes (7') and the Boston Celtics' Kevin Garnett (6'11").
Without Bosh, the Heat have tried replacing his spot with reserves Ronny Turiaf (6'10") and Shane Battier (6'8") while having LeBron James (6'8") play at the 4 position.
There is a reason Turiaf rode the bench and Battier is a better at small forward.
The Heat's shorter forwards will constantly face matchup problems from taller athletes like Hibbert without Bosh to contest their shots.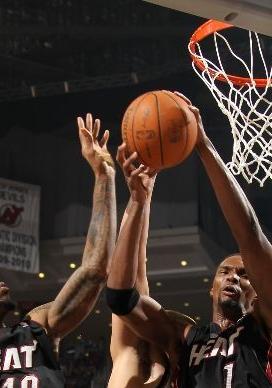 The Miami Heat are not a good rebounding team, and they are much worse without their top rebounder in Chris Bosh.
Bosh and LeBron James led the Heat with 7.9 rebounds a night while Udonis Haslem added 7.3.
Despite these three players, Miami was a bad rebounding team by pulling down just 41.6 boards a night (21st in the NBA).
Bosh's defensive rebounding helps limit opponents' second-chance points.
James and Haslem will continue to rebound, but they can't make up for Bosh's total by themselves.
Since Bosh's injury, the Indiana Pacers have out-rebounded the Heat 102-76 while Roy Hibbert nabbed 18 boards in Game 3.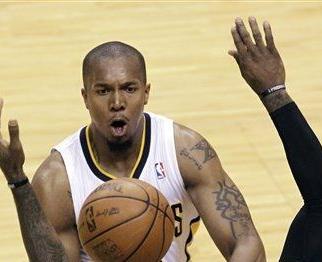 AP Photo/Michael Conroy
LeBron James is a great defender, as evidenced by him finishing fourth in the Defensive Player of the Year Award voting.
The 6'8", 250-pound James can guard the 1-4 positions, but he is a natural small forward.
Chris Bosh's injury has forced Miami Heat coach Erik Spoelstra to play James as a power forward with Shane Battier or Mike Miller going to small forward.
James can slow down players like David West (6'9", 240 pounds) and Tyler Hansbrough (6'9", 250 pounds), but King James will tire more easily do to their bigger size and physical play. A fatigued James will in turn struggle more on the offensive end.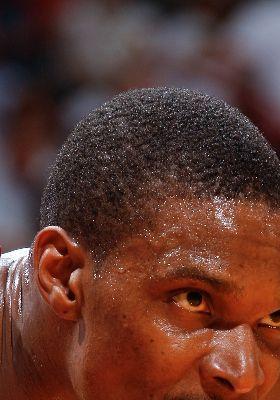 A good defense is a good offense.
If the Miami Heat can't score, that puts more pressure on its defense.
Bosh might be the team's third offensive option, but he was able to pour in 18 points a game and had 23 games with 20 or more points.
For a third option, that ain't half bad.
Ronny Turiaf and Dexter Pittman (3 points per game each) and Shane Battier (4.8 ppg) don't make up the difference. Battier has scored more than 10 points (seven times) while Pittman did it four times.
Those three have combined for 13 points in two games.
The Heat now lack a big who could consistently score, pressuring LeBron James and Dwyane Wade to carry even more of the offensive load.
Bosh was able to keep defenses honest with his inside game and mid-range jumper, but now teams just have to slow down James and Wade to stop Miami's attack.
The Pacers did just that in Game 3 by limiting D-Wade to five points (2-of-13 shooting).
Without Bosh, the Heat have averaged 75 points in two games. That's significantly down from their seasonal average of 98.5 points a night.
Bob Bajek is an NBA/Chicago Bulls featured columnist. He is also a freelance reporter and can be followed on Patch.com and Twitter.