EURO 2012: A Guide for Americans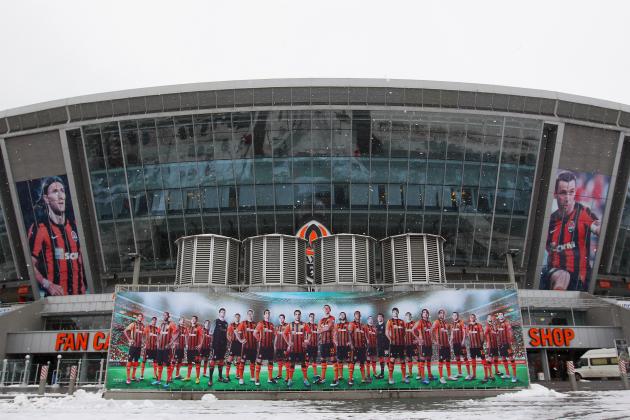 Alex Livesey/Getty Images

This slideshow is geared towards beginners who want to figure out names and favorites before the upcoming tournament this summer. I am just trying to promote the sport in America. The stars and games talked about throughout the slide are ones that I wish for Americans to see in order to get a grasp of the beautiful game at the highest level.
Let's begin.
Begin Slideshow

»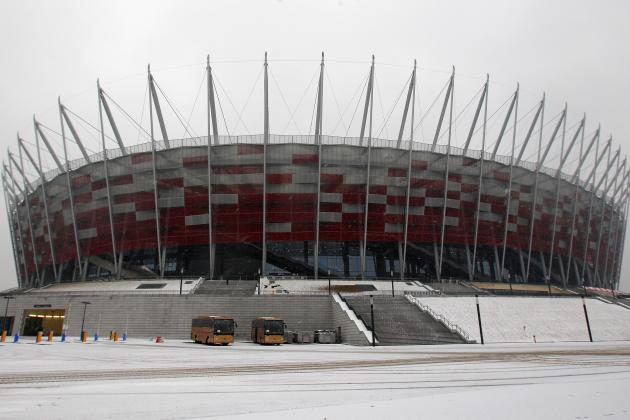 Alex Livesey/Getty Images
EURO 2012 will open at Poland's National Stadium
GROUP "A": Poland (Co-Host), Greece, Russia and the Czech Republic
Group "A" is full of some teams that seem to be very equal across the board. Although the group may be incredibly competitive and while there may be no clear-cut favorite, almost none of these squads appear to be talented enough to make it to the final game.
Russia is the highest ranked in the group at No. 8 in UEFA. Greece is next at No. 10. Czech Republic ranks at No. 16 in UEFA, and the the co-host nation, Poland, comes in last at No. 32.
With the fact that there isn't a whole lot of talent to compete for the European crown, there also isn't a whole lot of star power within the group as well. If there's a day that you need to go out and get some yard work done, it would be during one of the group stage matches.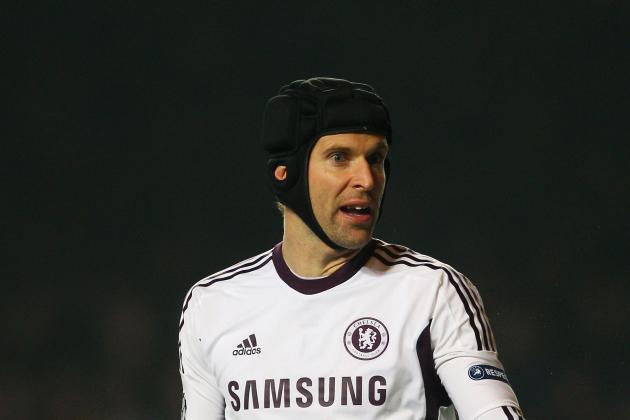 Warren Little/Getty Images
Peter Cech is arguably the best goalkeeper in the World, let alone Europe
STARS TO WATCH
Goalkeeper Peter Cech, Czech Republic (Pictured)
Peter Cech is arguably the best goalkeeper in the world, let alone Europe. The man has helped Chelsea, his professional club, to an FA Cup victory and a victory in the UEFA Champions League Final.
While Americans will want to see goals, Cech will be doing his best to make sure Greece, Poland and Russia aren't putting the ball in the net to ensure his side a chance out of the group stage.
Forward Andrei Arshavin, Russia
The Russian skipper spent a few years in North London for Arsenal but was sent back home to Zenit on loan. Arshavin has scored 17 goals for the Russians in his international career and will be looking to add a few more during EURO 2012.
The Polish National Team
While it may not be stacked with star power, I put the entire team down because it will be playing in front of its own people.
An international squad playing in front of its own people always makes for great games and a great atmosphere. The Polish fans will be sure to be out in great numbers to support their comrades throughout the competition.
Mark Your Calendars
June 8th: Poland vs. Greece
Greece might be the higher ranked squad, but I wouldn't be shocked if the home squad pulled off an Opening Day victory against its opponents.
The opening ceremonies are always a special thing to see in football tournaments, so that is something else to keep an eye on.
June 8th: Czech Republic vs. Russia
As long as Peter Cech is the keeper for the Czech Republic, I have no problem seeing the team advancing out of the group stage. It will be going against the favorites of the group, Russia, on June 8th in Wroclaw.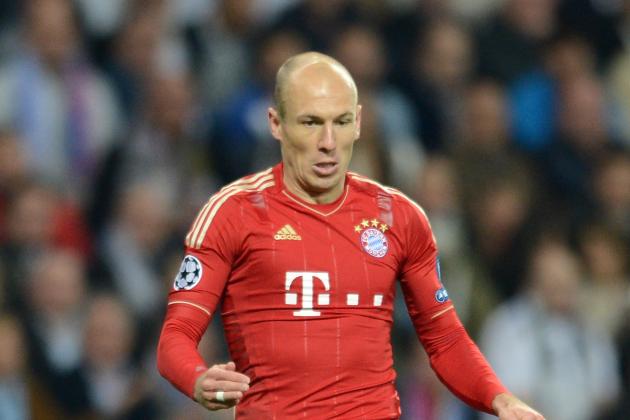 Jasper Juinen/Getty Images
He made some Germans happy this season. He might have to upset them this summer
Group B: Germany, Holland, Portugal and Denmark
To new coming soccer fans, the "Group of Death" is labeled as the toughest group in a soccer tournament. At the FIFA World Cup in South Africa, the "Group of Death" was Brazil, Portugal, the Ivory Coast and North Korea.
In EURO 2012, the "Group of Death" will be undoubtedly Group "B": Holland, the 2010 World Cup Runner-Up, Germany, who had back-to-back third place finishes at the World Cup, Portugal and Denmark, who both qualified for the 2010 FIFA World Cup.
This, by far and away, is the best group from a competitive and an entertainment standpoint. Plenty of goal scorers, fancy dribblers, and talent to go around is promised to be easy on the eyes.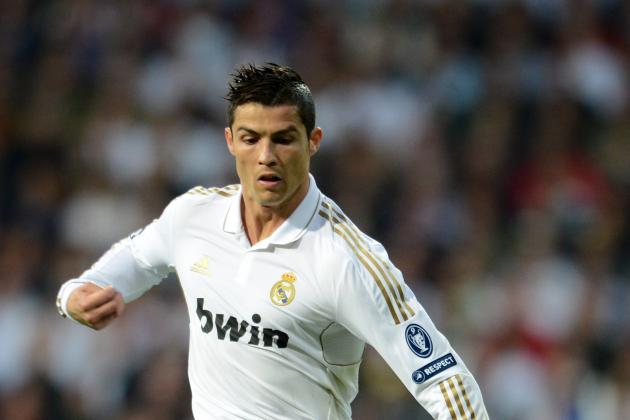 Jasper Juinen/Getty Images
You all know who it is
Stars to Watch

Forward Cristiano Ronaldo, Portugal (Pictured)
You know if a soccer player gets his name read across an American version of SportsCenter, you know he has to be pretty good.
Some might say he's the best player in the world, but there's no arguing that he's one of the top players in the world.
Ronaldo has the ability to put the ball in the goal. He did it 60 times for Real Madrid this year. Count it: 60.
Sixty.
He is also known for his incredible dribbling skills that always helps make the already beautiful game that much more beautiful.
Forward Arjen Robben, Holland
Robben is one of the best wingers in the world. He does a great job at crossing the ball, as well as putting it into the net. Robben is another player who is known for using great dribbling techniques to get out of tough situations.
Striker Robin Van Persie, Holland
Robin Van Persie tore it up this season for Arsenal. The Dutch striker finished as the PFA's Player of the Year and helped the Gunners finish as the No. 3 team in England this season after having a dreadful start to their Fabregas-less campaign.
If he keeps his form, the left-footed legend should be putting the ball in the net more than once this summer for the team in the orange kits.
The German National Team
I didn't know where to begin for the Germans.
The team is swamped with talent at almost every position. Up front, it has Mario Gomez, one of the top strikers in Germany, Lukas Podolski, the future Arsenal man, Mesut Ozil, the sneaky midfielder for Real Madrid, and Bastien Schweinsteiger, the man who put Real Madrid's chances at a Champions League Final to rest a few weeks ago.
In the back line, they have skipper Phiipp Lahm, Per Mertesacker and Jerome Boateng.
Last, but not least, their keeper, Manuel Neuer, is one of the largest goalkeepers in the world. He impressed many with his performance against Ronaldo and Kaka a few weeks ago in Madrid.
Top to bottom, you could make the argument that the Germans have the best side in the world.
Mark Your Calendars
June 9th: Germany vs. Portugal
Cristiano Ronaldo will be seeking some revenge, as his chances at his first Champions League Final with Real Madrid were dashed by a few German players with Bayern Munich.
This match will tell us if Portugal is ready to be a contender in Europe or if it will still need to grow a few more players to have a chance in Europe. Ronaldo is capable of anything, but he can't do it alone.
June 13th: Holland vs. Germany
Some could make the case that these two could meet again outside of the group stage, as both are serious contenders for the European crown.
If it was not for a Puyol header in the semifinals against Germany, we could have seen this matchup in the World Cup down in South Africa. Both teams are very talented, especially up front.
June 17th: Portugal vs. Holland
If Germany were to leave Holland with no points on June 13th, this could be a battle to get out of the group stage.
Holland would certainly be the favorites in this match but, you never know in Europe. Portugal could be a surprise team this summer.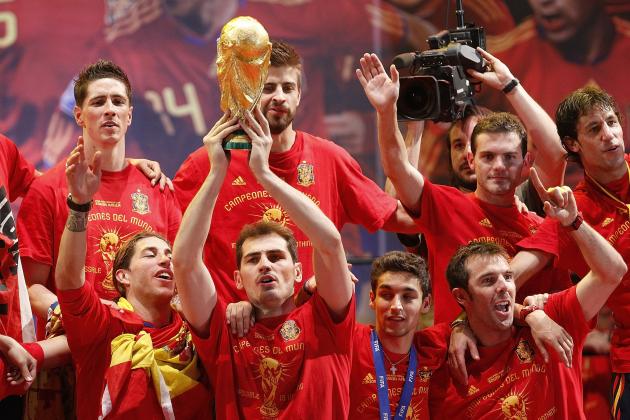 Angel Martinez/Getty Images
The Golden Generation is looking to make history this summer
Group "C": Spain, Italy, Croatia and Ireland
It may not be as tough as Group "B", but Group "C" is nothing to snooze at.
Spain, the No. 1 team in UEFA and in the world, according to FIFA, is looking to make football history. Spain is looking to become the first international side to win the EURO tournament, win the World Cup and successfully defend its European title.
Yes, that's right.
Spain won the 2008 EURO tournament and the 2010 FIFA World Cup. The Golden Generation hasn't gotten any younger though, and the team's European Championship might be a little harder to defend than it had anticipated.
Italy, one of the upsetting stories of the 2010 FIFA World Cup, is looking to bounce back after being bounced out of the group stage two summers ago. Hopefully some of the younger talent will help Italy get back to its winning ways and possibly upset the Spaniards.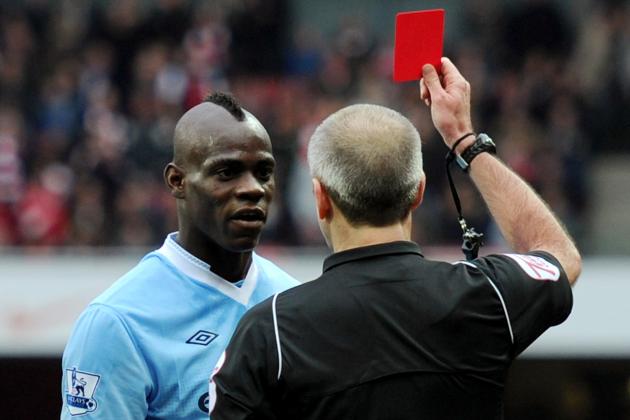 Michael Regan/Getty Images
We can only hope
Stars to Watch
Goalkeeper "Sir Ike" Casillas, Spain
If the best goalkeeper in the world isn't Peter Cech, then it's Iker Casillas.
Casillas has been one of the main pieces to Spain's success over the past couple of tournaments. Casillas also helped Real Madrid win La Liga this year and almost orchestrated a miracle in the UEFA Champions League Semifinal against Bayern Munich.
Striker Mario Balotelli, Italy (Pictured)
It has not been said if Balotelli will play for Italy this summer, but we can only hope and pray that he does.
Italy wouldn't be that fun to watch without Super Mario on the pitch. Mario, known for his mouth that never stops running, also has the ability to create plays and scores goals.
There's no doubt that the Italian has plenty of talent and potential to give to Italy.
Midfielder Luka Modric, Croatia
The Tottenham midfielder has been a huge piece to the Spurs' success over the past couple of seasons in England.
He'll need to be in great form to give Croatia a chance to beat Italy and hang around with Spain in the group stage. Modric has the ability to put points on the board from distance, and he will help set up players, like Ivica Olic and Nikica Jelavic, to put the ball into the net.
Striker Fernando Torres, Spain
With David Villa being in question, Fernando Torres might have his moment to shine in Europe yet again.
The Spaniard helped his club, Chelsea, take FC Barcelona out of the Champions League picture this spring with a goal in stoppage time to assure Chelsea a spot in the Champions League Final.
Torres' form has been mediocre at best over the past two years, but maybe a call from Vincente Del Bosque would give him a chance at redemption for his country.
Mark Your Calendars
June 10th: Italy vs. Spain
The reigning World and European champion won't be easing its way into the journey of defending its title, as a hungry Italian side will be looking to get back to its prestigious ways.
Spain will most likely be without defender Carlos Puyol and striker David Villa this summer. Both were key players in Spain's run during the summer of 2010.
Italy will be looking to take three points from an already banged-up side.
June 14th: Italy vs. Croatia
If Spain does emerge victorious against Italy, or even ties with Italy, Italy will still have a tough task in dealing with Croatia. This will most likely be the battle for second place to advance out of Group "C".
Sorry, my Irish lads.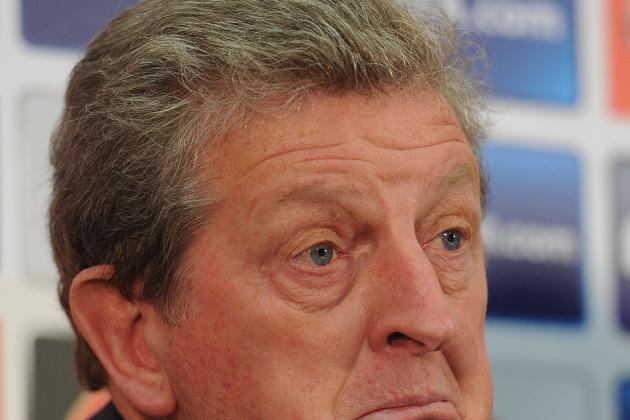 Michael Regan/Getty Images

Group "D": Ukraine, Sweden, France and England
Open and honest, I picked England to win the World Cup in South Africa.
I would have figured with attacking forces like Wayne Rooney, Steven Gerrard and Frank Lampard, in addition to the defense of John Terry, Ashley Cole and Glen Johnson, that the English would have had an easy time with the Americans, Algeria and Slovenia in the group stage.
Honest mistake. I've ate it ever since.
England is now going under a rebuilding process under Roy Hodgson, which makes England an interesting team to watch throughout the tournament. France is also a squad that is trying to recover from its embarrassing World Cup woes in 2010.
Sweden will be lead by Zlatan Ibrahimovic, one of the scariest strikers in the world.
Ukraine will have great crowd support behind it this summer. This could be one of the more unpredictable stages throughout the EURO tournament this June.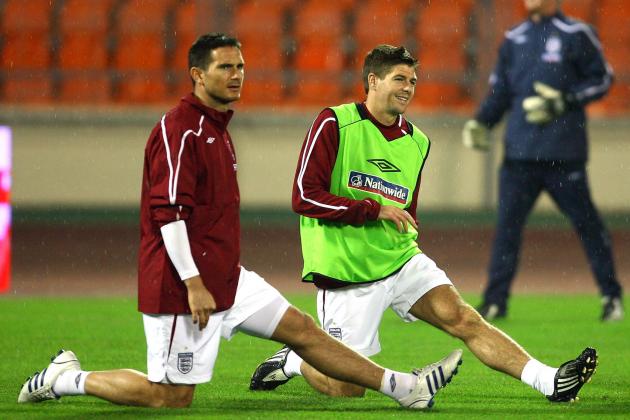 Alex Livesey/Getty Images

Stars to Watch
Midfielders Frank Lampard and Steven Gerrard, England
Steven Gerrard, pictured in the green jersey, and Lampard might be facing their last chance at winning a cup for England this summer.
The 2014 World Cup isn't a given for either of these players.
Both are very skilled midfielders and are a thrill to watch in the middle of the field. Gerrard was the goal scorer for England against the United States in 2010, and Lampard has helped his club win the UEFA Champions League.
Center Attacker Midfielder Samir Nasri, France
Nasri has the ability to do some special things with the ball that will "woo" the rest of the world.
Nasri is a very flashy midfielder who helped Manchester City win its first Premier League title in 44 years. He will be looking to help out his country this summer after a disastrous showing in the 2010 FIFA World Cup.
Striker Zlatan Ibrahimovic, Sweden
A country known for producing great hockey players, Ibrahimovic is one of the best strikers in the world. He will be looking to pull off a few spectacular goals if the Swedes want to get past the French or the English.
If anyone scores a big time goal for Sweden, it'll be the dominant figure that is Zlatan Ibrahimovic.
Games to Watch
June 11th: England vs. France
One of the top international rivalries in the world, England and France will meet in their first game of the EURO tournament.
Both squads will be looking to improve from their previous international tournament showings. This will be one of the top games to watch during the month of June.
June 19th: England vs. Ukraine
Mark this match down as the return of Wayne Rooney.
Rooney has been suspended by the FA for the first two games of the EURO tournament for previous actions in his English uniform, but he will get his time to shine against the co-hosts during England's last group stage game.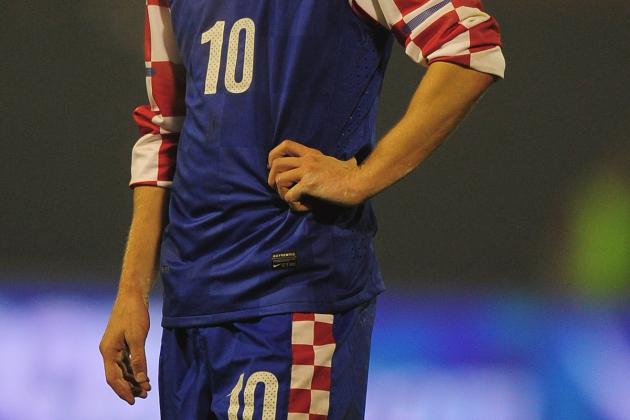 Jamie McDonald/Getty Images

The Contenders

Spain
Most would argue that Spain is still the most dominant and talented team in the world, but, without David Villa and Carlos Puyol, retaining its crown as the best team in Europe will be a lot tougher than previous years.
Spain is still swamped in talent and depth even without Puyol and Villa, but opposing squads will be looking to capitalize on the banged up Spanish side.
Germany
The Germans finished third in the 2010 FIFA World Cup, second in EURO 2008, and third in the 2006 FIFA World Cup.
The team is certainly due for a Cup victory, and it still has plenty of talent to win one.
Mario Gomez, Bastian Schweinsteiger, Thomas Mueller, Philipp Lahm, Manuel Neuer and Jerome Boateng all helped Bayern Munich make it to the Champions League Final this season, and five other members of the German national team helped Borussia Dortmund win the Bundesliga, the German Premier League.
But, will the lingering place kick loss to Chelsea affect the Bayern Munich players, or will this add fuel to its fire in order to win Germany the European Championship?
Holland
Ironically in the same group as the Germans, it is possible that the Dutch and the Germans can meet in the EURO 2012 final.
The Dutch were just four minutes away from going to place kicks with the Spanish at the 2010 FIFA World Cup before Iniesta blasted away a goal to win it for Spain.
Players like Arjen Robben, Wesley Sneijder, Robin Van Persie, Dirk Kuyt, Rafael Vande Vaart, Mark Van Bommel and many others create one of the most talented groups in Europe.
The Cinderellas

Croatia (Modric pictured above)
As mentioned before, Spain is a bit banged up heading into the European Championship.
Its best striker, and arguably its best center-back, will not be participating in Poland and Ukraine this summer.
Italy has also been a bit shaky over the past couple of years since its World Cup Championship in 2006. I know it was a friendly game, but it says a lot when you lose 1-0 to the United States.
Enter Croatia, a team that has some players who are in tremendous form.
Keep an eye on Nikica Jelavic, the striker for Everton, who scored some great goals in Goodison Park this season. If he continues his great play, we could see Croatia being another group winner.
The team won Group "B" in the 2008 European Championship.
Portugal
In the "Group of Death," anything is possible.
Granted, the top two teams in the group are some of the world's best. But, Portugal isn't too bad itself.
If it can somehow take a point away from Germany or Holland, it will most likely be advancing to the next round. I don't personally see it happening, but it is the "Group of Death."
Cristiano Ronaldo will be looking to make some noise for his home country. I expect a big month of June out of him.
England
Perhaps everyone is underestimating Roy Hodgson and the English.
The bar has not been set high for England and most do not expect it to make it past the semifinals.
It makes things tough without Wayne Rooney for two matches against its toughest competition in the group stage, but if it can somehow win the group on five points, I think it have a legitimate shot at making it to the Top Four in EURO 2012.
For the first time in a while, the pressure is not on England to perform at a world class level. Maybe that gives the team the opportunity to relax, breathe and play some great football.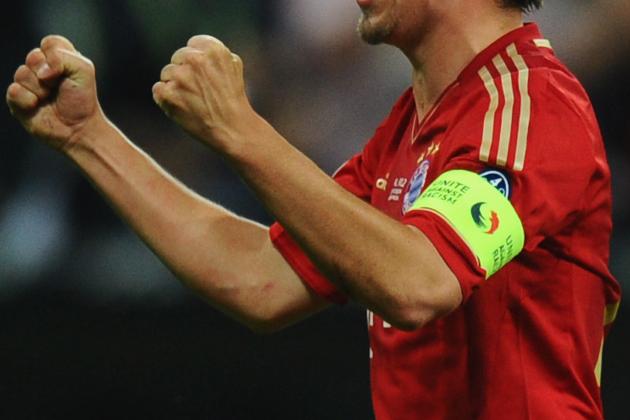 Mike Hewitt/Getty Images
The Germans are due
Who Comes Out of Group "A"
Russia and Poland
Who Comes Out of Group "B"
Germany and Holland
Who Comes Out of Group "C"
Spain and Croatia
Who Comes Out of Group "D"
France and England
Quarterfinal Predictions
Holland will beat Russia, but I wouldn't be shocked if the Russians made it interesting. I still see Holland winning by a goal or two.
Germany will trounce Poland by a possible score of 4-0.
Spain will beat England, but if there was one upset in the 16th round, it would be England over Spain.
France will beat Croatia, 1-0. I don't feel too confident about that one though, either.
Semifinal Predictions
Holland over Spain.
Holland will get revenge against Spain if they go head to head this summer. Holland will be looking for blood, and Spain is the most banged up squad going into the EURO.
Germany will beat France by a goal or two. I think France will get lucky that England is going into the tournament with a new manager and a conservative squad, and that they won't have to face Rooney.
If that were so, England would be in the semifinals and France would not.
Nonetheless, I predict a Holland vs. Germany final.
Final Prediction
The Germans are due for a tournament victory. I see them winning 2-1 or 1-0.
The Germans are so talented. It would be an absolute shame if they didn't win a cup this year or in 2014; they are just too talented up and down the board.
Holland is just as talented up front with Robben, Sneijder, Van Persie and others but I see Philipp Lahm, who is pictured above, holding up the trophy in Poland this summer.