According to David Ruiz of MLSSoccer.com, Fredy Montero of Seattle Sounders and Brek Shea of FC Dallas are at the top of the list of transfer targets this summer for the English club Liverpool.
Currently owned by the American group Fenway Sports Group of Boston, the club has seen a recent downturn exacerbated by major holes in its back room. Although Liverpool currently lacks a physiologist, director of football, head of media relations and a manager, Ian Ayre has released a statement saying:
"This view that there is turmoil because people have left over the last couple of months is not our feeling," he said.

"They were decisions made because of this plan to go forward, because there was a belief those individuals weren't good enough to take it forward at that time.

"What we look for is someone who fits in that overall plan and structure we have developed," he added.

"John Henry has publicly said we have a five-year plan for the business and the structures are falling into place now."
The MLS duo are targets because they are relatively young—Montero is 24 and Shea is 22. They also play in America, which will help FSG-owned Liverpool to gain more prominence in a country where the NFL and the NBA hold a majority of stakes in sports.
Fredy Montero plays as a forward for the Sounders and has appeared 39 times and scored 15 goals, an average of .38 goals a game. In 2009, he was named the MLS Newcomer of the Year and was named the U.S. Open Cup Player of the Tournament in 2011.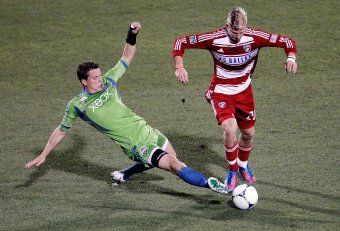 Tom Pennington/Getty Images
The Colombian appeared for Seattle nine times this season scoring three goals and recording an assist in league competition.
Brek Shea is a versatile player due to his ability to play in a variety of positions ranging from defender, midfielder and winger. To date, he has appeared in 85 games for Dallas, scoring 19 times.
He was drafted in 2008 and made his debut for Dallas in April of that very year.
Shea has spent some time training with Arsenal's Arsene Wenger, so the American may have some idea of what it is to play for the high-paced, high-intensity English game.
This season, he's scored three times for the Texas club in seven appearances. He is also familiar with international fixtures, featuring in the American jersey 12 times.
Apparently, the two were on the list of Kenny Dalglish, who had intended on forcing Stewart Downing and Jordan Henderson—two recent acquisitions—to play better or be replaced by the two MLS players.