2012 NBA Mock Draft: Predicting Every Superstar in First Round
May 18, 2012

Jeff Gross/Getty Images
The 2012 NBA draft is fast approaching and a whole crop of new talent is going to be entering the league during the event.
With so many prospects available in this loaded class, there could potentially be a ton of legitimate stars that wind up getting picked in the first round.
Let's take a look at the latest mock with a focus on some of these talents.
1. Charlotte Bobcats: Anthony Davis, Kentucky
Davis has all the makings of a superstar. He's got incredible athleticism for his massive size and will instantly become a Defensive Player of the Year candidate because of his shot blocking.
Once his offensive game gets caught up to speed, it may be impossible to stop him. He's the clear-cut No. 1 overall pick and every franchise in the lottery is dreaming about selecting him.
2. Washington Wizards:  Michael Kidd-Gilchrist, Kentucky
MKG has a chance to be great. He's a hard worker that brings his lunch bucket to the floor, but he's also got the innate size and required athleticism to be an elite 3 in the NBA.
3. Cleveland Cavaliers, Bradley Beal, Florida 
With the many of the top NBA shooting guards getting up there in age, Beal has an opportunity to put himself on the map.
His long-range shooting and big frame that allows him to get to the cup make him an all-around offensive threat that can score from anywhere.
4. New Orleans Hornets: Thomas Robinson, Kansas
Robinson's junior year at Kansas was nothing short of phenomenal. Unfortunately, it took him a while to earn the starting gig and his age limits his upside. He'll be a solid player, but perhaps not a superstar.
5. Sacramento Kings: Jared Sullinger, Ohio State
This young man has an NBA-ready post game that he has honed for two years with the Buckeyes. His decision to return to school for his sophomore season did not exactly yield stellar results, so it's questionable that he can turn out to be better than he is now.
6. Portland Trail Blazers (via New Jersey Nets): Andre Drummond, Connecticut
Drummond's massive frame and athleticism suggest he could be a top-five center in the league sooner than later. However, he did not always display the motor required during his year at UConn and had some atrocious performances against lesser competition.
7. Golden State Warriors: Perry Jones III
PJIII should be battling with Anthony Davis for the No. 1 overall pick. He's got that much talent, but his work ethic isn't nearly as sharp. If Jones can commit himself to working his butt off every play, he'll be a great player.
8. Toronto Raptors: Harrison Barnes, North Carolina
It remains to be seen if Barnes can develop into more than a one-dimensional scorer. He's still a lottery-worthy prospect because of his elite ability to put the ball through the hoop from anywhere on the floor and that is what a team like Toronto needs—a No. 1 scorer.
9. Detroit Pistons: Arnett Moultrie, Mississippi State
This young man is a bit of a wild card. It took a transfer to Mississippi St. to get him playing at the level everyone expected when he entered college. If he can keep it up at the next level, the sky is the limit.
10. New Orleans Hornets (via Minnesota Timberwolves):  Kendall Marshall, North Carolina
Marshall may never replace Chris Paul in New Orleans, but he's the best pure point guard in the class. The Hornets need someone like him to help win games and get teammates involved while they rebuild.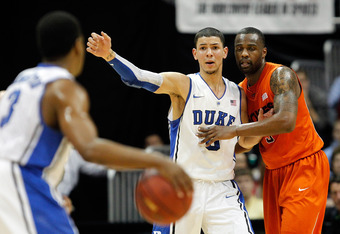 Streeter Lecka/Getty Images
11. Portland Trail Blazers: Austin Rivers, Duke
Rivers plays like a superstar guard and clearly wants to become one. He reminds scouts of Kobe Bryant the way he dominates the ball and finds a way to score.
He'll need more development time, but this young man is a prodigy who comes from a basketball family—much like Bryant.
12. Milwaukee Bucks: Tyler Zeller, North Carolina
Milwaukee has to know it isn't getting a high-upside guy if it takes the senior center from UNC, but he'll be able to immediately fill a huge need.
13. Phoenix Suns: Damian Lillard, Weber State
Steve Nash isn't going to play forever and could possibly leave Phoenix during free agency. The team needs to replace him, and Lillard is the best guard on the board here. If he doesn't pan out as a facilitator, he can be moved to SG.
14. Houston Rockets: Jeremy Lamb, Connecticut
Lamb is another great talent that always doesn't live up to his ability. When not involved in a play Lamb tends to mentally check out. He can't do that and succeed in the NBA, but the Rockets will take a chance on his ceiling.
15. Philadelphia 76ers: John Henson, North Carolina
Elton Brand is hitting free agency soon and the Sixers need a lengthy and athletic PF to replace him. Henson fits the bill and could be a nice starter.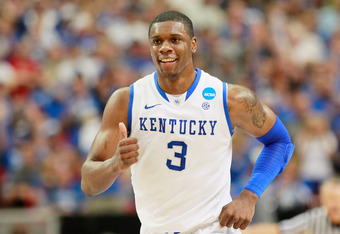 Kevin C. Cox/Getty Images
16. Houston Rockets (via New York Knicks): Terrence Jones, Kentucky
Jones is a top-five talent that has trouble finding the will to play like it every single night and even from one play to the next. If he can get focused this pick is a steal.
17. Dallas Mavericks: Terrence Ross, Washington
Ross has a lot of upside and his youth is sorely needed at the SG spot in Dallas. The Mavericks currently give major minutes to Vince Carter and Jason Terry, which may have contributed to their quick demise while defending their title.
18. Minnesota Timberwolves (via Utah Jazz): Meyers Leonard, Illinois
The T-Wolves need to move past their rebuilding effort and start getting serious about winning. That means trading or landing a free-agent SG—their biggest need. They can draft a backup big with this pick, which in this case would be Leonard.
19. Orlando Magic: Quincy Miller, Baylor
Miller shows flashes of talent that would make him a serious scoring swingman in the pros. If he can continue to develop his game and work on his strength, there is a shot he becomes the No. 1 option for a team like the Magic.
20. Denver Nuggets: Dion Waiters, Syracuse
Waiters does one thing exceedingly well, and that is get to the basket. There is clearly some talent here that needs to be honed, which is exactly why he's a great pick for the Nuggets, a deep team that can take time to develop a young prospect.
21. Boston Celtics: Andrew Nicholson, St. Bonaventure
Should Kevin Garnett depart in free agency, the Celtics will desperately (and that is an understatement) need size. Nicholson has good height and a mid-range game that is KG-esque.
22. Boston Celtics (via Los Angeles Clippers): Royce White, Iowa State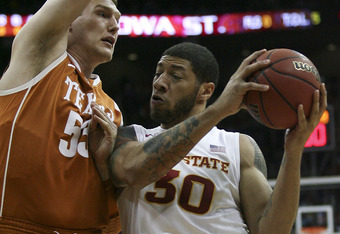 Ed Zurga/Getty Images
White is a unique player that has great strength and bulk with a soft touch and an eye for passing. Sound like a top-10 pick to you?
He should be, but he has a crippling anxiety disorder that has impacted the way he plays on the court and how he behaves off it.
Should he be able to overcome this disability, White is a steal and going to be a star.
23. Atlanta Hawks: Doron Lamb, Kentucky
The Wildcats swingman has decent size, great range and a knack for making a big shot. The Hawks need an option like him in their backcourt.
24. Cleveland Cavaliers (via Los Angeles Lakers): Moe Harkless, St. John's
Harkless has all the raw talent in the world. He's young, sizeable and has out-of-this-world potential.
There have been plenty of swingmen like him before in the draft that have not panned out, so the Cavaliers have to be careful. He's still worth a late first-round pick because of the ceiling and need for a 3 in Cleveland.
25. Memphis Grizzlies: Tony Wroten, Washington
Wroten is a developing PG who has elite size for the position and a chance to turn into one of the better players in this draft. He's extremely raw and went to a mediocre college in a terrible conference, so scouts are a little hesitant to call him a sure thing.
26. Indiana Pacers: Marquis Teague, Kentucky
Teague won't be a traditional point guard that can start for every team, but on a young athletic team like the Pacers, he can push the ball and create fast breaks.
27. Miami Heat: Fab Melo, Syracuse
Melo hurt his stock by not being eligible for the 2012 NCAA tournament. This might be a good thing for the Heat, who need a big and wouldn't mind gambling this late.
28. Oklahoma City Thunder: Draymond Green, Michigan State
Green is a team-oriented player and a high-character guy. He'd make a perfect fit as a backup on OKC.
29. Chicago Bulls: John Jenkins, Vanderbilt
Chicago will once again try to address the inconsistency at the shooting guard position in this draft, and Jenkins is worth a shot.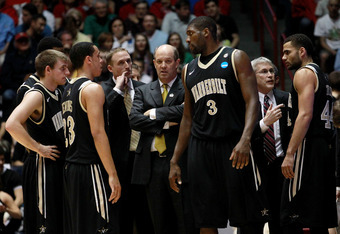 Ronald Martinez/Getty Images
30. Golden State Warriors (via San Antonio Spurs): Jeffery Taylor, Vanderbilt
This would be an absolute steal for the GSW. Taylor is one of the top athletes in the class with a developing jump shot. He's got potential to be a starter in the NBA.