Chelsea vs. Bayern Munich: Live Score, Highlights and Player Grades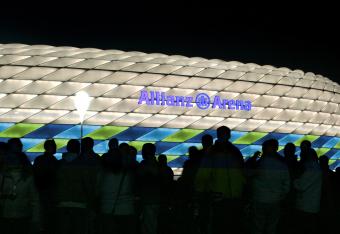 Handout/Getty Images
UEFA Champions League final: Bayern Munich (GER) vs. Chelsea (ENG).
Goals
Bayern Munich: Thomas Müller (83')
Chelsea: Didier Drogba (88')
Note: If you're having trouble seeing embedded tweets, reload your browser.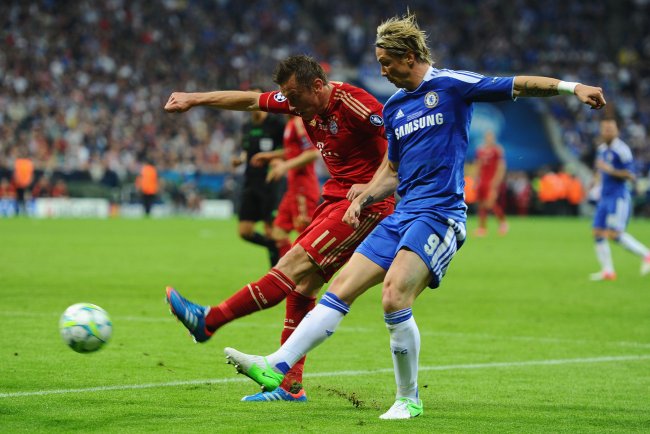 Mike Hewitt/Getty Images
Player ratings: Bayern
So Bayern finishes the season without a trophy, and there's plenty of heartbreak to go around.
Here are their player ratings:
Manuel Neuer: 7.5
Not really at fault for Drogba's goal, and he also performed well in the shootout.
Jerome Boateng: 6.0
Mostly solid at the back and also got forward well.
Anatoliy Tymoschuk: 6.0
Not Bayern's first (or probably second) choice in defense, but he performed well enough.
Diego Contento: 6.5
Kept Chelsea pretty quiet on his left side.
Philipp Lahm: 8.0
Defended well, attacked well and took a nice penalty. A captain's performance.
Bastian Schweinsteiger: 6.0
He'll never forget that penalty. Looked tired in extra time.
Toni Kroos: 6.5
Gave Bayern a creative option up top. Created Bayern's only goal, but it wasn't enough.
Franck Ribery: 6.5
Worked himself into dangerous positions, but couldn't create a goal.
Arjen Robben: 6.0
Awful penalty. Had tons of shots blocked. Not his best night.
Thomas Muller: 6.0
Took his chance well, but was relatively quiet otherwise. Bayern lost shape as soon as he left the game.
Mario Gomez: 5.5
Fluffed multiple chances. Should have scored at least once, but at least he was able to work himself into good positions.
Subs
Ivica Olic: 6.0
Daniel van Buyten: 5.0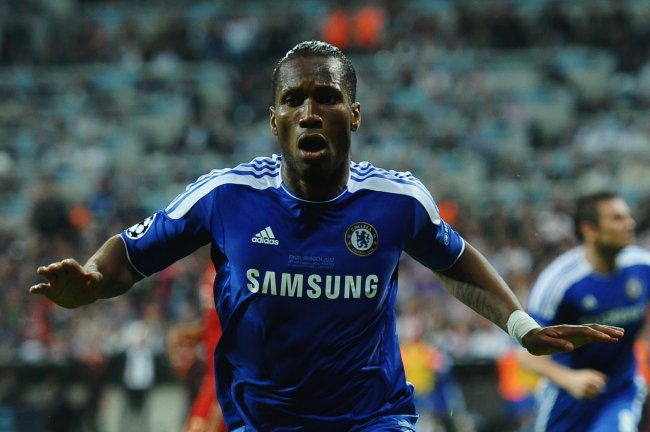 Laurence Griffiths/Getty Images
Player ratings: Chelsea
So, Chelsea qualifies for next season's Champions League as winners of this year's competition.
They add the Champions League trophy to the FA Cup they won earlier this month.
Here are their player ratings.
Petr Cech: 8.0
Outstanding all night, made a nice save in the shootout.
David Luiz: 7.0
Out of position once or twice, but for a guy dealing with a hamstring injury, he was great. Nice penalty, too.
Gary Cahill: 7.5
See above.
Ashley Cole: 8.5
Chelsea's best defender, and that's saying something.
Jose Bosingwa: 6.5
Not a headline-grabbing performance, but that's fine.
Frank Lampard: 7.0
More than held his own against the younger Bastian Schweinsteiger.
Mike: 6.5
Tireless in the midfield.
Ryan Bertrand: 6.5
Commendable performance in his first ever Champions League match. Surprisingly mature.
Salomon Kalou: 6.0
Weird haircut, but a decent performance
Didier Drogba: 9.0
The difference. Plain and simple.
Juan Mata: 5.5
Suffers when Chelsea plays such a defensive style.
Subs
Florent Malouda: 6.0
Fernando Torres: 5.5
Tweet, Tweet
This…
Mazeltov Chelsea. But Germans missing penalties is right up there with wolves lying with lambs as a sign of the apocalypse

— roger bennett (@rogbennett) May 19, 2012
Tweet, Tweet
Indeed…
Congratulations to Di Matteo, who steadied the ship. To Drogba who kept his nerve at the end. To Lampard who led admirably. Congrats #cfc

— Henry Winter (@henrywinter) May 19, 2012
Chelsea just couldn't be denied. Or, more accurately, Didier Drogba just couldn't be stopped.
Nobody could do it all spring. This defies all logic. Chelsea really rode their luck, but you have to give them credit for holding their nerve for so long.
Schweinsteiger is in tears. You have to feel for him.
Bayern should have won this game twice, and they can only blame themselves.
That's it! Chelsea wins the shootout 4-3, and they even beat a German team in the process!
Drogba: GOAL!
Drogba wins it for Chelsea!!!
The man who's done it for Chelsea all year!
Schweinsteiger: MISS!
Schweinsteiger stutter-steps and hits the post going to his right.
Cole: GOAL!
Cole fires it into the net to his right.
It's all tied up 3-3 after four rounds! This is it!
Olic: SAVED
Olic goes right, and Cech saves!
Lampard: GOAL
Lampard pounds it high and down the middle.
Neuer: GOAL
The Bayern keeper takes a nonchalant run-up and finishes low and to his left.
Then, he makes a face like, that's right b****.
David Luiz: GOAL!
David Luiz takes a long run-up and blasts a penalty high into the top corner.
Mario Gomez: GOAL!
Gomez strikes it sweetly low and to the right.
Juan Mata: SAVED!
Mata goes down the middle, and it's saved easily by Neuer.
Cech got a hand to that one. Great penalty though.
Philipp Lahm: GOAL
The Bayern captain goes first…
…and scores with a high shot to his right.
Tweet, Tweet
Cutting the tension here…
Penalty prediction: Gomez' effort will hit Didier Drogba in the centre circle. Drogba will stay down for seventeen minutes.

— Liverpool Offside (@LFCOffside) May 19, 2012
Both teams will take five penalties each, alternating one at a time.
If we're tied after that, we go to sudden death.
Extra time
There's the final whistle!
We're going to penalties.
120th minute: CARD
Fernando Torres races into the box, then fouls Bayern defender Diego Contento.
Torres then gives the ref some lip and earns a yellow card for his trouble.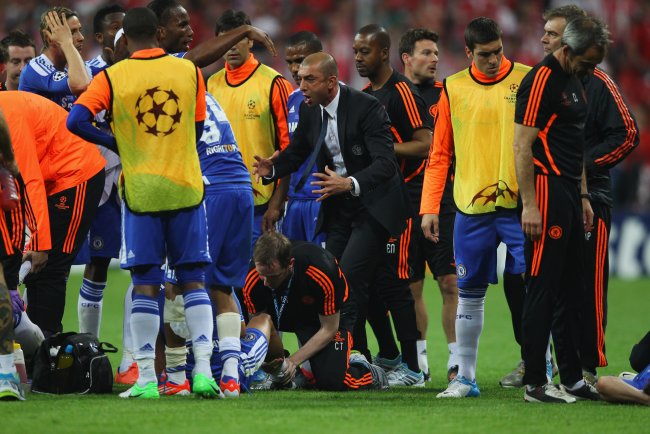 Alex Livesey/Getty Images
119th minute: 1-1
Both teams look spent. This game is going to penalties.
117th minute: 1-1
Well, never mind. Robben wastes the free kick, kinda like he wasted his penalty a few minutes ago.
I'm sure of it now. Chelsea cannot lose this match. It just can't happen.
The football gods have spoken.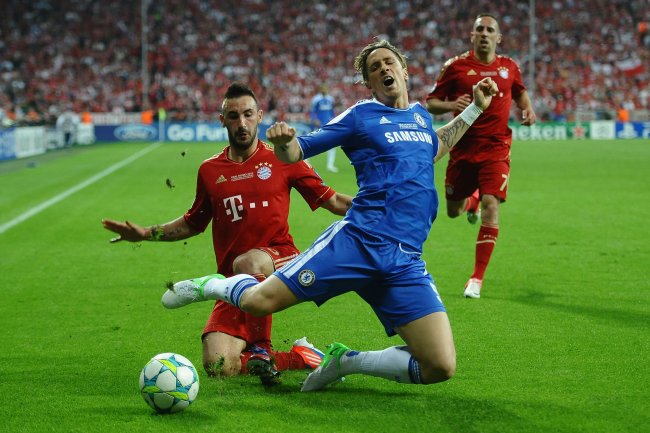 Laurence Griffiths/Getty Images
116th minute: 1-1
Schweinsteiger wins a free kick for Chelsea about 35 yards out.
This could be a decent chance.
This article is
What is the duplicate article?
Why is this article offensive?
Where is this article plagiarized from?
Why is this article poorly edited?