NHL Playoffs 2012: 3 Stars for the New Jersey Devils in Game 2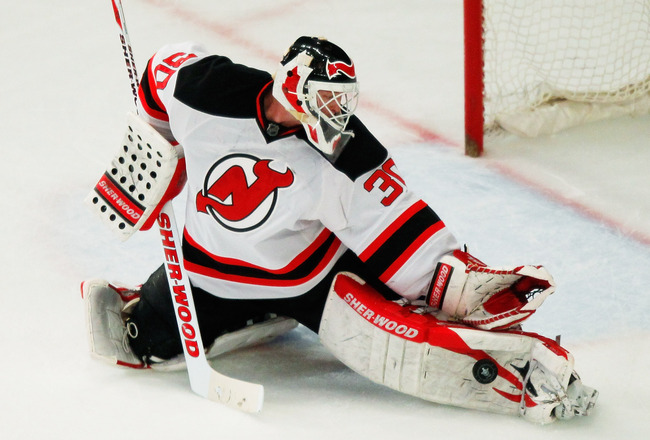 Paul Bereswill/Getty Images
The New Jersey Devils evened their second-round series with the New York Rangers with a 3-2 victory in Game 2 Wednesday night.
With the game tied 2-2 in the final frame, David Clarkson was able to deflect home the game-winning goal.
Several players stepped up in order for New Jersey to prevail. However, here are three Devils who left an undeniable stamp on Game 2.
3. David Clarkson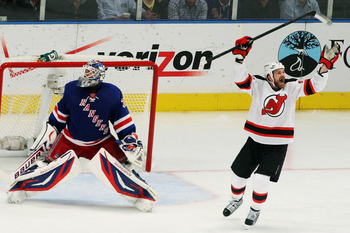 Bruce Bennett/Getty Images
Composure was the key to David Clarkson's game-winning goal in Game 2.
Rangers defenseman Stu Bickel had been attempting to bait Clarkson into some rough stuff at the beginning of his shift.
Clarkson wisely turned down Bickel's offer, and No. 23 ultimately had the last laugh.
As New Jersey rotated the puck to Adam Henrique at the point, Clarkson firmly established himself in front of Rangers goalie Henrik Lundqvist, completely screening the All-Star.
Clarkson was able to get his stick on the puck and deflected it past Lundqvist, giving the Devils a 3-2 lead that they would not relinquish.
Clarkson made himself known physically as well as offensively in Game 2.
Rangers coach John Tortorella switched around his line combinations in order to have Mike Rupp, one of New York's main enforcers, up against Clarkson.
David Clarkson now has three goals, six assists and nine points in these playoffs.
2. Bryce Salvador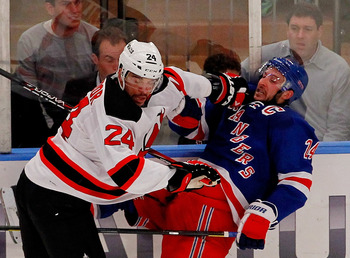 Paul Bereswill/Getty Images
This postseason, Bryce Salvador has become New Jersey's best all-around defender.
Not only did Salvador throw his weight around in Game 2, he had four hits and a blocked shot and also placed himself on the scoresheet twice with two helpers.
Also, Salvador led the Devils with 23 1/2 minutes of ice time.
Salvador's offensive contribution has been an extremely pleasant surprise for New Jersey this postseason.
His hot hand, coupled with his consistent defensive play, has Salvador among the top defensemen left in these playoffs.
1. Martin Brodeur
Marty marveled Devils fans once again with a 1990s-esque performance in Game 2.
His head-scratching save against Marian Gaborik early in the second period is sure to be at the top of many of this season's highlight countdowns.
Brodeur not only matched the play of Henrik Lundqvist, but at times, outplayed the Swedish superstar.
Though two shots of the 25 taken by the Rangers found their way past Brodeur, he came up with big saves when his team needed them the most.
Brodeur pitched a shutout in the third period, preserving a Devils victory.
Keep Reading

New Jersey Devils: Like this team?