Martin Hanzal Suspension: Shane Doan and More Coyotes Forwards Who Must Step Up
March 17, 2017
Christian Petersen/Getty Images
Shane Doan is one of several struggling Phoenix Coyotes forwards who must step up in Game 3 of the Western Conference Finals against the Los Angeles Kings with Martin Hanzal suspended.
Hanzal was suspended for Game 3 because of his boarding penalty from Game 2, when he recklessly hit Kings captain Dustin Brown from behind.
Hanzal has three goals and two assists in the playoffs thus far, which isn't a ton of production, but the Coyotes will still need their offense to step up against a Kings goalie in Jonathan Quick who is standing on his head pretty much every game in the postseason.
Let's look at three Coyotes forwards who must play better in Game 3.
Radim Vrbata
Radim Vrbata led the Coyotes with 35 goals this season, but has just two goals in the playoffs and no points through the first two games of the Kings series.
Vrbata has struggled in the playoffs throughout his career. He has just 13 points in 33 career postseason games.
If Vrbata doesn't give Phoenix more production offensively, then it will not win this series. The Coyotes don't have the offensive depth to be able to win a series when their leading scorer can't contribute anything.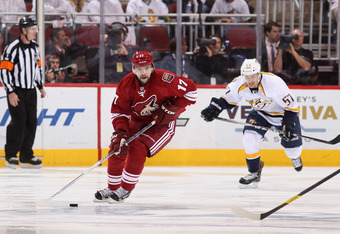 Christian Petersen/Getty Images
Ray Whitney
Ray Whitney led the Coyotes with 77 points this season, but has just six points through 13 playoff games and also hasn't scored in the Western Finals.
Whitney is one of the Coyotes' best playmakers, but he hasn't been able to get going against the physical defense of the Kings
If Whitney cannot create scoring chances for his teammates against Kings goaltender Jonathan Quick, Phoenix will be swept from the playoffs.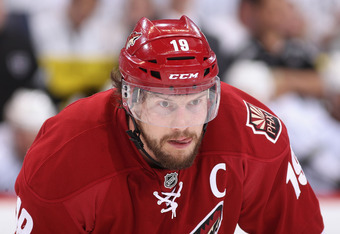 Christian Petersen/Getty Images
Shane Doan
The Coyotes captain is playing below par against the Kings right now and must improve offensively for him to reach the Stanley Cup Final for the first time in his extraordinary career.
Doan has just one point against the Kings and is a minus-three through two games. Even though the Coyotes will go into the Staples Center facing an 0-3 series hole, Doan doesn't seem too worried.
Per Todd Walsh of Fox Sports Arizona (h/t ProHockeyTalk):
"Everyone's picking LA to go on now with the situation that we're in. That's fine by us," Doan said. "The experts have not picked us for a long time and continue to pick against us.

"The last three years we've found ways to prove them wrong — we'll be worried when they start picking us."
If Doan wants to prove the doubters wrong again, he needs to lead the Coyotes to a big Game 3 win.
Nicholas Goss is an NHL Featured Columnist for Bleacher Report and was also the organization's on-site reporter for the 2011 Stanley Cup Final in Boston.