Lawrence Taylor: Selling Super Bowl Ring Sends Sad Statement
May 17, 2012

Mike Powell/Getty Images
Former New York Giants linebacker and NFL defensive legend Lawrence Taylor has made a very sad statement to the world by putting his 1991 Super Bowl ring up for sale. Either that or he really doesn't like his ring and wants some extra spending cash, but I'll let you determine the more plausible reason.
There are few things more cherished in sports than a championship ring. It's what every single player on every single team works for.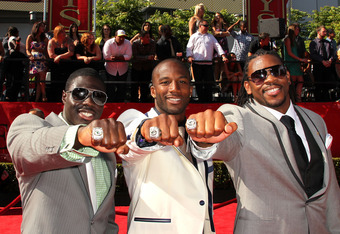 Frederick M. Brown/Getty Images
Rookies coming into their respective leagues dream of the day they get their rings, and veterans oftentimes chase them. It's how we define greatness in sports, and it's oftentimes how we define legacies.
Ask LeBron James what not having a ring can do to your credibility. Even worse, ask Dan Marino what it feels like working your whole career yet not obtaining one.
The ring means everything to these players. But apparently even the most cherished of objects can lose its sentimental value.
Taylor is apparently ready to part ways with his Super Bowl ring, according to Gregg Rosenthal of NFL.com:
On Thursday morning, we caught wind of a depressing link to a former Giants championship team. Lawrence Taylor is selling his 1991 Super Bowl ring in an online auction. The ring has been notarized by Taylor.

"Presented here is arguably the most significant Superbowl player ring ever offered publicly," the website SCP Auctions boasts, with many camera angles on Taylor's ring.

The current bid is $37,982. The auction ends this Saturday night, and the reserve price for the ring has not yet been met.
How bad are things for Taylor that he has to sell what is not only sure to be a prized possession, but also a part of his legacy?
Maybe it doesn't really mean that much to him, but I have a hard time believing selling something that meaningful to the game won't hurt him as an NFL legend.
This story also doesn't necessarily mean Taylor is having financial issues. But it doesn't leave room for many other logical reasons, especially given his history. Taylor has had his bad moments, and he very well may need all the help he can get right now, so I can't blame him for doing what he has to do.
That being said, this is just rough.
Even rougher would be the predicament of a true blue New York Giants fan wanting to buy the ring. On one hand, you are getting LT's ring and supplying him with extra cash (which he may or may not need). But on the other hand, you are depriving an NFL legend of his Super Bowl ring.
The best-case scenario would be for the ring to be bought by someone who simply doesn't care about the NFL or the meaning of the ring. But then again, I'm not sure why they would want it at that point.
Either way, it's hard to come away from this feeling to optimistic about the statement Taylor made by putting his ring up for sale.