Metta World Peace Called out for Being "Lakers Idiot" by ABC Chicago
May 17, 2012

Metta World Peace is crazy, not stupid. Oh, and the news should stick to reporting not opining. 
This week has been a great week to be a fan of pretty much every team but the Lakers. They gave up a seven-point lead with two minutes to play, were blown out in Game 1 and Metta World Peace was called out for being an idiot. 
For the purpose of brevity, we will concentrate on that last part solely. 
Here is a tweet that came from the handle Ten Foot Midget. It clearly shows World Peace and a lower third that clearly calls him out for being both a Lakers player and an idiot.
May 17, 2012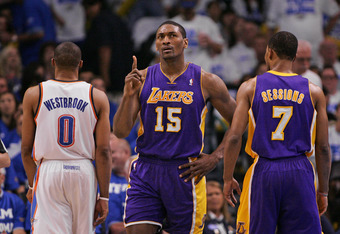 Brett Deering/Getty Images
Deadspin reports on some of the specifics thanks to one commenter. It seems that this screen grab comes comes from Chicago ABC affiliate WLS's 5 p.m. newscast on May 14. 
While it may be dated, the actual video is just now reaching the national spotlight, and that is where it belongs. 
It belongs because someone over at Chicago's WLS screwed up. They felt the need to infuse some measure of their opinion and humor on a news broadcast, and it really needs to be dealt with. 
There are two things that I find wrong with this scene. For one, Metta World Peace is not an idiot. He is mentally unstable and deals with the issue daily.
He may be public enemy number one around the sports world right now, but at least he is an advocate for something that he has tried to keep in check.  
At least be accurate with your reporting. 
The second part is actually more harmful because MWP hardly cares what an ABC affiliate thinks of him. 
It's that news should stick to news. 
You come to the Daily Swag for funny videos, sexy pics or opinions where appropriate. I can give you opinion here because the format makes it obvious that this is all my viewpoint. 
This is presumably one person messing around with a lower third and not the view of the entire station. At least, I hope not. 
However, I would like my news to be what it claims to be, unbiased and accurate. A lower third of "Lakers Loony Toon" would have been fine by me. 
Follow me on Twitter and improve your life tenfold.