2012 NFL Free Agents: Unsigned Players with Huge Value
May 17, 2012

Dilip Vishwanat/Getty Images
Three straight 1000 rushing yard seasons; 20 touchdowns in the last three seasons.
Sounds like a solid starting running back in the NFL. Well, this player is currently a free agent.
With the NFL draft complete and the main free agency signing period over, NFL teams rosters are starting to shape up for the 2012 season.
However, the following players are still some gems out there in free agency that could take a team from being good to great.
Cedric Benson- RB
Benson is the player with the stats mentioned above. He has been one of the most consistent running backs over the past three seasons. Any running back that can post three straight seasons of 1000 rushing yards can play a key role on any team.
Teams may be afraid to get near Benson because of his off-field issues, but he would make a great back up running back for any team.
Plaxico Burress- WR
After a couple years away from football, Burress showed he could still be a factor on an NFL team. 2011 was a year for Burress to knock off some rust.
Playing wide receiver for the New York Jets is not an easy task when your quarterback is Mark Sanchez. Burress managed to produce a solid year still, hauling in eight touchdown receptions.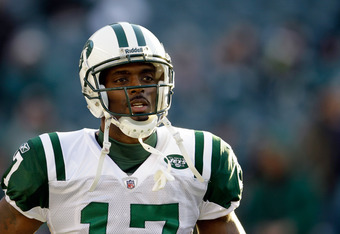 Rob Carr/Getty Images
If Burress goes to a team with a solid quarterback, he would make a terrific red-zone target.
Dallas Clark- TE
Just a couple years ago, Clark was arguably the best tight end in the NFL. In 2009, he put up Jimmy Graham and Rob Gronkowski like numbers, catching 100 passes for over 1100 yards and 11 touchdowns.
The past two seasons Clark has dealt with the injury bug and has not been able to produce much. If Clark stays healthy and goes to a team with a top tier quarterback (who knows, maybe Peyton Manning could talk John Elway into bringing in his pal) then he can still be one of the better tight ends in the NFL.
Braylon Edwards- WR
Edwards had a horrible 2011 season with the San Francisco 49ers and could never find his niche. He clashed with Jim Harbaugh to the point that Edwards had to be released mid-season.
Despite the down year, Edwards can still help out many teams. He has great size and is still only 29 years old. Just two years ago, he had over 900 receiving yards and seven touchdowns for the New York Jets.
If Edwards keeps his head straight, he would make a great third receiver option for many teams.
Marcus McNeill- OT
When McNeill first entered the league, he looked like he was going to be one of the next best offensive tackles in the NFL. McNeill made the Pro Bowl twice, but things have gone downhill since then.
In the past two seasons McNeill has dealt with injuries and has not been able to play a full season.
If he can manage to stay healthy, McNeill would make a great offensive tackle for any team. He is only 28 years old and has plenty of years left in him. He won't get the big contract like he did with the San Diego Chargers in 2010, but McNeill would be a great fill-in option for a season if any team has one of their offensive tackles go down in training camp.