WWE over the Limit 2012 Predictions: Winners and Losers for Every Match
May 17, 2012

Jacob de Golish/Getty Images
With seemingly nobody to feud with, John Cena is now set to battle against a nearly 50-year-old man this Sunday at Over the Limit. 
WrestleMania and Extreme Rules were both excellent shows, and it looks like this one is going to fall short of those lofty expectations, even with CM Punk wrestling Daniel Bryan on tap. 
Here are some predictions for that match and the rest of the Over the Limit card.
John Cena vs. John Laurinaitis
If John Cena wins, general manager John Laurinaitis will be fired, and there is no way that is happening. If any other superstar gets involved in the match, they also will be fired.
Look for "former employees" such as The Big Show or Brock Lesnar to interfere and somehow cost Cena the match, while possibly injuring the former champion in the process.
Cena needs some rest, and Laurinaitis is one of the hottest heels going right now, so look for Big Johnny to come out victorious.
Winner: John Laurinaitis
WWE Championship: CM Punk (Champion) vs. Daniel Bryan
In what will be the best wrestling match of the evening, CM Punk and Daniel Bryan will surely put on a clinic.
Punk and Bryan are two of the best wrestlers on the planet, and they have finally reached main event status in WWE.
Fans might have been worried after he lost his world title to Sheamus, but instead of being bounced to the mid-card, Bryan is going after the real top prize in the company.
He has had a lengthy title reign, but Punk should hold onto his championship a little longer. Hopefully these two can continue a feud until SummerSlam.
Winner: CM Punk
World Heavyweight Championship: Sheamus (Champion) vs. Randy Orton vs. Alberto Del Rio vs. Chris Jericho
It seems like WWE had little faith in Alberto Del Rio being a PPV draw by himself, so they recently added Randy Orton and Chris Jericho to the mix.
Sheamus has looked strong in his second run as world champion, and it would be silly to take the title off of him now.
The odds are stacked against the Great White, so it's a safe bet that he will prevail this Sunday. Don't be surprised to see Sheamus and Orton still at odds after the win, though, as their issues seem far from resolved.
Winner: Sheamus
WWE Divas Championship: Layla (Champion) vs. Beth Phoenix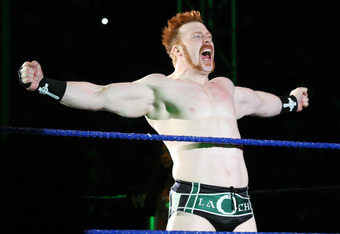 Gallo Images/Getty Images
Layla made a shocking return to WWE during Extreme Rules and won the title from Brie Bella.
Beth Phoenix was one of the most dominant champions ever, so look for her to regain her crown.
Kharma is the wild card here, and if she makes her presence felt, it could cost Phoenix the championship.
Winner: Beth Phoenix
WWE Tag Team Championship: R-Truth and Kofi Kingston (Champions) vs. Jack Swagger and Dolph Ziggler
Considering the way WWE has booked the tag division lately, anything can happen here.
All four competitors in this match seem thrown together into tag teams since they have nothing better to do.
Ziggler is a star in the making and deserves some type of gold around his waist. Maybe WWE will realize this and put the straps on him and Swagger.
The tag division does have some promise, though. The Usos and the new team of Titus O'Neil and Darren Young both look like future contenders, so hopefully these guys can get some more TV time on future shows.
Winners: Jack Swagger and Dolph Ziggler 
Kane vs. Zack Ryder (Pre-Show Match on YouTube and WWE.com)
Fans who love Zack Ryder will be happy that he is getting some work once again but won't be happy when he gets demolished by the Big Red Machine.
Winner: Kane