Breaking Down the Biggest Storylines Around the AFC East
May 17, 2012

Mike Stobe/Getty Images
The AFC East is one of the NFL's most competitive divisions. It already has three teams that could contend for playoff spots and if the Miami Dolphins could figure out their quarterback situation then all four teams could be dangerous.
Here is a look at the latest stories circulating around the AFC East world.
Tim Tebow impressing the Jets already
When the New York Jets acquired Tim Tebow, most wondered exactly how he would fit on the team's roster. He could fill a number of roles on the team, and it appears he will even be involved on special teams. 
But Tebow has also impressed Jets quarterbacks coach Matt Cavanaugh. Cavanaugh told the New York Daily News that Tebow is a tireless worker who has surprised him.
Meanwhile, All-Pro cornerback Darrelle Revis has also been impressed by his new teammate. Revis told the Daily News that Tebow is "a born leader." 
That said, no one has even come close to implying that Tebow will challenge incumbent starter Mark Sanchez for the team's starting quarterback position. It seems like the Jets are welcoming their new teammate, but everyone knows Sanchez will be the guy under center once the 2012 season rolls around.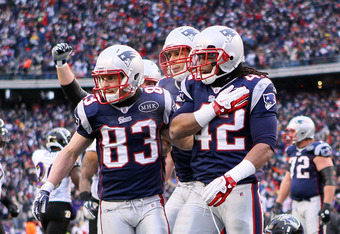 Elsa/Getty Images
Wes Welker signs franchise tender
The New England Patriots and top receiver Wes Welker appeared destined for a protracted contract dispute, but that apparently won't happen. Welker has signed his franchise tender, meaning he now is locked in to a one-year, $9.515 million contract.
While the 31-year-old Welker and the Patriots still need to work out a long-term deal, it appears this situation is far more amicable than the dispute between the New Orleans Saints and quarterback Drew Brees. 
Frankly, all this means is that Welker is smart. He isn't going to risk missing out on nearly $10 million if the two sides can't come to an agreement at some point this summer. He is also now eligible to participate in OTAs starting next Monday. 
This is a good sign all around for Pats fans, as it looks like their team's No. 1 wideout will be on the field when the 2012 season kicks off.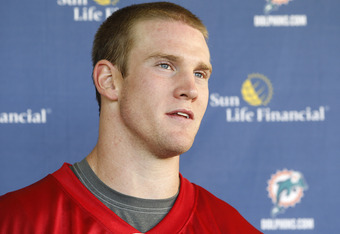 Joel Auerbach/Getty Images
Ryan Tannehill could start for Miami in 2012
When the Miami Dolphins made Ryan Tannehill the No. 8 pick in the 2012 NFL Draft, virtually all experts expected him to sit for at least a full season before taking over. Apparently they were wrong, as now it looks like the Texas A&M product will almost certainly get a chance to start this year.
ESPN"S Adam Schefter says it will be an upset if Tannehill doesn't start at some point in 2012. The Dolphins apparently just like their rookie signal-caller too much to sit him for a long time. 
In addition to that, Tannehill is a long way ahead of both Matt Moore and David Garrard in his knowledge of the Dolphins' offense thanks to having played for offensive coordinator Mike Sherman at Texas A&M.
It appears Tannehill is on the fast track to start in Miami.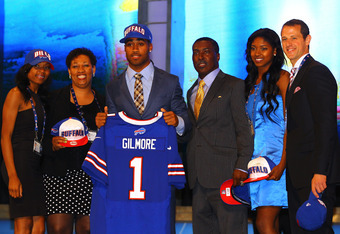 Al Bello/Getty Images
Stephon Gilmore impresses during Bills rookie minicamp
The Buffalo Bills surprised some when they took South Carolina cornerback Stephon Gilmore with the 10th overall pick in the 2012 NFL Draft. But if early reports are to be believed, he is looking like a steal at at that spot.
According to Rotoworld, ESPN's John Clayton was effusive in his praise for the 21-year-old cover-man. Clayton went on SportsCenter and claimed Gilmore was one of the most impressive players at rookie camps around the league. Bills head coach Chan Gailey also praised Gilmore. 
The Bills are likely to lean on their new cornerback heavily during the 2012 season and with his size and range he should be up to the task.