2012 Preakness Post Time: When and Where Saturday's Race Will Start
May 18, 2012

Rob Carr/Getty Images
The Preakness Stakes doesn't carry the same hype as the Kentucky Derby, but we can't have a Triple Crown winner without it.
The 137th running features a surprise Derby winner, I'll Have Another, and Derby runner-up, Bodemeister, at the head of the field.
Only nine other horses entered giving us a total of 11 to pick from this time around.
The Preakness is 0.0625-of-a-mile shorter than the Derby, but no less exciting.
When: Saturday, May 19th
Post Time: 6:18 p.m. ET
Where: Pimlico Race Course, Baltimore, MD
Post Positions
1. Tiger Walk
2. Teeth of the Dog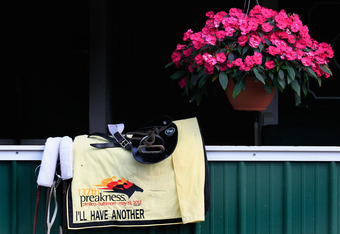 Rob Carr/Getty Images
3. Pretension
4. Zetterholm
5. Went the Day Well
6. Creative Cause
7. Bodemeister
8. Daddy Nose Best
9. I'll Have Another
10. Optimizer
11. Cozzetti
The odds are overwhelming stacked in the way of the two favorites. If Bodemeister sets a pace remotely close to what he did at Churchill Downs, he could conceivably run away with this race.
Without the likes of Trinniberg and Hansen nipping at his heels, he should be able to save a little something for the home stretch as well.
I'll Have Another can't run the same race as he did to win the Derby, but he'll do something similar and has a great chance to grab the second leg due a lack of elite talent in this field.
Bodemeister will have a great break from the No. 7 post, and I'll Have Another will have plenty of room to maneuver from the No. 9 spot.
Other horses to keep an eye on include Derby holdovers Creative Cause and Went the Day Well, Teeth of the Dog and rail-sitter Tiger Walk.