6 Miami Dolphins That Must Step Up in 2012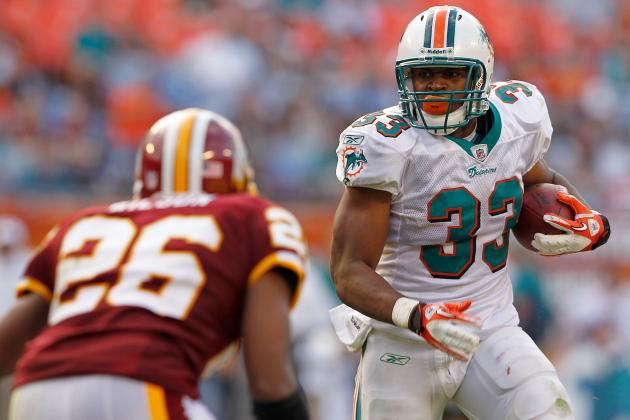 Mike Ehrmann/Getty Images
Second year back Daniel Thomas is one of a few Dolphins whose future may depend on a good 2012 season
In the NFL, it doesn't matter where you were drafted, how good you were in college or how good you're supposed to be.
All that matters is how you perform on the field. It's a put-up-or-shut-up league, and just about any player can get cut if they can't get it done between the white lines.
A few Miami Dolphins are at a crossroads. They have to show that they can reach their potential or realize they might not have a spot with the team. Some are in this position because they are high draft picks that need to show that they're worth their weight, and some need to step up now that their team needs them.
Some can prove that they can be top-level NFL players, and some have to just prove they belong.
In 2011, it was QB Chad Henne who was in a make-or-break situation. After three years of development and game experience, it was time he took his game to the next level. He didn't, and it was clear that the Dolphins had to move on from the relationship.
Miami has a few players that need to put together a good 2012 season to secure their Dolphin—and perhaps NFL—future. Here are six of them:
Begin Slideshow

»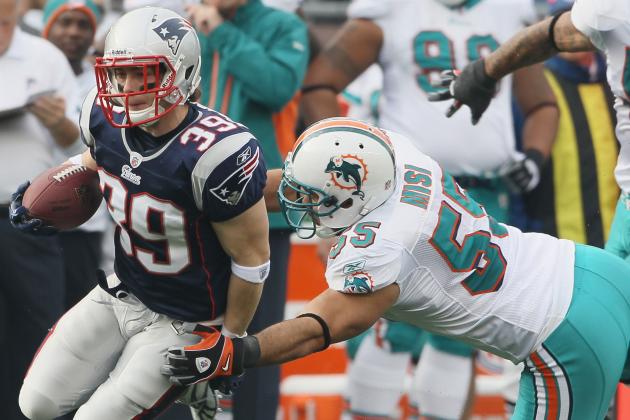 Elsa/Getty Images

When the Dolphins used a top-40 pick in the 2010 draft on LB Koa Misi, what they thought they were getting was a talented pass-rusher.
Two seasons and just 5.5 sacks later, that might not be the case.
After he followed a promising rookie season with an underwhelming 2011 campaign, there are grumblings among fans that Misi could be a bust.
Complicating things are felony assault charges that Misi is now facing stemming from an incident in April 2011. While the Dolphins await the legal conclusion to that situation, they hope to focus on his play on the field.
In 12 games last year, Misi only recorded one sack, one QB hit and four pressures in 113 pass-rushes, according to Pro Football Focus. Not exactly the production Miami was hoping for.
New head coach Joe Philbin has even suggested that the staff may experiment with Misi at inside linebacker. Misi possesses a good skill set and is an adept run defender. Whether he can develop into the pass-rusher he was expected to be remains to be seen, but he has the tools to contribute in other ways.
No matter where the coaches line him up, it's time for the guy to show what he can do. Seeing as Misi is already considered a disappointment by some, 2012 is undeniably a year in which Misi must prove that he can be a quality piece in the Dolphins defense going forward.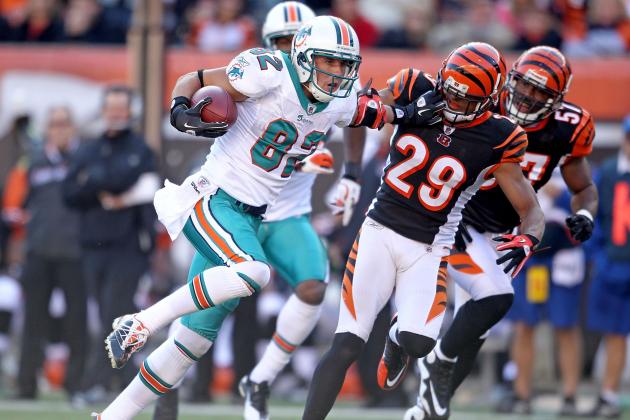 Andy Lyons/Getty Images

Now that star wideout Brandon Marshall has been traded to Chicago, three-year veteran Brian Hartline finds himself atop the Dolphins depth chart. On paper, going from Marshall to Hartline as your No. 1 receiver is a fairly drastic dropoff.
To give the disparity between the two a little perspective, Hartline has only one more receiving touchdown in his career than Marshall had in last year's Pro Bowl.
Nevertheless, many feel that Hartline projects well in Joe Philbin's West Coast offense and that he is poised to have a breakout season. He compares favorably to Green Bay's Jordy Nelson, who scored 15 TDs last year with Philbin as offensive coordinator.
It is up to Hartline to make good on those expectations in 2012. The Dolphins will need to somehow replace Marshall's production. That daunting task doesn't solely fall on Hartline's shoulders, but as the most experienced receiver on the team, along with Davone Bess, he will be a big part of it.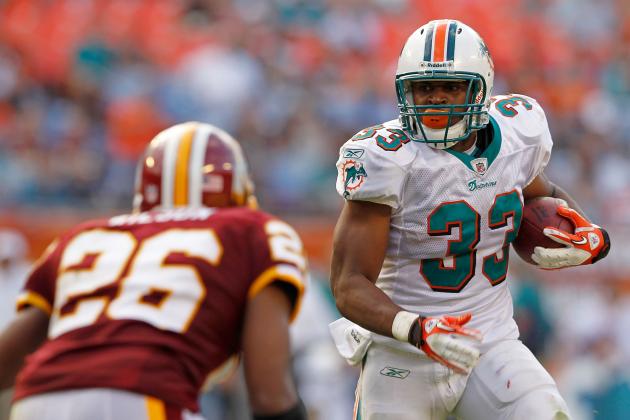 Mike Ehrmann/Getty Images

2011 second-round pick Daniel Thomas didn't start his NFL career quite the the way the Dolphins hoped he would.
After a poor showing in the lockout-shortened training camp, Thomas was hobbled by a nagging hamstring injury that caused him to miss games early in the season.
When he did get on the field, Thomas often turned in uninspired efforts. He averaged less than three yards per carry in six of the 13 games he appeared in and failed to score a rushing touchdown all season.
His tepid play combined with Reggie Bush's career year left little doubt as to who the No. 1 back was in Miami.
Thomas' rookie season was not without some reasons for optimism. He finished second among all rookies with 581 yards, and he posted 107 yards against Houston and 95 against Cleveland in his first two NFL games. He would then go on to barely average three yards per carry for the rest of the season.
While there's no way to know how much the hamstring injury truly affected his play, Thomas must have a bounce-back season to cement his role in the Dolphins backfield. He needs to show this year that he can be durable and that he can play with some consistency.
This upcoming season will be an opportunity for Thomas to refute those who are starting to doubt that he was worth the high draft pick. And though it's only his second year, he must improve or face the possibility of losing carries to veteran Steve Slaton or 2012 fourth-round pick Lamar Miller, and possibly his job in 2013.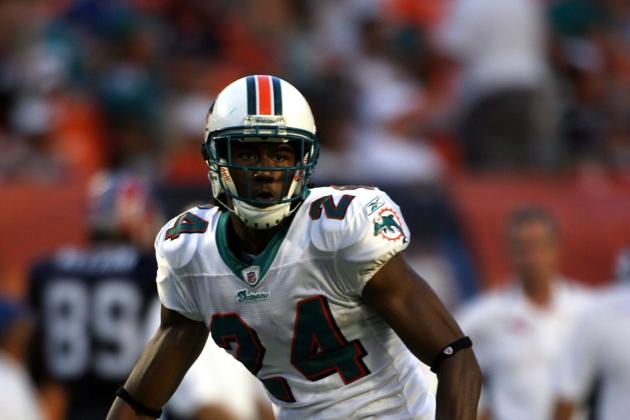 Marc Serota/Getty Images

Probably no player on this list has quite as high of a ceiling as CB Sean Smith.
But after a disappointing season, Smith must make major strides towards reaching that ceiling, or he could find himself searching for a new team in 2013.
He has shown that he's capable of playing great football, as his 2010 performance was outstanding, and it seemed as if the Dolphins had one of the best, if not the best young tandem of corners along with Vontae Davis.
But after a 2011 campaign that was every bit as bad as the previous year was good, Smith now finds himself in a position where he has to prove that he can be a long-term solution at the cornerback spot opposite Davis.
Add in the fact that it's the final year of his contract, and Smith should be more than motivated to return to form. If he continues his poor play, he likely won't be back in a Dolphins uniform.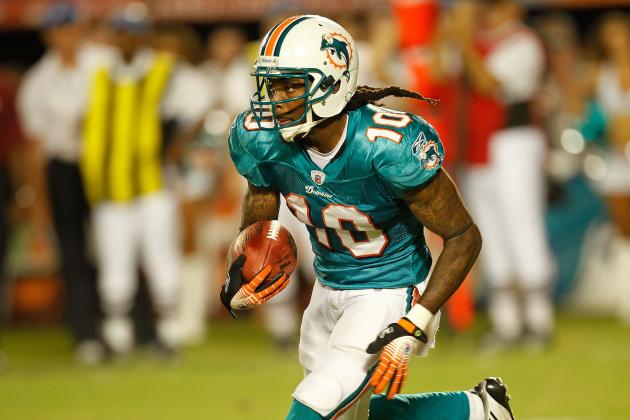 Mike Ehrmann/Getty Images

As a rookie wide receiver last season, Clyde Gates barely saw the field. He had a grand total of two receptions for 19 yards.
His major contributions came in the return game, where he could put his world-class speed to good use. But Gates was drafted in the fourth round of the 2011 draft to be a receiver, and he struggled to get open and ran poor routes in his few opportunities in his first year.
It's not uncommon for a team to give plenty of time to let a receiver develop, especially one who runs a 4.31 40-yard dash. But with a new coaching staff and offensive scheme coming in, Gates' speed alone might not be enough to keep him on the roster. He must prove that he can contribute in Joe Philbin's offense.
Although he is only going into his second year and may have been hampered by a groin injury last season, Gates now has pressure to step up his performance as receiver, or his future as a Dolphin may start to dim.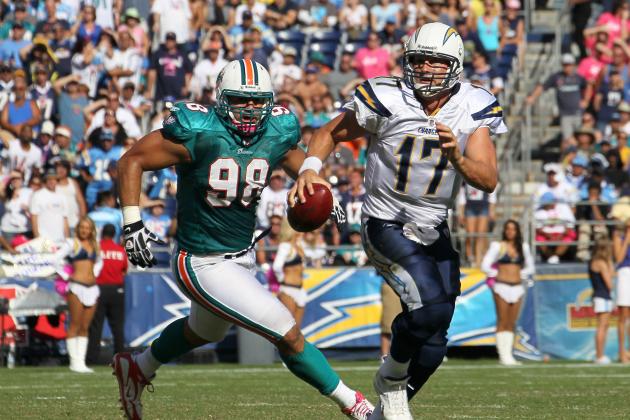 Stephen Dunn/Getty Images

The Dolphins made DT Jared Odrick their first-round pick in the 2010 draft. Unfortunately, his career started slowly, as his first season was spent on the sidelines after a season-ending leg injury suffered in a Week 1 game at Buffalo.
Odrick's arrival would have to wait until 2011, where he would primarily back up defensive end Kendall Langford. He would shine in his part-time duties, recording six sacks, a forced fumble and even an interception.
He also unveiled his very popular—and unusual—sack celebration.
Langford is now a member of the St. Louis Rams after signing a multi-year deal as a free agent, and Odrick is thrust into the starting lineup. He will have the opportunity to be a full-time defensive lineman for the first time and needs to make the most of it.
He has displayed the talent befitting of a first-round pick and quality NFL starter in his limited action so far in his young career. Now it's time for him to establish himself as the strong pass-rusher that the Dolphins need to complement Cameron Wake.