NHL Playoffs 2012: Ryan Callahan Has to Be Better for New York Rangers
May 17, 2012

Patrick McDermott/Getty Images
Ryan Callahan does everything an NHL captain should for the New York Rangers. He plays top-six minutes, plays on special teams, block shots and, most importantly, leads by example on the ice with his tremendous hustle and energy.
However, he hasn't been his normal self in the postseason, and that must change if the Rangers want to continue in the playoffs.
Through 16 playoff games, Callahan has just three goals, his last one coming in Game 1 in the second round against the Washington Capitals. While not a premier goal scorer, Callahan does play in an important offensive role for the Rangers and must be more productive. 
Could he be playing through an injury?
Callahan took a shot off his left hand during the first round against the Ottawa Senators from defenseman Chris Phillips. He claimed he was fine leading up to Game 7 and looked so shortly thereafter, and he hasn't missed a game.
Watching Callahan play now, though, something just seems off. He seems hesitant to shoot and looks lost in the offensive zone. Could it be from having difficulty gripping his stick because of an injured finger?
It's all speculation, but one has to think if his game is off slightly, Callahan could be concealing how much this previous injury affected him, or has a different injury altogether. 
Whatever is ailing the Rangers captain, it hasn't affected other aspects of his game. He still blocks shots, delivers hits and sets the tone on the forecheck (although he and the team have had trouble doing it consistently).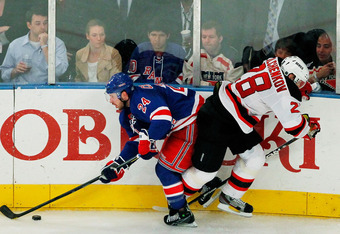 Paul Bereswill/Getty Images
A surprising subplot for the New York Rangers thus far in the 2012 playoffs has been the scoring the team has received from their defenseman, with Dan Girardi leading the NHL in points for defenseman with 11. Marc Staal, Michael Del Zotto and Anton Stralman have all chipped in with goals as well.
It also points to the disparity in goals between forwards and defensemen. For a team having trouble scoring, and for their defensemen to be scoring most of the goals, their forwards have to step their games up in order to give the defense a bit of a breather.
If the team is constantly defending, it makes attacking and playing offense that much harder.
One of those forwards has to be Ryan Callahan. His performance thus far wouldn't be labeled as bad—just that it needs to be better.