Preakness 2012: Overrated Contenders Who Will Stumble at Pimlico
May 18, 2012

Rob Carr/Getty Images
With the 137th running of the Preakness Stakes just hours away, the contenders have lined up to claim the second leg of the most prestigious Triple Crown in horse racing. 
As we know all too well, the real contenders will not be determined until the race actually starts. We have information that is supposed to give us an idea of which thoroughbred will win, but everything changes when the gates open. 
With a small field taking part in the festivities on Saturday, expect a lot of clutter among the 11 horses running. 
Here are the horses getting too much respect heading into the Preakness Stakes. 
Bodemeister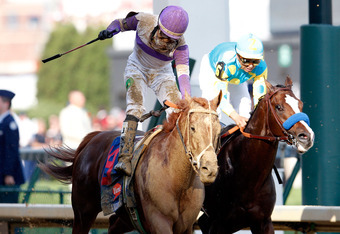 Rob Carr/Getty Images
The Kentucky Derby runner-up is commanding a lot of attention. He was dominating at Churchill Downs before I'll Have Another came out of nowhere to steal the crown. 
But you can tell more about an athlete—yes, horses are athletes—in defeat than victory. Bodemeister was pushed too hard early in the race and ran out of gas down the stretch. That does not bode well for him with just two weeks of preparation time. 
I expect another strong start for Bodemeister, but I can't get past the way he finished the Derby to think he will close strong at Pimlico. 
I'll Have Another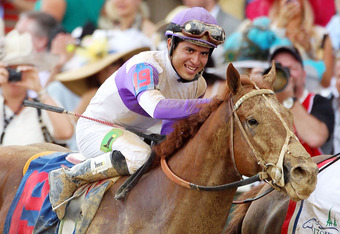 Andy Lyons/Getty Images
Speaking of the Derby, I'll Have Another was the toast of the racing world, coming from the middle of the pack down the stretch to steal a victory from Bodemeister. Now the talk has shifted to "What does I'll Have Another have to do in order to win the Triple Crown?"
While it might sound callous, when no one is really talking about you as a serious contender prior to the biggest race of the year, it is hard to envision a scenario where he makes lightning strike twice. 
He will finish in the top half of the field at the Preakness, which is respectable. Just don't bank on another victory, or else you will be in for a disappointment. 
Went The Day Well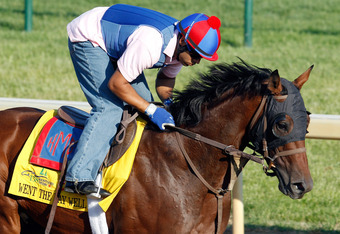 Rob Carr/Getty Images
As much as we like to talk about I'll Have Another emerging from the shadows to win the Kentucky Derby, Went The Day Well was actually a bigger long shot at 20-1 and wound up finishing fourth. 
Now that we have had a chance to see him perform in one of the premier races, everyone is eyeing him as a serious contender at the Preakness Stakes. The problem is his inconsistent nature. 
Plus, he has been running a lot lately. This will be his fifth race since February 4th, which is a lot of mileage on a three-year-old horse's legs. Like I'll Have Another, I see a middle-of-the-pack finish for Went The Day Well at Pimlico.