Pacquiao vs. Bradley: Everything You Need to Know About Timothy Bradley
May 17, 2012

Harry How/Getty Images
The upcoming fight between Timothy Bradley and Manny Pacquiao may be playing second fiddle to the ongoing drama surrounding a possible Mayweather-Pacquiao bout, but Bradley is planning to use this fight to propel himself into superstar status.
Casual fight fans may not regard him as a household name just yet, but Timothy Bradley is a world-class boxer with whom all boxing fans should become familiar.
Bradley Has Heart
Bradley is a fighter with a ton of heart, and on June 9, Pacquiao won't be facing someone who is going to give up easily.
His toughest challenge came in 2009, when he attempted to unify the WBC and WBO titles at 140 pounds.
Bradley was knocked down twice in a fight against Kendall Holt and still managed to gut out a victory.
Holt knocked down Bradley with a devastating left hook in Round 1 and then a sneaky right in the final round. Bradley still managed to dominate the rest of the fight convincingly enough to earn a unanimous decision.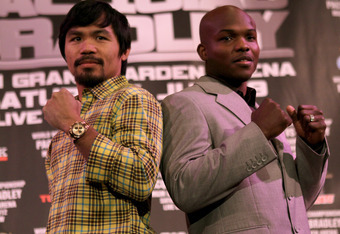 Stephen Dunn/Getty Images
Bradley Is an Extremely Well-Rounded Fighter
Bradley is an accomplished and undefeated fighter who does everything well.
He throws a stiff, purposeful jab, and Bradley is not afraid to throw it in bunches to set opponents up for his big right hand.
Even though Bradley is not touted as knockout artist, his strong right hand has done a lot to keep his record unblemished.
The California native is also a ring general who is comfortable fighting at any pace or position inside the ropes. Bradley has fought and won in a variety of ways, and this serves him well in his upcoming battle with the pound-for-pound champ.
Bradley Plans on Pushing the Pace
Look for Bradley to put a lot of pressure on Pacquiao when they square off next month.
With 59 fights to his credit, Pacquiao is a seasoned fighter who has seen his fair share of battles inside of a boxing ring, so Bradley is hoping to capitalize on his youthful advantage.
Bradley is also one of most well-conditioned boxers on the planet, and if you ask him, Pacquiao will be battling a fighter much like himself next month. Via the Los Angeles Times:
I slip, slide, bob and weave. I have good footwork. For Manny, he'll be looking at himself when he sees me. The only advantage he has on me is his power. But I can go to the body if he gets reckless. I'm young, in my prime, and I have a lot of confidence and swagger. I don't fear this guy. He's just a guy to me. He hasn't proved he's better.
Even though he might get outclassed by perhaps the best boxer of our generation, Timothy Bradley is a name that everyone should know. He will prove it on June 9.