England's Euro 2012 Squad: Picking an Ideal Starting XI
May 17, 2012

Michael Regan/Getty Images
The England squad Roy Hodgson has picked for UEFA Euro 2012 is a solid one which has the potential to take the Three Lions some distance in the tournament.
It's not the best squad in Poland/Ukraine, that's for sure, and the lack of world-class firepower—barring Manchester United star Wayne Rooney who's suspended for the first two Group D games—could be a major problem for England.
However, the team has beaten Spain and group opponents Sweden this season, and they did top their Group G qualifying campaign unbeaten and six points clear of second-placed Montenegro.
So with some decent, in-form and experienced players in the side, picking an ideal starting eleven is never easy, and it certainly won't be a straightforward job for ex-Liverpool and Inter Milan boss Hodgson this summer.
Then again, based on experience, talent, form, and proven partnerships, here's what the ideal starting eleven for England probably should be.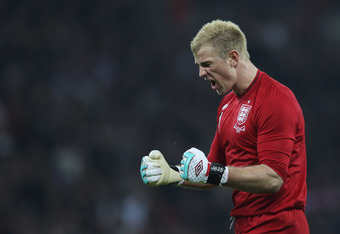 Clive Rose/Getty Images
The formation will most likely be a 4-4-1-1 in keeping with England and Hodgson's conservative style, but with fast wingers it can also be seen as a 4-2-3-1, which is effectively the same set-up but with more encouragement for the wingers to cut inside.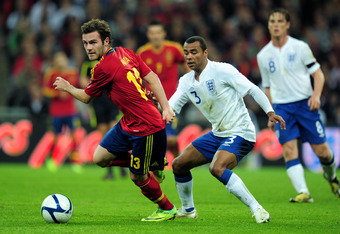 Shaun Botterill/Getty Images
GK, Joe Hart: This choice picks itself. Joe Hart is the most experienced 'keeper in the England squad with 17 caps, and the 25-year-old will be for many years to come, with his reliability, strong communication with his defence and world-class shot-stopping ability marking him out as one of the world's best.
Fresh off the back of winning the Premier League title with Manchester City, that confidence will also be a big positive to Roy Hodgson's men.
RB, Glen Johnson: The Liverpool right-back—given the options in the squad—is the only realistic starting option, with his experience for club and country vital when up against some of the most established wingers in world football.
Micah Richards would've been the best option had he not been unbelievably left out of the squad altogether, but Johnson is the best and safest England have right now, seen as Phil Jones only has four caps to his name and just one season playing at the highest level.
CB, John Terry: When you go to a major tournament you want your most experienced players available, and Chelsea centre-back John Terry is definitely one of them.
Idiosyncratic in his form, Terry is a player who must play regardless of the risks—on his day he can win aerial battles against anyone, tackle even the fastest of attackers, block the most powerful of shots, make the most crucial of interceptions, and score at any set-piece. Those qualities are key in a centre-back.
CB, Gary Cahill: Settling into life well at Chelsea, Gary Cahill has emerged as a key player for club and country, and his burgeoning partnership with Terry needs to be continued—established international partnerships are key ahead of major tournaments, and this one is the best England have at centre-back.
His understanding with his Blues' teammate, his ability to clear the danger better than most, and along with Terry is willingness to put his body on the line, mean Cahill is an ideal choice along with Terry in central defence.
LB, Ashley Cole: Still arguably the best left-back in the world, like Joe Hart in goal Ashley Cole on the left side of defence is a choice that picks itself.
Six assists in the Premier League this season, combined with 80 tackles and 50 interceptions won, makes Cole the better choice over Leighton Baines on form alone. Factor in the fact he's England's most experienced player at Euro 2012 with 93 caps to his name, and it's clear Cole is the only option for a starting role at left-back.
Comments: An experienced defence and world-class goalkeeper is absolutely vital for England this summer, seen as the Three Lions are set to come up against some of the world's most in-form attacking players, including Franck Ribery, Karim Benzema, Zlatan Ibrahimovic, Olivier Giroud, Andriy Yarmolenko, and probably the likes of Cesc Fabregas, Juan Mata, David Silva and Fernando Llorente.
John Terry and Gary Cahill is the perfect centre-back partnership as they've proven themselves as a pairing already for England, while they know each other at Chelsea, and in terms of footballing qualities, the experience of Terry and the pace of Cahill balances the position well.
RM, Theo Walcott: If there's any England player who'll be desperate to prove a point at Euro 2012, it's Arsenal winger Theo Walcott.
Left out of the 2010 World Cup squad, Walcott will be one of the most motivated players in the team. His youthful pace and energy combined with his relative experience—22 caps—along with his eight league goals and nine assists, makes Walcott England's best right-sided attacking option.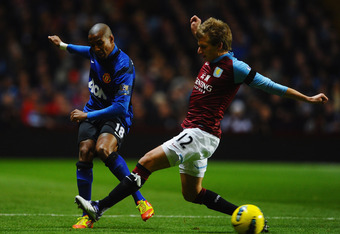 Laurence Griffiths/Getty Images
CM, Scott Parker: Finally established as a starter for England, Tottenham Hotspur midfielder Scott Parker is an automatic choice, with his stellar tackling (statistically the best in the Premier League) and intercepting ability (again, one of the best in the EPL) crucial to the team.
The fact he's also one of the best passers in the league, is an experienced club player and has captained the England team before, makes him the most reliable option for England in central midfield.
CM, Steven Gerrard: Captain for club and country, Gerrard is the experienced leader England needs, and the player his teammates can and will look to when necessary—a captain with 90 caps to his name, a player of Gerrard's status is crucial psychologically for the team.
And for footballing reasons, like Paul Scholes and Michael Carrick at Manchester United, his playmaking ability both from deep and in his link-up play surging forward—as well as his penchant for the spectacular—mean his attacking nature balances out Parker's defensive style perfectly.
LM, Alex Oxlade-Chamberlain: There is a case for including Liverpool winger Stewart Downing given that he's assisted the second most amount of goals for England since qualifying. However, footballing reason would dictate that Arsenal's Alex Oxlade-Chamberlain would be a better choice.
He's an in-form winger who can carry the ball forward better than most in the team, and his ability to cut inside and pick out a pass—unlike Downing who prefers the byline—makes him the modern winger England could do with to match their rivals in attack.
Comments: Alex Oxlade-Chamberlain on the left wing works fine with the vastly experienced Ashley Cole at left-back, while on the right there's good experience in both positions and more importantly a ton of pace. If Everton left-back Leighton Baines is playing however, then Stewart Downing would have to be the choice for the left-wing.
In the middle, Scott Parker and Steven Gerrard could be the Paul Scholes and Michael Carrick for England, and that only bodes well for the side—especially seen as that United team with Scholes and Carrick was effectively a Premier League title-winning partnership but for one kick of a ball.
SS, Ashley Young: Ashley Young has been a good winger for Manchester United this season, but Sir Alex Ferguson signed Young from Aston Villa for £20 million on the back of his stellar campaign as a trequartista.
Not a typical winger, Young is player who thinks centrally, and his support striker role worked wonders for England under Fabio Capello, accounting for his four goals and five assists since the start of Euro 2012 qualifying.
ST, Wayne Rooney: In the time Wayne Rooney is suspended for this role, Liverpool forward Andy Carroll should play, with his proven aerial and hold-up ability perfect to bring Ashley Young, the wingers and club teammate Steven Gerrard into play.
But after those first two matches against France and Sweden, Rooney should be back in the fold. He's England's best player and best attacking threat, and is simply the best hope England have. 
Comments: Ashley Young as the support striker behind Wayne Rooney was a winning combination in qualifying, and gave England more attacking threat than they've had in a long time.
Holding up play to bring teammates into play and create more options in the final third won't be an issue in the first two games thanks to Carroll's ability, and after that Rooney's ability to drop deep and retain possession gives a lot of scope for positional interplay and the chance to create options.
Overall England have a decent set of players to work with summer, and while players like Micah Richards, Kyle Walker and Michael Carrick would've added something extra to the squad, this is the best team Roy Hodgson could've picked.