Jamie Moyer Gives Himself Run Support with 2-Run Single in Rockies Win
May 17, 2012

Jamie Moyer hasn't exactly hurt for run support this season.
The Colorado Rockies have done a decent job of providing their 49-year-old pitcher with offense, scoring an average of more than four runs in his seven starts going into Wednesday's game against the Arizona Diamondbacks.
Despite the Rockies scoring the third-most runs (177) in the National League, the offense has been inconsistent this season. So Moyer apparently decided he needed to take matters into his own hands. 
With two outs in the fourth inning and two runners on, Moyer hit a slow chopper down the first-base line. Paul Goldschmidt charged in to field the ball, but Moyer was running hard. He dashed past an outstretched Goldschmidt and legged out an infield hit.
That drove in two runs to give the Rockies a 5-0 lead.
Moyer looked like Jake Taylor in Major League running out that hit. Perhaps he was inspired by the squirrel running around the outfield earlier in the game. His Rockies teammates were certainly impressed.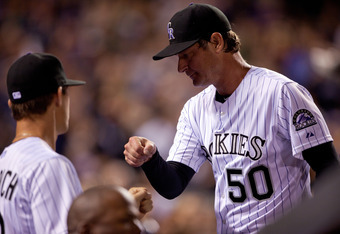 Justin Edmonds/Getty Images
"I was more shocked Moyer beat it out," Dexter Fowler said to reporters after the game. "I saw the guy running for him. I didn't know if he tagged him.
"The guy's 49 years old and still playing. He's probably been doing that all his career. He's a bulldog. The guy never quits. That's awesome. We're glad to have him as a teammate."
Already the oldest player to win a major league game, Moyer became the oldest player in big-league history to drive in a run with that single, as ESPN's John Buccigross passed along on Twitter. (Sorry, Julio Franco. You've been leapfrogged.)
By the way, Moyer also did a fine job of pitching Wednesday night. He held the D-Backs to one run over 6 1/3 innings and struck out five. (He had five strikeouts!) Two of those strikeouts were from Goldschmidt, who may have seen Moyer in his nightmares when he tried to sleep.
Follow @iancass on Twitter.