How Would Josh Barnett and Daniel Cormier Do in the UFC?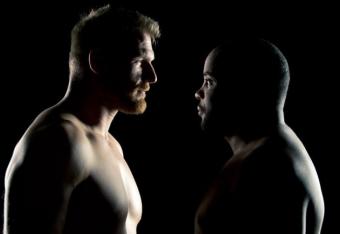 Josh Barnett (L) faces off with Daniel Cormier (Showtime Sports)

This Saturday, heavyweights Josh Barnett and Daniel Cormier go head-to-head in the final of the Strikeforce heavyweight grand prix.
Once touted as the epitome of the heavyweight division in MMA, the grand prix is now a much diminished competition, especially after the Zuffa purchase of Strikeforce last year.
That purchase led to the UFC absorption of Strikeforce's heavyweights, with only Cormier and Barnett left to fight out for this now nominal title.
Irrespective of the value of the grand prix, both fighters will be left looking for new contracts soon after the fight with the likely destination of one, or both, the UFC promotion.
However, the UFC heavyweight division is not the B-league of fighters it used to be back when Barnett, under the influence of steroids, won the title in 2002. Today it contains some of the baddest and meanest of all MMA athletes, and the "Baby Faced Assassin" will be in for a shock when he revisits the organization.
Fighters like Cain Velasquez and Junior dos Santos seem unassailable and will provide a tougher challenge than either have ever faced.
For Cormier, whose teammate is Velasquez, a drop down to light-heavyweight is an option, but he is unlikely to do this immediately.
At 33 years old, Cormier is in the twilight of his sporting career but is still a youngster when it comes to MMA. With only nine fights, he has nevertheless gone undefeated and dispatched with ease veterans such as Jeff Monson and Antonio "Big Foot" Silva.
He is a fighter in a hurry, and training alongside Velasquez at American Kickboxing Academy, he has honed a ferocious fighting style.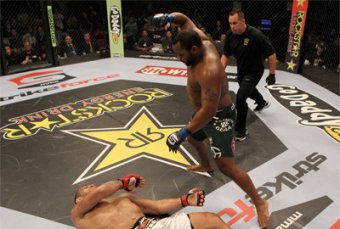 He is also an elite level wrestler, having been a former US team captain for the 2008 Olympics. As an athlete, he can match anyone in the division. As a mixed martial artist too, as he has shown he can hang with the big boys.
He defeated Silva via first-round knockout, outboxing him for the majority of the first round. Silva, now in the UFC, was the man who demolished the legendary Fedor Emelianenko and was on a roll in the heavyweights until he met Cormier.
However, whether Cormier can compete against such fighters as dos Santos, Frank Mir or the much-improved Fabricio Werdum is still another matter. As experienced an athlete as he is, Cormier is still relatively new to the sport, and how far his ground skills and striking have developed has yet to be tested against top level competition.
Nevertheless what he has achieved already means that he could fit comfortably with the second tier of heavyweights and perhaps dominate them all.
Barnett is another matter. At 34, he is also at the tail end of his career and is much more experienced and more rounded than Cormier.
At the moment, he is on an eight-fight winning streak with only five losses in 31 fights. However, he hasn't faced anyone that would be considered elite since he lost to Antonio Rodrigo Nogueira in 2006.
The world outside the UFC simply is not as competitive as the one inside it, and whether Barnett has the ability to shine in the division will much depend on how well he does against Cormier.
In his last fight against Sergei Kharitonov, he looked decidedly shakey on his feet, taking big shots before going to his go-to game on the ground. Fighters such as Brett Rogers and Kharitonov may be easy to take down, but someone like Velasquez, dos Santos or even Cormier will be a different matter.
My contention that Cormier will sit comfortably in the UFC is based both on his Olympic wrestling career and defeat of Silva. My question mark over whether Barnett belongs there will only be answered depending on how well he does against Cormier.
For more MMA goodness, check-out my blog: The Fight Week
This article is
What is the duplicate article?
Why is this article offensive?
Where is this article plagiarized from?
Why is this article poorly edited?