NBA Playoffs 2012: Players Who Will Shake Up the Second Round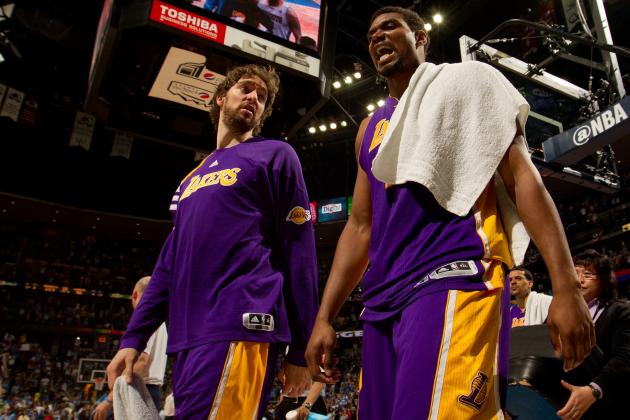 Justin Edmonds/Getty Images

Everyone knows that the elite players, such as Chris Paul, LeBron James and Kevin Durant, are important to their teams. If these players falter, their teams do not stand much of a chance of winning.
Winning a championship, however, takes contributions from role players.
This is a list of one player from every team in the playoffs that could swing the momentum of the series for his team.
Begin Slideshow

»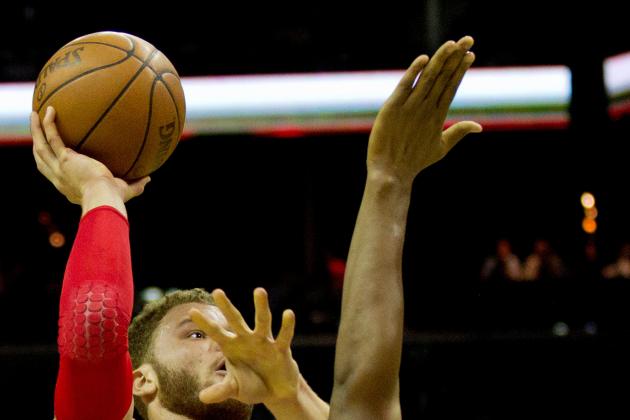 Justin Edmonds/Getty Images

A few months ago, Boris Diaw was the punch-line of fat jokes and was playing on the worst team in NBA history. Now, he is guarding Blake Griffin for arguably the best team in the league.
The Spurs picked up Diaw at just the right moment this year, and he has hit his stride during the playoff run. Providing more size than DeJuan Blair, Diaw has been teaming up with Tim Duncan to become one of the least athletic, but best defensive pairings in the league.
Diaw can't go toe-to-toe with Griffin in a dunk contest, but at this point in their careers, Diaw is the smarter player. If the Spurs want to win this series, they need to control Griffin and not let him build up momentum on offense. So far, Diaw is doing just that.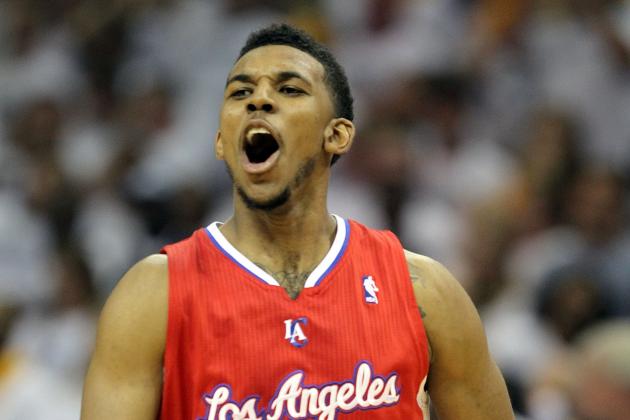 Andy Lyons/Getty Images

For the Clippers to have any chance, they will need the three-pointers to start falling quickly. While Chris Paul is the leader on offense, Nick Young is most likely to catch fire from long range.
Young hit monster shots in Game 1 against Memphis in the first round, and helped the Clippers mount their epic comeback. For the Clippers to be able to contend with the veteran Spurs, Young will have to do more of the same. Never one to be shy about shooting the ball, Young should jack up a shot anytime he is open and hope he can get on a hot streak.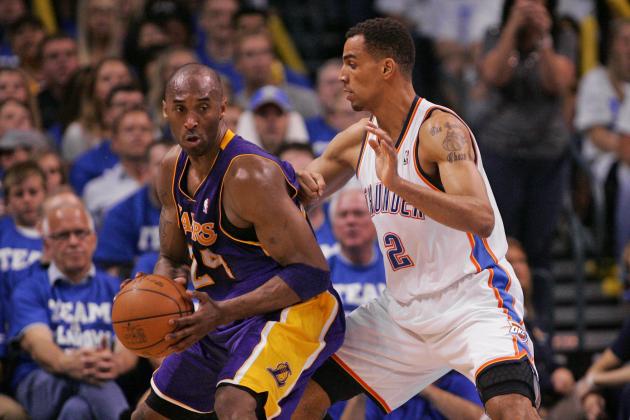 Brett Deering/Getty Images

Watching Sefolosha guard Kobe Bryant is one of the highlights of the playoffs so far and is really the perfect matchup. Kobe is the ultimate scorer, but Sefolosha knows exactly how to play him on defense, which makes Kobe's life on offense a nightmare.
Two things are key for Sefolosha's defense on Kobe. The first is his body placement. He doesn't give Kobe room to operate, or let him make the first move. Instead, Sefolosha gets right up on Bryant and forces him one way or the other. He takes away the space Kobe has to maneuver and makes him work extremely hard for the points he scores.
The second thing Sefolosha does remarkably well is use his hands on defense. He is constantly poking and smacking at the ball in Bryant's hands. He picks up a few cheap fouls every game because of this, but it is worth it for the few times he knocks it away from Kobe and gets easy points for the Thunder.
Bryant is obviously the number one scoring option on the Lakers, and if Sefolosha can continue to pester him into taking contested shots, the Thunder have a great chance of winning this series.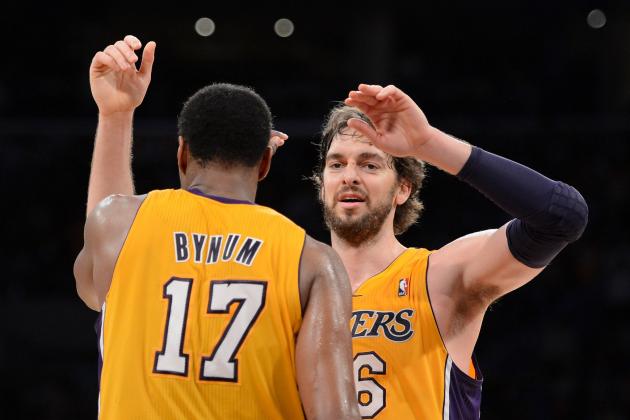 Harry How/Getty Images

The two towers in the Lakers frontcourt, Bynum and Gasol are the keys to the Lakers' offense. When Gasol is involved at the high post, he is one of the best passing big men in the game today. Bynum is the best center currently left in the playoffs, and he can dominate at his position. But these two seem to check out mentally at times, especially Bynum, who can often be seen brooding on the bench when he is having an off game.
Bynum and Gasol have their work cut out for them against the Thunder because Kendrick Perkins and Serge Ibaka represent two excellent defenders, but they have the offensive skills to lead the Lakers to victory. Whether they can get their heads in the game or not is a different question, but when these two play cohesively, expect the Lakers to have a good showing.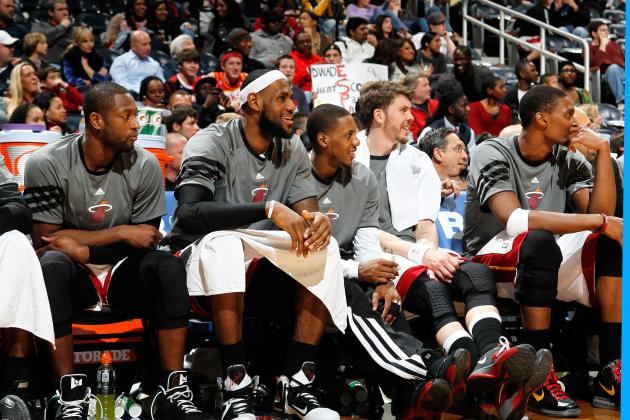 Kevin C. Cox/Getty Images

Dwyane Wade and LeBron James are going to keep the Heat in almost every game they play. Without a doubt they are a remarkable scoring combination, but they need some help on offense.
Chris Bosh is the usual scapegoat on the team, and he is often blamed for not playing hard enough. With him out, it is clear that his value is often overlooked as the third scorer.
Whether Mike Miller, Shane Battier or Mario Chalmers can hit some three-pointers or Norris Cole can make some tough shots, the Heat need someone to step up besides the Big 2. My bet is either Cole or Chalmers because both have the confidence to shoot it late in the game. Cole doesn't get as much playing time to prove himself, but look for him to start earning some more minutes, and hopefully some more points as well.
Marc Serota/Getty Images

Guarding Dwyane Wade and LeBron James is nearly impossible, but Paul George does one of the best jobs in the NBA at staying with these two. Primarily responsible for Wade, George ends up on LeBron occasionally because of switches in the defense. In fact, the Pacers feel so comfortable with George going up against Wade that they won't be helping him on defense.
If George can control Wade on defense, the Heat offense should stall without one of its main playmakers. Wade has a great veteran offensive game, but it should be a battle every night with George to get to the rim.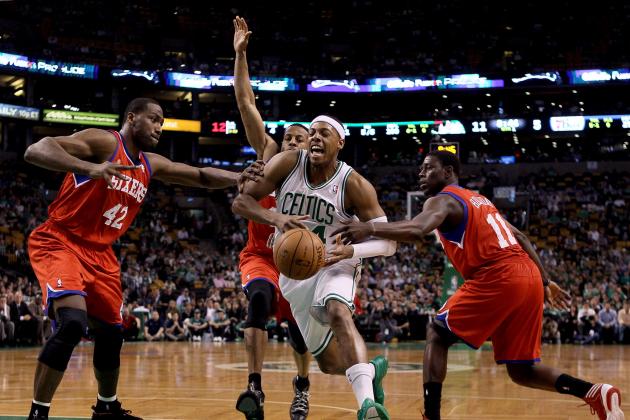 Elsa/Getty Images

The biggest star on this list, Pierce remains the Celtics X-factor for this series. Injuries have been a huge part of these playoffs already, and when Pierce went down last series against the Hawks, Boston fans saw their chances all but disappear.
Pierce has never been a very athletic player, but even he has lost a step on this drive these playoffs. With arguably the best perimeter defender in Andre Iguodala draped all over him this series, Pierce is going to have to use everything he has to lead the Celtics to a win. If Wednesday night is any indication, he is more than ready to do so, as he had 24 points and 12 rebounds in the Boston win.
Rajon Rondo and Kevin Garnett remain vital pieces to this Boston team, but for the Celtics to have any chance of making it to the Conference Finals, Pierce is going to have to carry the Celtics.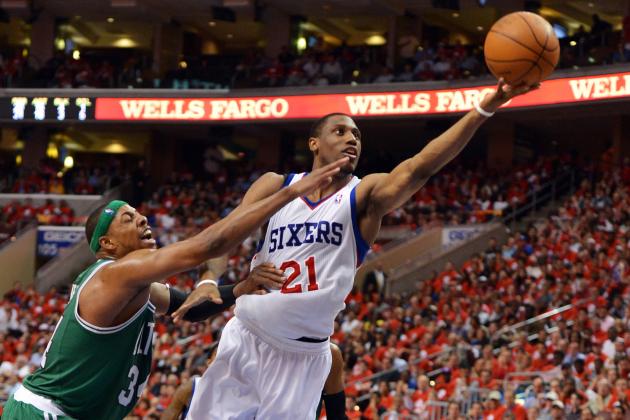 Drew Hallowell/Getty Images

The 76ers are basically a bunch of X-factor guys who all take different turns having great games. One night Spencer Hawes will dominate, and the next night Lou Williams will take over. Andre Iguodala is their biggest star, but even he is really the ultimate role player because his greatest assets are his defense and versatility.
For Philadelphia to be able to compete with the Celtics, Thaddeus Young is going to have to step up his game. Averaging 12 points per game during the regular season, Young is only averaging six and half in the playoffs so far. His 22-point performance in Game 3 certainly helps, but he is going to have to be more involved at the offensive end for Philadelphia to have any chance. The 76ers could very well upset the Celtics, but Young needs to be a more solid player in the rest of the series for that to happen.