One Theme Song to Describe Every 2012 NBA Playoff Team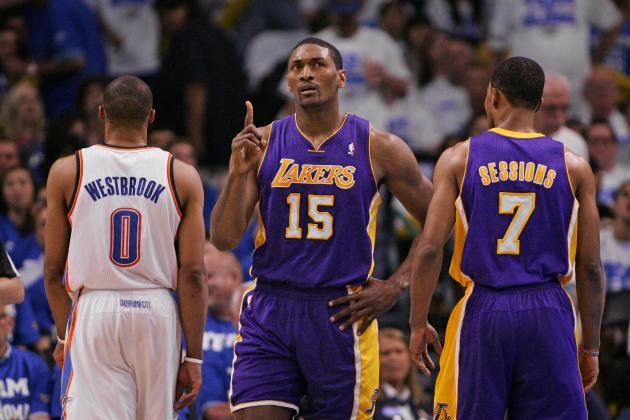 Brett Deering/Getty Images

The 2012 NBA playoffs are well into the second round, and call me crazy, but despite the short series of the first round and the blowout here and there, we've had an extremely entertaining two weeks so far.
The San Antonio Spurs are taking the word "unbeatable" and redefining it, and Oklahoma City Thunder are rolling easily through their half of the bracket themselves. Meanwhile, the Indiana Pacers look like they could give the Miami Heat a run for their money, and the Boston Celtics are starting to show flashes of Ubuntu.
In all, it's been a playoffs for storylines more than it has been a playoffs for memorable games, although that Game 1 between the Grizzlies and Clippers didn't hurt.
So, with every team having created themselves a playoff identity at this point, I think it's time to give out some playoff theme songs that, for one reason or another, sum up how they have performed in the playoffs up to this point.
Begin Slideshow

»
C'mon, guys, you know this one was way too easy for me. Do I really have to explain it? Fine.
Well, you see, the Bulls have this guy named Derrick Rose who is pretty darn good, but in the first game of the playoffs he tore his ACL. So, without Rose the Bulls struggled and ended up losing in the first round to the Philadelphia 76ers.
So, while Rose smells sweet all season long and looks pretty, he has this big thorn sticking out of his side that is his injury-plagued body.
The San Antonio Spurs are looking nearly unbeatable at this point in the season, and the way they're rolling it seems like they may not lose another game until they're clutching that title yet again.
Now, I'm not calling for a fo', fo', fo', fo' run through the playoffs, but they're going to dispose of their opponents pretty quickly so long as they keep striding around in games like they have been.
It's going to get to the point where they're taking down teams with ease and all you'll be able to say is, "Another one bites the dust."
Take solace in this choice, Heat fans; I don't particularly like the Miami Heat, but I respect them enough to associate with one of my favorite rappers of all time.
Big Daddy Kane, besides being one of the smoothest and coolest dudes in the history of, well, mankind, actually, has one of the smoothest flows in hip-hop history.
"Ain't No Half-Steppin'" is his anthem about going all-out in everything he does and being head-and-shoulders above his competition in the process.
I'm not saying the Heat are head-and-shoulders above the rest of the league right now, but I do want to say that you won't see them half-steppin' throughout the rest of the playoffs.
Don't believe me? Dwyane Wade surely looked like he took a full step into Darren Collison in Game 2 against the Pacers.
Oh man, if there's one man with better flow than Big Daddy Kane, it's Rakim.
Eric B. and Rakim's "Lyrics of Fury" is an ode to what goes through the mind of the Oklahoma City Thunder and their opponents when they start to get into a tense game.
When the Thunder have everything rolling like they've had for most of the playoffs, they're nearly unbeatable, giving opposing fans a feeling of terror.
Suddenly you feel like you're in a horror flick,
You grab your heart then wish for tomorrow quick!
Music's the clue, when I come your warned,
Apocalypse now, when I'm done, ya gone!
The worst part about it, however, is the fact that when the Thunder are beating your team you can't help but watch them and just be impressed and thoroughly entertained.
You want to hear some sounds that not only pounds but please your eardrums.
The Indiana Pacers were a great team during the regular season, but that was the regular season...right?
Wrong, sports fans! The Indiana Pacers showed in their two close games (including one win) with the Miami Heat that they are for real in the playoffs, and they're here to not only shake things up a bit, but to tear the whole system to the ground in the process.
That's right, they're burning down the house.
This song not only warns other teams that they are the real deal (Watch out, you might get what you're after), but it also alludes to the working-class style of the team (I'm an or-din-ar-y guy).
You've gotta love the peaceful sounding tune by the Grateful Dead about good things seeming bad at some point.
The Lakers have had this crazy season where everything that should have gone wrong did go wrong except for a major injury, yet everything turned out fine in the end.
However, now that we are at the end (more or less) it seems that there were more problems hanging around than we once thought, especially now that they are in an 0-2 hole to the Oklahoma City Thunder right now.
Old school at its finest here with A Tribe Called Quest in the classic song "Scenario." Oh, and who can forget that a young Busta Rhymes is featured in it? Just amazing.
What really makes me think of the Celtics with this one is just the amazing mash-up of styles that blend into a perfect mixture of basketball, just like ATCQ blends into an amazing mixture of flow, style and humor.
If you're wondering who is who in this case, Ray Allen is Phife, Paul Pierce is Charlie Brown, Rajon Rondo is Dinco D with his crazy choppy, yet smooth flow, Q-Tip is Brandon Bass—just there getting the job done—and you're insane if you think Kevin Garnett is anyone but Busta.
Coming into the playoffs, everybody seemed to be certain that the Memphis Grizzlies would be able to take care of the Los Angeles Clippers. After all, the Grizzlies were visibly better than a year ago and the Clippers aren't exactly the Spurs.
However, all of this pressure accompanied pressure on Rudy Gay to perform as he wasn't a part of last year's upset, and then there was the pressure on Zach Randolph to get back into the flow of things after his injury.
All of the pressure led to the Grizzlies being unable to hold leads late in games and the Clippers taking them down in the first round.
"To live is to suffer, but to survive, well that's to find meaning in the suffering."
Damn, DMX, that's pretty deep.
It seems like every year this is the theme song for the Atlanta Hawks. They look like a good team, they're built well like a good team, but in the end, they're just a bit too far away to make the leap to be a championship contender. In other words, once the playoffs roll around, they're slippin'.
The Los Angeles Clippers kind of had it easy during the regular season. The media adored them and basketball snobs (that's not meant to be a negative, by the way) around the world weren't able to watch them nearly often enough to develop a real hate for them. All was good.
However, a reality check came when the playoffs started.
They were greeted with rough play from the Memphis Grizzlies, who would box out hard and go up for shots harder, leading to bodies flying all over the place, and the basketball snobs collectively turning on them, throwing the word "flop" out like Joey Crawford throws out basketball players.
You've gone to the finest school all right, Miss Lonely
But you know you only used to get juiced in it.
Nobody has ever taught you how to live on the street
And now you're gonna have to get used to it.
And to think, they have to deal with the Spurs for at least three more games. How's that for a reality check?
This is probably one of those things that is only funny when I think about it, but outwardly it's just plain stupid, yet I can't stop laughing about this one—let's talk about the song first.
Basically, Etta James is singing about a man that she wants to leave, but she just can't seem to tear herself away from him because of him peering deep into her eyes...or something.
How does this relate to the Magic, you may ask? Well, of course the team is Etta and the man she is singing about is Dwight Howard. They want to get rid of him and his antics with every fiber of their being, but that low-post presence is too good for them to tear themselves away from him.
Now, what has me cracking up is the thought of Stan Van Gundy playing this for his team in the locker room in an attempt to get them over the fact that Dwight Howard was hurt.
See, that wasn't nearly as funny as it was in my head.
Basically, the way the Nuggets play basketball is reminiscent of the way Iggy Pop lived. The man truly had a lust for life, and after a while lust turns into a bad thing.
The Nuggets, meanwhile, play basketball hot, loose and free, and that can either be a good or a bad thing at times.
Denver's biggest problem with the Lakers was controlling the tempo and playing the slowed-down game that the Lakers forced, and when the Nuggets forced it, they weren't able to keep up—if that makes sense.
Man, did the Knicks have it rough in the playoffs this year.
They were without Jeremy Lin, but nobody really expected him to come back—that is, until the media ran away with the story that he was on the verge of being ready to come back.
During the series they then lost Iman Shumpert and Baron Davis to torn ACLs and they lost Amar'e Stoudemire for a game after he put his hand through some glass.
I'm not saying they would have won the series had all of those guys played, but they definitely wish they were in the game at the very least.
The Dallas Mavericks were swept out of the first round of the playoffs, and even though they weren't bad in the playoffs (save that game three loss by 16 points), they were a far cry away from where they were a season ago.
Sure, coming into the playoffs there were some hopes for the Mavs, but in reality there was never any question over who was coming out of the first round this year.
Dallas has seen better days for sure, so go ahead and reminisce over the summer and wait for Deron Williams to come to town next season.
This is basically a summation of the only way the Sixers can win a game.
If Philadelphia has everyone feeding off each other, making shots and playing defense as a whole, looking for the open man and just playing with a rhythm, it's going to at least have a shot to win the game.
However, when the team is fragmented and looks like it couldn't care less about doing the basic things that got it to where it is now, it falls apart and loses like it did last night.
The Sixers rely on each other to play well, and when they don't have each other, they don't play well. It's as simple as that.
Seeing the Utah Jazz march onto the court for Game 1 against the San Antonio Spurs was just like watching John Coffey walk down the Green Mile where everyone watching is Tom Hanks, not wanting to watch him die after the entertaining season they had, but knowing there was nothing we could do about it.
Every successive game they looked for something to get them any hope for life, they tried everything from big games from Al Jefferson and Paul Milsap and even a big game from Devin Harris, but nothing worked in the end.
They were swinging from the gallows pole, just like we all knew would happen.
If you are one of those twitterers, you can follow me @JDorsey33.