photo via sportsgrid.com
Stephen Dunn/Getty Images
May 17, 2012
After receiving a concussion courtesy of a Metta World Peace elbow a few weeks ago in Los Angeles, the Thunder's James Harden was able to return the, uh, favor Wednesday night during Oklahoma City's 76-75 Game 2 victory.
During the first quarter of the game, Harden's elbow met World Peace's face. While it wasn't nearly as forceful as the elbow that Harden took, it was enough to rattle World Peace and send him reeling from the contact.
On Tuesday, Harden sent out an interesting tweet that seemed to be proven true when he crossed paths with World Peace on his home floor tonight: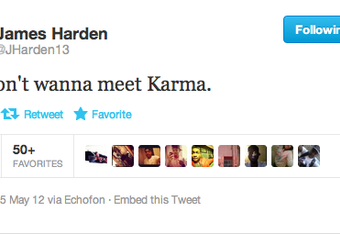 Here's the video of the hit:
Like the new article format? Send us feedback!