Ranking the 50 Hardest Hitters in NFL History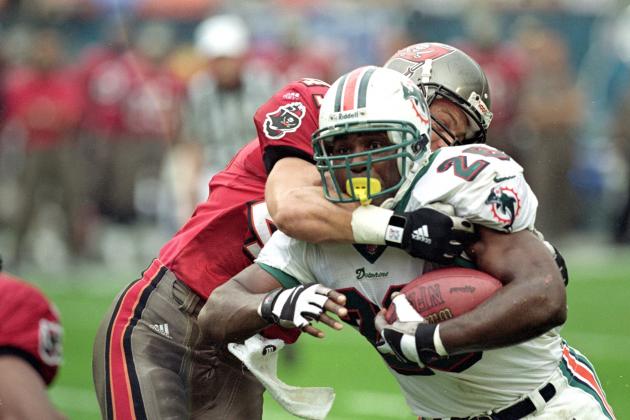 Eliot J. Schechter/Getty Images

The sport of football is a game of violence. There's simply no way around it.
If you're not willing to lay down the lumber, then I highly doubt that you're going to make it playing this sport.
Over the National Football League's illustrious history, we have seen some fearsome hitters who simply gave opposing players nightmares. Some guys who come to mind are Lawrence Taylor, Jack Tatum and Jack Lambert.
In that spirit, let's take a look at the 50 hardest hitters in NFL history.
Begin Slideshow

»
Art Shell is the perfect example of what it meant to be an Oakland Raider.
Shell is certainly one of the greatest Raiders in franchise history and is definitely one of the top offensive tackles to ever play the game.
Shell would just bulldoze anyone who lined up in front of him.
Kevin Greene is definitely a top pass-rusher, but he's also a hard hitter.
Greene wanted to embarrass the offensive lineman in front of him, and then, put a violent blow on the opposing quarterback.
Greene did that 160 times, which stands for No. 3 on the all-time sack list.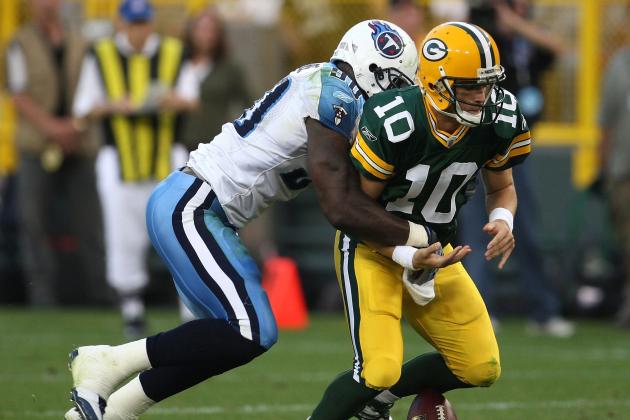 Jonathan Daniel/Getty Images

Jevon Kearse isn't called "The Freak" for no apparent reason.
Kearse had an unusual wingspan of 86 inches and was freakishly fast. Using those tools, Kearse was able to get to the ball-carrier frequently and often, and when doing so, he'd lay down the lumber.
I love Warren Sapp.
Sapp was one of the most dominant interior defensive lineman during his day, and he would absolutely punish opposing quarterbacks and running backs. He definitely loved to hit.
The man who lead-blocked for Emmitt Smith—Daryl Johnston.
Many will argue that Johnston is the greatest lead-blocker in NFL history—I certainly have to say he's one of the best.
Johnston always found a way to bulldoze linebackers in the hole and would just open up holes so wide that tractor trailers could drive through them.
Willie McGinest is one of the hardest hitters in NFL history and is also the all-time playoff sacks leader.
Not too many people give McGinest a lot of credit, but just watch the video posted. Then you'll realize how violent of a tackler he really was.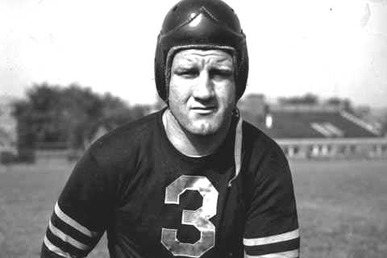 I really wish that Bronko Nagurski played in the NFL today because I feel like he would just ring everyone's bell.
Let's just say if you have the name "Bronko" then you have to be one mean fullback—and he certainly was.
At a certain time, Shawne Merriman was one of the most feared defenders in the NFL.
Merriman, or better known as "Lights Out," would just crunch the ball-carrier and most definitely would leave a bruise.
Anthony Munoz, the first Latino to be inducted into the Hall of Fame, is, by far, one of the hardest hitters.
Munoz dominated at the offensive tackle position and would simply abuse opposing pass-rushers and very rarely gave up any sacks.
Watching Ed Reed play, it's like he doesn't even look at the opposing wide receivers, it's like he stares right into the quarterback's eyes and then goes from there.
And from that point, Reed finds the ball, and then, absolutely destroys the intended receiver.
Hines Ward is the only wide receiver to make this list, but he's on here for a good reason.
Ward is, by far, the toughest wide receiver in NFL history, and is without a question, the greatest blocking wide receiver to ever play the game.
Ward just loves to hit.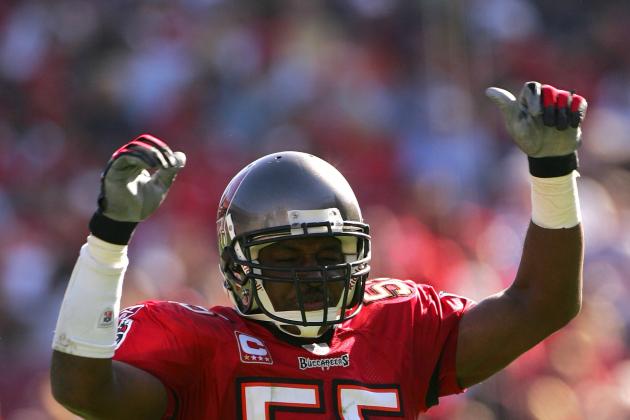 Sam Greenwood/Getty Images

From 1995 until 2008, Derrick Brooks was one of the most dominant linebackers in the NFL.
Brooks compiled the tackles on a consistent basis, and by doing so, he'd destroy every single ball-carrier whom he faced and was just a tremendous hitter.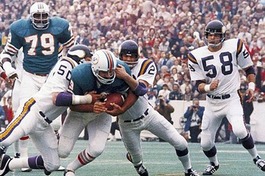 Larry Csonka may not have been a linebacker, but he was a fullback and a real bone-bruiser.
Csonka was an absolute monster, dominating from 1968 until 1979, and spent most of his time with the Miami Dolphins.
Franco Harris is not only one of the greatest running backs in NFL history, but he was also one of the most bone-bruising runners.
Harris was the ideal Pittsburgh Steeler, as he was such a hard-nosed player who wanted to punish anyone who got in his way.
Zach Thomas played like an absolute maniac.
Thomas ran around like his hair was on fire and would just throw his entire body into whomever had the football.
It's like he was actually insane when he was on the field.
Mike Alstott is probably the most physical and bone-bruising running back of our generation.
When Alstott got the ball, he would just lower his shoulder and truck over anyone who stood in his way. Not once would he ever decide to go around someone, he would just run through them.
Christian Okoye was just a freak of nature.
Okoye was such a massive object play at the running back position. At the time, no one had ever seen a man as big as him run as fast as he did.
When Okoye would run with the ball, he would just demolish all the defenders who would stand in his way.
We all might know James Harrison as a dirty player who's often fined—but there's certainly more to him than that.
Harrison is just such a violent player that it seems like he actually wants to hurt the opposing ball-carrier.
In this recent era of football, Joey Porter has been one of the most feared linebackers.
Why is that? Because of his ability to actually physically punish anyone who has the ball.
When Porter hits someone, that player will wake up the next morning feeling very, very sore.
Patrick Willis is definitely the top linebacker in the NFL today.
With that being said, Willis is a very hard hitter who racks up the tackles, and he makes sure with each and every tackle, he's sending a message by delivering such a violent blow.
Rick Stewart/Getty Images

Lawyer Milloy is just a tackling machine.
Milloy is probably one of the better safeties of our generation, and when he racked up all of his tackles, he made sure that each ball-carrier felt it and ensured that they remembered that Milloy was laying down the law.
Troy Polamalu is definitely a walking legend.
Polamalu has been the face of the Pittsburgh Steelers defense for quite sometime now, and it's all because of his physical toughness and his ability to strike fear into opponent's eyes.
Forget about Troy Polamula, Steve Atwater is a much more intimidating safety.
Atwater absolutely abused every single player whom he ran into. Not to mention, don't forget about Atwater actually demolishing Christian Okoye.
John Hannah was just a mean football player.
Not too many people realize this, but Hannah played like he wanted to knock the teeth out of everyone whom he ran into as he was known for being one of the greatest offensive guards to lead-block on sweep plays.
Of course, Bruce Smith is going to be on this list. He is the all-time sacks leader.
Why is that? Simply because each and every play, he would storm towards the quarterback, and once he got there, he would make sure that they would look his way every single play as he'd absolutely annihilate opposing quarterbacks.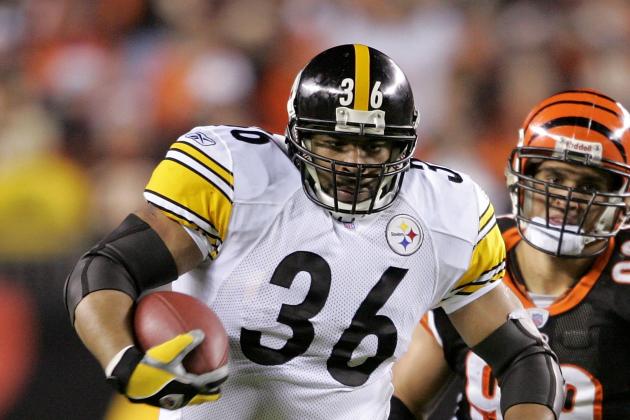 Andy Lyons/Getty Images

How could I not have Jerome Bettis on this list? I mean, his nickname is "The Bus," so he has to be a hard hitter, right?
Absolutely.
Reggie White is considered to be one of the most dominant pass-rushers in NFL history.
Each and ever play, White was on a mission, and that mission was to destroy the quarterback—and he did that 198 times throughout his remarkable NFL career.
How could I make a list with the hardest hitters in NFL history and not have "Mean" Joe Green on it?
I mean, the word "mean" is always associated when you think of Joe Green. He was such a violent player for the Pittsburgh Steelers who wanted to abuse every single offensive linemen who had ever lined up across him.
...But he's not so mean in the video that I have posted.
When you nickname is "Weapon X," you know that you're the definition of "badass," and that's exactly what Brian Dawkins is.
Dawkins is a part of my generation, and growing up watching him play, I have seen him destroy so many opposing receivers and quarterbacks.
F.Y.I, this video that I have posted gives me goosebumps. It's just that awesome.
I absolutely love Mike Singletary as a player, but just not as a head coach.
Singletary loved to talk, but he also could back up his game with violent blows against anyone who stood in his path to winning a game.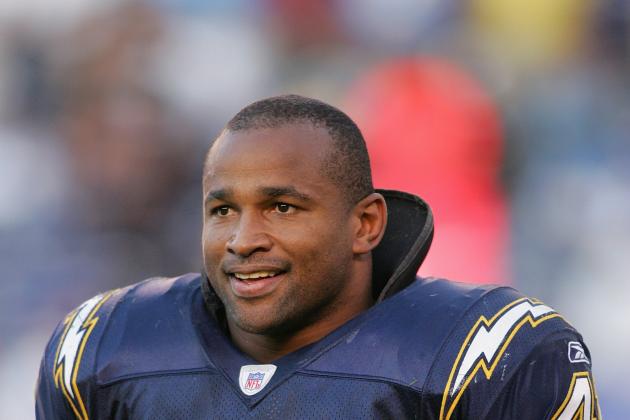 Doug Benc/Getty Images

Lorenzo Neal might only have six career touchdowns, but he's definitely one of the most dominant players in NFL history.
From 1993 until 2008, Neal was considered one of the elite fullbacks in the game, if not the best. Neal led block for guys like Eddie George, LaDainian Tomlinson, Willis McGahee and Ray Rice.
Without Neal, perhaps, those running backs wouldn't have as many yards as they do today.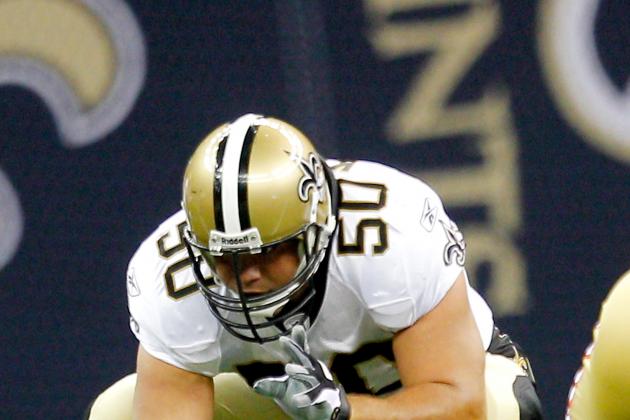 Sean Gardner/Getty Images

You don't have to be a linebacker or a defensive end to be considered a hard hitter; you could very well be an offensive lineman.
In Olin Kreutz's case, he's one of the most dominant offensive lineman to ever play the game, as he's such a tough player who would violently pass and run block at a very high level.
A running back? You bet.
Jim Brown might be one of the greatest running backs in NFL history, but he is also one of the hardest hitters to ever play the game.
Brown would fight for every inch, and it seemed like he played with a real chip on his shoulder as he wanted to punish everyone in his way and prove to the world that he was truly the best.
Sorry for the low-quality video of Ray Nitschke, but I'm sure you all know who he is.
Nitschke is a household name, as he's one of the greatest Green Bay Packers of all time as well as one of the hardest hitters from the linebacker position.
Opposing players simply loved to hate Nitschke. He was just that mean.
Go ahead and call Rodney Harrison a dirty player, because when it's all said and it done, it doesn't matter. He's one of the hardest hitters of our generation as well as in NFL history.
Harrison nearly beheaded wide receivers for nearly 15 years with the New England Patriots and the San Diego Chargers—which also resulted in several fines that he had to pay, but that's the price of being a feared and relentless hitter.
Junior Seau is arguably the greatest linebacker from the 1990s until the early 2000s.
Seau simply dominated the NFL, as he wasn't afraid to go up against anyone who stood across from him and would just punish anyone who had the ball in their hands.
We all might know Mike Ditka as the head coach of the 1985 Chicago Bears, but when he was a tight end, he was simply fearless and wanted to hit everyone on the opposing team.
When Ditka caught a pass, he would just run toward the closest defender and knock them over in moving on to the next guy.
Dick "Night Train" Lane is one of my favorite players to ever play the sport of football.
Lane was just so reckless that he threw his entire body into every tackle and used every bit of energy that he had to tackle he ball-carrier.
Night Train definitely played like he wanted to take opposing players' heads off.
Gene Upshaw is arguably the greatest offensive guard to play the game of football.
Just watch the video posted to get a real understanding on how dominant Upshaw was and how he was such a hard hitter.
Some might call Mel Blount the greatest cornerback to ever play the game, and I have to agree. Blount was a huge part to the success of the Pittsburgh Steelers in the 1970s.
Blount wasn't just an interception machine, but he also was a hard hitter. If Blount couldn't pick off the pass, then he'd make the opposing receiver he was covering pay for even thinking about catching the pass he was attempting to intercept.
Deacon Jones, the man who coined the term "sack."
Jones is arguably the greatest pass-rusher in NFL history and was certainly one of the hardest hitters that the game of football as ever seen. He simply put fear in quarterbacks' eyes.
Jack Tatum was a scary dude. You did not run routes with him roaming around in the secondary.
Tatum wanted to punish anyone who stepped foot near him.
When you think about the linebacker position, Dick Butkus is a name that immediately pops into my head.
Butkus was one of the meanest players to ever play the, as he was just such a hard and violent tackler.
This hit that Ray Lewis put on Dustin Keller pretty much sums it up.
As of right now, Lewis is probably the hardest hitter in the NFL.
You might not realize it, but John Lynch is actually one of the greatest players in NFL history.
Lynch was such a hard hitter coming from the safety position, as he'd not only take out opposing wide receivers, but he'd also be a huge help in the running game as he'd come storming up from the secondary and just take out whoever had the ball.
Jack Ham was one of the many reasons why the Pittsburgh Steelers were so tough and dominant in the 1970s.
Ham swallowed up any ball-carrier who was in his reach and simply punished them, making them think twice about running near him.
During the 1970s, the Pittsburgh Steelers defense was known as the Steel Curtain, as they were just so dominant and ultimately put fear in opposing offenses' eyes.
One of the players who was an integral part to this defense was Jack Lambert—one of the greatest linebackers in NFL history.
Ronnie Lott wasn't just a part of the San Francisco 49ers dynasty as the leader of the team's defense, but he was such a violent defender.
Lott would just line up receivers when they'd be going out for a pass, and then, just throw his entire body into them once the ball touched their hands.
Say what you want about Bill Romanowski, whether you like him or not, you at least have to give him some credit for being one of the most violent tacklers in NFL history.
Romanowski was just one scary individual.
If you ask me, Lawrence Taylor is not only the hardest hitter in NFL history, but he is the greatest defender to ever play the game.
L.T. put fear in everyone's eyes when he stepped onto the ,as he would do whatever it took to get to the ball-carrier and made sure that he punished them.
It was almost like L.T. was a man on a mission and actually wanted to hurt anyone that stood in his way.