Strikeforce: Barnett vs. Cormier Bleacher Report MMA Staff Predictions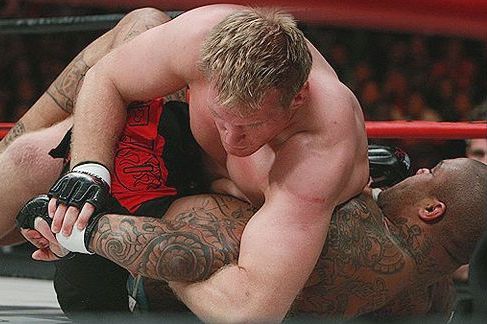 Photo Courtesy of ChicagoNow.com
The Strikeforce Heavyweight Grand Prix finally comes to its conclusion Saturday night when Strikeforce hosts its 40th annual event.
In the tournament finals, submission specialist Josh Barnett takes on heavy-handed wrestler Daniel Cormier in a bout that all but promises an entertaining finish.
Beginning the main card action are two up-and-coming welterweight prospects looking to make a name for themselves in the form of Nah-Shon Burrell and Chris Spang.
Also on the main card, light heavyweights Rafael Cavalcante, a former Strikeforce champion, and Mike Kyle square off. Kyle defeated Cavalcante in impressive fashion back in June 2009, but both fighters have made strides in their game since then.
In the co-main event, Strikeforce lightweight champion Gilbert Melendez has a rubber match with his old foe Josh Thomson. Thomson was the last man to beat "El Nino," but Melendez has defeated him since and has been on a tear recently.
Bleacher Report MMA Featured Columnists Matt Juul, Jeffrey McKinney, Kyle Symes and myself, John Heinis, are bringing the predictions your way this time around.
Take a look inside to see who walks away with a "W" Saturday night.
Begin Slideshow

»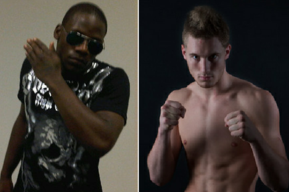 Photo Courtesy of MMA Mania
John Heinis: While most fans aren't familiar with Nah-Shon Burrell, he is 8-1 as a professional fighter, which includes a perfect 3-0 stretch in Strikeforce.
His opponent on Saturday night will be an even greener opponent in the form of Chris "The Kiss" Spang.
Both fighters have a crowd-pleasing tendency to stand and trade, but given Spang's short-lived career as a professional boxer, it seems safe to say that he is the more technical striker.
Expect little to no ground work in this bout, unless you consider someone getting punched in the face while they're on the mat ground work.
Expect the 24-year-old Spang to outlast and finish his slightly younger (Burrell is 22 years old) cage adversary.

Chris Spang via Round 3 TKO
Matt Juul: Young, up-and-coming welterweights Chris Spang and Nah-Shon Burrell will look to make a splash as they make the jump to the main card.
Burrell will have an edge in the striking department, but will have to watch out for Spang's reach.
As long as Burrell can stay comfortable and work his leg kicks to slow Spang down, he should have no problem taking this bout.
Nah-Shon Burrell via Round 2 TKO
Jeff McKinney: Opening the night's event will be Nah-Shon Burrell and Chris Spang, two young welterweights who come into this bout with one loss apiece.
Burrell, the younger of the two, is currently riding a six-fight winning streak, which includes four knockout victories.
Spang has a 4-1 record, losing his most recent bout by decision.
Spang and Burrell are still young in their careers, but getting a win on the main card of this event could be a big boost for either fighter.
It could be a toss-up in who takes the fight, but I like Burrell in this one. Although he is younger, he has more pro fight experience and may be the more dangerous striker.
Nah-Shon Burrell by unanimous decision
Kyle Symes: A couple of young welterweights will get to kick off the Strikeforce Grand Prix finale event.
Swedish-born Chris Spang will look to make it three in a row for Strikeforce, while Nah-Shon Burrell will be looking to add another victory to his impressive record.
Burrell has the professional MMA experience record as he's competed in nine total fights—something that will likely serve him well against Spang.
The Swede Spang may not have as many bouts in MMA, but he has also competed in the realm of boxing.
Spang had been on a tear before joining Strikeforce with three first-round victories, but has yet to finish an opponent in the promotion and is coming off a loss in his last bout.
Meanwhile, Burrell has an impressive TKO due to leg kicks for his victory over Lukasz Les but is entering the bout following a split-decision victory.
The one item that is making me tilt towards picking Burrell is that a number of his finishes have come outside the opening frame, meaning he retains his power as the fight goes on.
If Spang isn't able to utilize his skills in the opening moments, look for Burrell to possibly add another victory to his list.
Nah-Shon Burrell via KO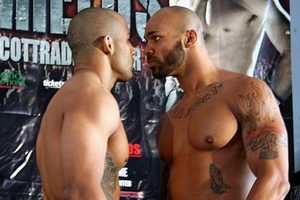 Photo Courtesy of Strikeforce
John Heinis: This is a rematch from Strikeforce: Lawlor vs. Shields, which took place all the way back in June 6, 2009.
This was Kyle's 205-pound debut and he managed to stop Cavalcante with punches late in the second round.
After that, Cavalcante rattled out a couple over Aaron Rosa and Antwain Britt before upsetting Muhammed "King Mo" Lawal for the Strikeforce Light Heavyweight title at Strikeforce: Houston in August 2010.
"Feijao's" title reign didn't last long, as he became another victim of Dan Henderson's H-bomb in his first title defense in March of last year, but he has since bounced back with an impressive finish of former Olympic wrestler Yoel Romero in September.
Kyle has been on a similar path recently, getting knocked out by Antonio "Bigfoot" Silva in December 2010 before winning a decision over Marcos Rogerio de Lima in September.
Both men have some heavy hands (Kyle nearly finished Silva in that heavyweight bout) and know how to end a fight.
Couple that with some inevitable bad blood and this will be a better fight than most are expecting.

Rafael Cavalcante via split decision
Matt Juul: Another exciting rematch between heavy-handed foes, former champ Rafael "Feijao" Cavalcante will look to avenge his 2009 KO loss to Mike Kyle.
With Kyle being the only one between them to have gone to a decision in their careers (albeit just four times out of Kyle's 29 total fights), don't expect this fight to go the full 15 minutes.
Both men have been prone to have their lights knocked out, so it's really anyone's game.
Feijao has upped his game since the loss, however, while Kyle has been unable to defeat upper-level competition like Fabricio Werdum and Antonio Silva.
I'm giving Feijao the edge in this bout.
Rafael Cavalcante via second-round KO
Jeff McKinney: Former Strikeforce Light Heavyweight champion Rafael Cavalcante and Mike Kyle may be two of the most dangerous fighters in the division today.
Cavalcante has 10 knockouts out of his 11 victories and has only gone the distance once in his career.
Kyle is no stranger to knockout victories, with 12 of his 19 wins coming by KO.
One of those KO victories for Kyle came against Cavalcante.
Since the two last met, Kyle has bounced around from different organizations and weight classes, going 6-2 (1), while Cavalcante has gone 4-1 with his only loss coming to Dan Henderson.
While Cavalcante dropped the first bout between the two, I believe he will be looking to make a statement and gain revenge.
Rafael Cavalcante by KO
Kyle Symes: In a rematch that could prove pivotal for the Strikeforce Light Heavyweight title, Rafael Cavalcante attempts to erase one of his defeats when he meets Mike Kyle.
Cavalcante is the former Strikeforce Light Heavyweight champion, an accomplishment he earned by taking out talented wrestler "King Mo" Lawal in 2010.
Cavalcante is known for his Muay Thai and no doubt has some great striking by training with the likes of Anderson Silva and the rest of the talented fighters at the Black House gym.
Kyle has had quite a career that has seen its fair share of ups and down.
He's looked very impressive at 205 pounds and hasn't lost there since 2008. In that time, Kyle has only lost to a pair of top heavyweights in Antonio Silva and Fabricio Werdum.
The key to this fight will be Cavalcante's chin. Kyle has some serious power in his hands and it will be paramount for Cavalcante to avoid the power strikes.
Look for Cavalcante to keep it standing until he eats a few power shots. Then, I would expect to see a takedown from the Brazilian.
Kyle has a decent ground game but won't have the defensive skills to fend off the former Strikeforce champion. He won't be able to land the big blows with Cavalcante on top.
Rafael Cavalcante via TKO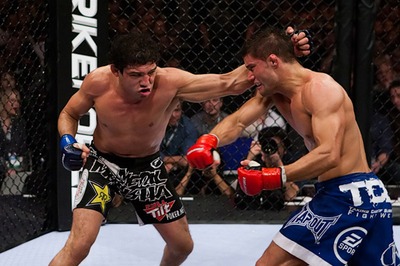 Photo Courtesy of Strikeforce
John Heinis: Josh "The Punk" Thomson is the last guy left on the Strikeforce roster who has any chance of defeating reigning lightweight champion Gilbert Melendez.
I never said those chances were good, though.
Sure, Thomson showcased crisp striking and good defensive wrestling when he defeated "El Nino" (the last man to do so), but that was all the way back in June of 2008.
Melendez crushed Thomson in the April 2009 rematch and there's no reason to believe the rubber match looks any different.
Thomson is 3-2 in his past five fights; one loss came at the hands of Melendez, the other Tatsuya Kawaijiri.
The opponents he has beaten in that stretch are Pat Healy (who will sadly probably get the title shot next), Gesias Cavalcante and K.J. Noons.
Many fans and analysts believed Cavalcante beat Thomson and The Punk admitted the way he beat Noons (lay and pray) was downright pitiful.
Meanwhile, the champ has beaten six in a row, including Kawaijiri (whom he destroyed), Shinya Aoki and Jorge Masvidal.
Injuries have made the former champion's twilight years come sooner than expected, so while this one will be entertaining for a little while, there is no question who wins.
Gilbert Melendez via Round 3 TKO
Matt Juul: While not receiving the same hype as the Frankie Edgar-Gray Maynard lightweight trilogy, I'm actually really excited to see Gilbert Melendez take on Josh Thomson once again.
Melendez and Thomson put on spectacular performances in both of their previous bouts. In their first meeting, Thomson got the better of El Nino with his tighter striking game to win the lightweight crown.
After losing the title, Melendez totally turned his game around and vehemently won back his belt in their second go-around in 2009.
It's clear that Melendez has improved every aspect of his game since their first match and will have an edge in this third meeting.
Don't expect Thomson to go quietly in the fight, however, as the former champ will give Melendez another war, a fitting end to this trilogy.
Gilbert Melendez via unanimous decision
Jeff McKinney: In a lightweight championship bout, Gilbert Melendez will meet Josh Thomson in a rubber match.
The first time these two met, Thomson was able to defeat Melendez for the Strikeforce title by unanimous decision.
The two were scheduled to meet again but had to wait over a year thanks to Thomson breaking his ankle.
When the two did meet again, Melendez was able to get the better of Thomson, unifying the Strikeforce Lightweight titles.
Including the win over Thomson, Melendez has been on a six-fight winning streak.
Thomson has gone 3-1 since the second fight with Melendez, but has had to fight through injuries once again.
Thomson could make a huge statement if he could be the only man to defeat Melendez twice.
But I believe it will be another title defense for Melendez. I don't believe there is anybody outside the UFC that can stop him.
Gilbert Melendez by unanimous decision
Kyle Symes: Before the big boys close out the show, a pair of lightweights will settle one of the most entertaining rivalries in the 155-pound division in recent years, as Gilbert Melendez puts his Strikeforce title on the line against Josh Thomson.
Thomson won their first encounter via unanimous decision and has only lost to Melendez and Clay Guida under the Strikeforce banner.
The AKA product is well rounded in all areas but doesn't necessarily overwhelm opponents in any facet of the game.
He has good striking skills, especially with his kicks, and Thomson also showed in his last bout that his grappling skills are still good as he was able to defeat K.J. Noons to earn the title shot.
Melendez was able to win in the rematch with Thomson and hasn't lost since their first meeting. He's really transformed his game to not only become one of the best grapplers in the division, but also one of the best stand-up fighters as well.
Thomson hasn't really shown anything recently that would make me think he's better than Melendez at this point in his career.
The victory over Melendez was years ago and the champion has since grown by leaps and bounds. Also, consider the vast amount of injuries Thomson has endured and you have a fighter who's beginning to show the wear and tear of an extended career.
The challenger will have a chance in the opening minutes, but as the fight goes on, look for Melendez to pull ahead on the scorecards.
Gilbert Melendez via unanimous decision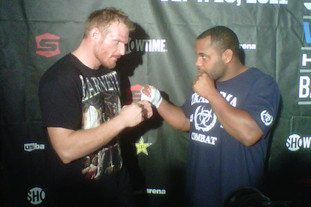 Photo Courtesy of Strikeforce
John Heinis: An undefeated prospect with a strong wrestling background taking on a 15-year fight veteran with wicked submissions makes for a great main event.
Josh Barnett made it to the Strikeforce Heavyweight Grand Prix finals by defeating Brett Rogers and Sergei Kharitonov, while Cormier was actually a replacement for former promotional champion Alistair Overeem.
The former Olympic-level wrestler proved he belonged in the tournament in the first place by knocking out Antonio "Bigfoot" Silva back in September.
Cormier is 9-0 with seven finishes. The American Kickboxing Academy product is also 3-0 under the Strikeforce banner.
However, Barnett is a very impressive 31-5, riding an eight-fight win streak, and has seen the big stage plenty of times before against names like Antonio Rodrigo Nogueira, Pedro Rizzo, Mark Hunt and Mirko "Cro Cop" Filipovic, to name a few.
Despite a clear experience advantage, I can't see how Barnett can get this fight to the ground to lock up one of his patented submissions, so I see Cormier adding another signature win to his resume in a great heavyweight scrap.
Daniel Cormier via third-round TKO
Matt Juul: The unlikely last men standing in Strikeforce's drawn-out heavyweight grand prix, Josh Barnett and Daniel Cormier have beaten the odds to make it to the tournament finale and will definitely put on a show Saturday night.
Barnett, who's riding an impressive eight-fight winning streak coming into this bout, is a skilled submission artist with serious knockout power.
His years of experience will give him an edge over the undefeated rising star.
Cormier, who's proven himself to be a threat in the heavyweight division, will make it a war considering his world-class wrestling and heavy hands.
But with Barnett's submission skills and his more technical striking, expect the former UFC champ to add another piece of gold to his trophy case.
Josh Barnett via third-round submission
Jeff McKinney: After starting over a year ago, the Strikeforce Heavyweight Grand Prix will finally come to a close.
At the start of the Grand Prix, names like Fedor, Alistair Overeem and Fabricio Werdum were possible front runners to win the tournament.
Now Josh Barnett and Daniel Cormier stand not only as the final two participants, but the last heavyweights in Strikeforce today.
Barnett is coming into this bout on an eight-fight winning streak with a majority of his wins coming by knockout or submission.
Cormier's fight career hasn't even lasted as long as Barnett's winning streak.
But Cormier has proved that he has some serious power in his hands.
Both men come into this bout with great wrestling backgrounds.
Cormier was a D-1 college wrestler and competed on the U.S. wrestling team in the 2004 Olympics.
Barnett, on the other hand, comes from a catch wrestling background, which he has used to rack up 17 submission victories.
Although Cromier has the power to take out just about anybody, I believe Barnett will use his experience to find a way to pull off a submission victory and gain another chance at the UFC.
Josh Barnett by submission
Kyle Symes: Initially met with a great deal of intrigue, the Strikeforce Heavyweight Grand Prix will finally come to an end after a tumultuous ride.
Josh Barnett will attempt to prove his supporters correct when he was pegged as an early favorite to win the tournament, while Daniel Cormier will look to complete one of the craziest stories in Strikeforce history.
Barnett has the experience edge and has fought for a number of top promotions, including the UFC, where he was once the heavyweight champion.
Barnett has one of the best top games in the division and is a handful for anyone in the grappling department.
Cormier was slated as a reserve in the initial setup of the Grand Prix, but has won his way to the finals after injuries and one of the craziest upsets against Antonio Silva.
The Brazilian was on quite a roll before being rocked and finished by Cormier. The AKA coach/fighter brings Olympic-level wrestling to the cage with ever-improving striking as well.
The common saying is that when two wrestlers face off, fans will be treated to a sloppy brawl on the feet.
If the fight remains on the feet, I would give the edge to Cormier, as he's shown to have KO power and will likely have more of an array of strikes due to his training at AKA.
The real test for either man will be once the fight hits the mat. Both men have great top games and whoever doesn't panic on their back will emerge victorious.
Barnett has the better submission skills, but the problem will be getting Cormier to the canvas in order to utilize that advantage.
If Barnett can't take down the former Olympian, look for Cormier to unload with an array of kicks and punches.
I believe Cormier will avoid the takedown unless it's to secure a round on points or simply to avoid getting tagged, as Barnett has a clear advantage with his submission skills.
The fight is a toss-up and you could pick either man without reproach. Barnett will be Cormier's toughest test to date and Cormier will be one of the best wrestlers Barnett has faced in his career.
I believe Barnett has the skills to take the fight into deep water but I can't help but ride the wave of momentum and predict a victory for Cormier.
Daniel Cormier via unanimous decision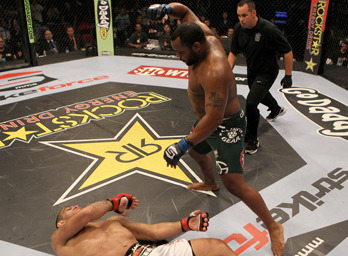 Photo Courtesy of Showtime
John Heinis: Fight of the Night - Rafael Cavalcante vs. Mike Kyle
Submission of the Night - Bobby Green
Knockout of the Night - Daniel Cormier
Jeffrey McKinney: Fight of the Night - Rafael Cavalcante vs. Mike Kyle
Submission of the Night - Josh Barnett
Knockout of the Night - Rafael Cavalcante
Kyle Symes: Fight of the Night - Gilbert Melendez vs. Josh Thomson
Submission of the Night - Gesias Cavalcante
Knockout of the Night - Rafael Cavalcante