Kobe Bryant Will Never Win Another NBA Championship
May 17, 2012
Harry How/Getty Images
Twelve teams passed on drafting Kobe Bryant in the 1996 NBA draft, allowing him to fall to thirteen. The thirteenth team? The Charlotte Hornets.  
His agent at the time, Arn Tellem, expertly maneuvered Kobe to the Los Angeles Lakers on a draft-day trade in exchange for then-Lakers center Vlade Divac, citing that he would prefer to take his talents to a larger market where he could perhaps blossom into the second coming of Michael Jordan. 
Now, the Black Mamba is an astonishing talent, that is unquestionable. Kobe has five championship rings thus far in his illustrious career.  He has won Finals MVP twofold. He has won NBA MVP just once, but that is not indicative of his brilliance because he will without a doubt go down as one of the best players to ever play the game.
He has the ability to score from anywhere on the court. He oftentimes defies nature. He has us staring at the television, jaw-dropped in amazement thinking, "Did he really just do that?" His patented turn-around jumper from the baseline appears nearly impossible to convert at a high rate, but he continues to get it done. And even more impressive is that they fall in clutch situations with the game on the line.  
However—all five of his championships have come with the benefit of playing with a great big man while his opponents lacked the ability to counter the talent the Lakers put on the floor.
Contrary to what you are currently mumbling to yourself, this is not a slight to Kobe's game, it is, quite simply, a fact. Shaquille O'Neal, the most dominant big man of all time, was in his prime during the Lakers' three-peat to begin the 21st century. This was at an age where a dominant big man translated into success. The reason the term "Hack-A-Shaq" exists is because there was no other conceivable way to stop him, especially when Arvydas Sabonis and Vlade Divac were his main competition.  
When fighting for his two most recent titles, Kobe had the benefit of playing with perhaps the best passing big man in the NBA, Pau Gasol. He is mostly known for his finesse game, but his ability to rebound and play a dynamic two-player game with Kobe allowed for the Lakers to win consecutive titles. It didn't hurt that Lamar Odom had become the most feared sixth man in the league either, as he combined with Pau to provide the Lakers with the longest front court in the league (with an underdeveloped and often hurt Andrew Bynum).
The reasoning behind the boldness of my statement is simple: the NBA has drastically improved.  In a league that sorely lacked parity over the last twenty years, it seems more and more likely that there will be a different team raising a banner each year.
The Western Conference alone is so deep, the Lakers' main focus now lies in finding a way to scratch and claw their way out of their own conference. The San Antonio Spurs, Oklahoma City Thunder, Dallas Mavericks, Memphis Grizzlies, Denver Nuggets and dare I say it, the Los Angeles Clippers all pose a legitimate threat to the Lakers in the coming seasons. In years past it was simply between the Lakers, the Sacramento Kings and the Portland Jailblazers. I mean Trailblazers. 
The Nuggets just pushed the Lakers to seven games in the first round and Kobe was spectacular. He has quickly realized that he cannot win on his own in today's game because opposing teams are too well balanced.  He put forth an unbelievable effort in a potential Game Five clincher as he found his Laker team down 90-75 late in the fourth quarter at home. He is the only player in the league who can do that without surprising his audience. He has spoiled us all because now we expect him to do it. He scored 14 points in the quarter to finish with 43, but came up just short because his teammates left him hanging.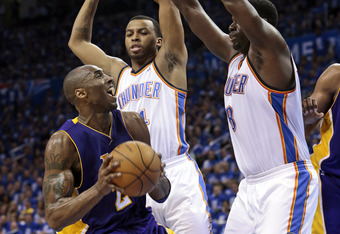 Brett Deering/Getty Images
Kobe still has it. He is fourth all-time in 40-point postseason games with thirteen. He is a genuine stud. The issue lies in the increased competition. Without a consistent team effort, he just cannot win another ring. The team he has around him does not work as hard as he does and it frustrates him. Andrew Bynum only exerts himself every other game when he finds time not to make headlines for the idiotic things he says. Pau Gasol disappears sometimes for no apparent reason and the bench is completely nonexistent. 
The biggest factor is the absence of an effective point guard. The trade for Ramon Sessions was supposed to ignite the Lakers and alleviate some of the pressure placed on Kobe's shoulders night in and night out. However, in his first taste of postseason experience, Sessions has been far from effective. In eight games thus far, he has shooting splits of 37/19/69 (FG/FT/3FG). That just won't get it done. 
Sessions was also to be counted on to make a defensive difference as the Lakers have had trouble with opposing athletic point guards in years past. Derek Fisher was too old to keep up with the likes of Russell Westbrook, Chris Paul, Tony Parker and Ty Lawson. 
In Round One, Lawson completely dominated the point guard matchup, posting averages of 19 points, six assists on 51-percent shooting. 
Game One of Round Two? Westbrook put up 27 points, nine assists and seven rebounds in only 25 minutes. 
If he is unable to defend opposing point guards, it forces coach Mike Brown to ask Kobe to expend some of his precious energy on the defensive end, which affects his offensive production.  Regardless of who you are, defense requires the exertion of energy and if he over-exerts himself at the defensive end, his offensive game suffers.
You see? This article wasn't what you thought it would be. It isn't a hater piece, it's a factual one.  The NBA is too deep for Kobe to add another ring to his collection. And you know what that means—one less than MJ.