Paulina Gretzky Pics: Great One's Daughter Plays Dress Up for Complex Magazine
May 16, 2012

Paulina Gretzky is at it again, giving the Internet another collection of sexy pics for us to ogle at until it's time to punch the clock and go home. 
Wayne Gretzky may be a legend, but I am starting to think the moniker of The Great One should be transferred to his daughter who continues to dominate this crazy Internet machine. 
At least she is getting paid for these following pictures. The lovely model usually takes to Twitter to send out some really amazing pictures of her in the scantest of outfits. Hooray for bikinis. 
These following pictures are taken from her twitter account, but they seem to be in conjunction with an upcoming spread for Complex Magazine.
Shooting with @ComplexMag can not wait to see @LadyLuWhynot !!!

— Paulina Gretzky (@PaulinaGretzky) May 15, 2012
Here is the first tweet.
I think that playing dress-up begins at age 5 and never truly ends instagr.am/p/Kqoeq1sjzn/

— Paulina Gretzky (@PaulinaGretzky) May 16, 2012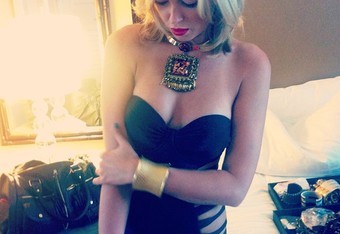 I am all for playing dress up, just as long as Gretzky is the one playing dress up. Um...Paulina Gretzky that is. 
The second tweet solidifies the next issue as a must-buy magazine.
And that's a wrap thank you Tony Kelly and everyone at @ComplexMag MWAH!!! instagr.am/p/Kq04w5sj5l/

— Paulina Gretzky (@PaulinaGretzky) May 16, 2012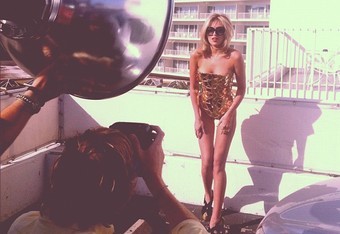 We can go ahead and say that Paulina is back for good. 
It seemed as though she would be gone forever from Twitter. As The Vancouver Sun reported earlier this month, she has ceased the hiatus and is back to giving us all hot pictures to make her daddy proud. 
This an amazing time to be alive. 
Sure we can get most of our information from the simple search of terms on Google, engage with people on the other side of the world and become anything we want to be in an unlimited online landscape. 
But hot pics of Paulina Gretzky may be the true sign that our civilization has turned a final and correct turn towards sophistication. 
Follow me on Twitter, I will scale back my sexy pics.