Cleveland Cavaliers: How Much Can Tristan Thompson Improve This Offseason?
May 17, 2012

Chris Chambers/Getty Images
In the 2011 NBA Draft, the Cavaliers shocked much of the basketball world by selecting Tristan Thompson with the fourth overall pick.
Thompson was a great defender and rebounder as a Texas Longhorn. His long 6'9" frame, even wider wingspan, great leaping ability and a motor that never seemed to quit were the primary characteristics that attracted the Cavaliers to the young forward.
Since coming to the league and gaining substantial experience at the professional level, Thompson has shown flashes of talent that somewhat validated his high selection in the draft, but will those flashes ever evolve into a consistent all-around game?
It's obviously hard to predict exactly what kind of player Thompson can be with just one season under his belt, but it appears the power forward will require a good deal of improvement if he wants to justify the Cavs taking him with one of the top five picks in last year's draft.
Let's start off with some of the bad in Thompson's game.
Thompson shot about 44 percent from the field last season, which might sound good initially, but from a player who scores the vast majority of his points down low, 44 percent just isn't going to cut it.
Offensively, Thompson showed that his athleticism could get him by and above defenders down low, but his finishing ability needs some major work. He could also use a few more pounds of bulk in order to size up well against other big men. The potential is certainly there, though.
Jump shooting was almost nonexistent from Thompson, and it would be nice to see him at least develop a low-post bank shot of some sort.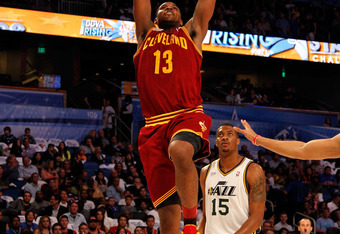 Mike Ehrmann/Getty Images
Defensively, Thompson is a solid shot-blocker due to his long reach and leaping ability, yet his slender frame works against him when it comes to being physical against other power forwards and centers.
There are some definite positives in Thompson's game, too.
His high energy level will always work in his favor, and that energy was the perfect complement to the already endless motor of Anderson Varejao. Thompson and Varejao could make one of the best offensive rebounding duos in the league, as nearly half of Thompson's 6.5 rebounds per game were from the offensive glass.
Thompson was also great at pulling off some highlight-reel dunks off of offensive rebounds on several occasions, which at the very least fires the crowd up.
The fact that he increased his rebound and point averages through nearly every month of the season (including 10 points and seven rebounds a game in March) was definitely an indicator that the rookie big man was beginning to get the hang of things near the end of the season.
Thompson's potential is apparent, but so is the fact that he'll undergo some serious training in this year's offseason. 
Ideally, Thompson will continue to improve while coming off the bench, and will eventually be able to become the athletic, skilled power forward that the Cavaliers' organization envisioned would be a great complement to fellow rookie Kyrie Irving.