Eric Spoelstra's Late Game Blunders Will Cost Miami Heat an NBA Title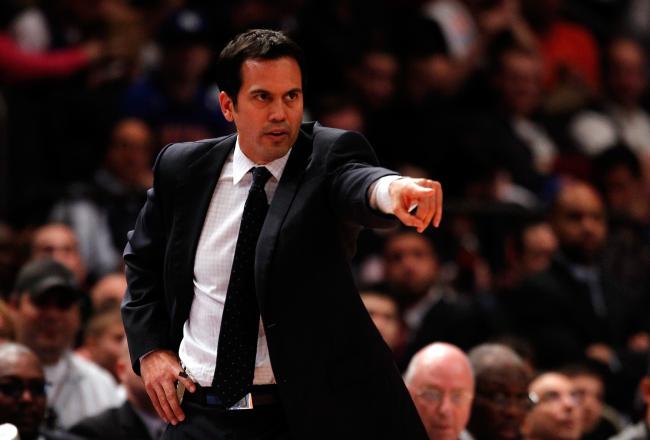 Jeff Zelevansky/Getty Images
For all of the Miami Heat's talent and success, this is a franchise in trouble. With or without Chris Bosh, there lurks a leadership deficit threatening to derail this team's ability to finish close games.
The most troubling symptoms may manifest themselves in head coach Erik Spoelstra's sometimes bizarre decision-making, but the underlying sickness goes much deeper than that.
Spoelstra's larger-than-life franchise players do and say whatever they like, constrained only by their own perverse conception of self-branding and public relations. It was clear from the outset that Spoelstra had no real control over the locker room. He more closely approximates the inspiration for Jonah Hill's character in The Sitter than anything resembling an actual coach.
Indeed, if Spoelstra called his guys out—even behind closed doors—fans and media alike might feel less inclined to pile on the criticism.
And Dwyane Wade might be more inclined to keep his mouth shut, opting to focus on his own game rather than the Indiana Pacers' celebratory habits.
Jeff Zelevansky/Getty Images
No one likes an overly-permissive parent, but Spoelstra has become exactly that. Just as the Cleveland Cavaliers mortgaged their future in order to appease a once and former King, the Heat settled for a coaching lightweight to casually oversee a roster of delusional divas.
Don't expect a guy like Jerry Sloan to have any interest in this job.
After all, who needs a coach when LeBron and Company already know all there is to know? As LeBron put after Miami's Game 4 loss to the New York Knicks (via the Sun Sentinel's Shandel Richardson). "We've been through every thing," forward LeBron James said. "It doesn't matter. We don't need a teaching tool after a loss. We've seen it all in just two years."
With self-assured nonsense like that, who even needs a coach?
But while Miami never expected Spoelstra to be much of a teacher, Pat Riley surely expected a better tactician.
Carmelo Anthony scored 41 points in that Game 4, shooting 15 of 29 from the field. But despite the eruption, Spoelstra elected to have Shane Battier guard Anthony down the stretch rather than the stronger James—a move that resulted in a couple of crucial crunch-time buckets for Anthony along with a late foul by Battier.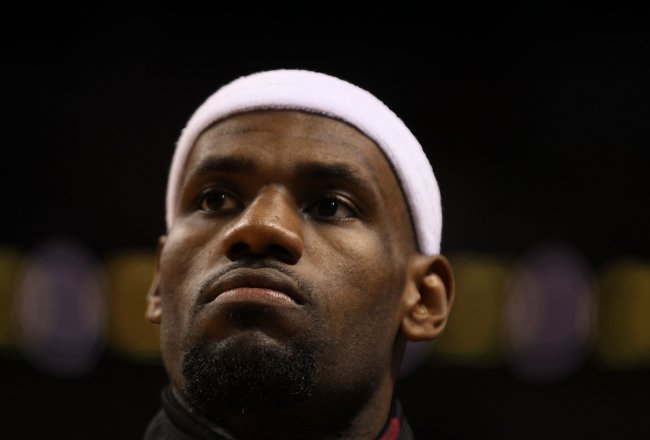 Marc Serota/Getty Images
More recently though, Spoelstra again caused some head-scratching by showing supreme confidence in Mario Chalmers to take the final shot in Game 2 against the Pacers (via ESPN's Brian Windhorst):
Spoelstra said Chalmers was "one of the first or second options" on final shot.

— Brian Windhorst (@WindhorstESPN) May 16, 2012
The move probably had as much to do with preserving the fragile psyche of an MVP (who had just missed two vital free throws with under a minute remaining) than it did winning the game.
Surely, Spoelstra knew his already frustrated superstars couldn't handle any more blame than they were already destined to take. Such is the life of a coach beholden to the sideshows of egomaniacs and their endless entourage of "yes men"—a entourage with no one more affirming than Spoelstra himself.
His greatest blunder toward the end of Game 2 wasn't tactical at all.
As Dwyane Wade stood still after a no-call (instead of getting back down the floor on defense), Spoelstra joined in his entitled star's protest instead of directing his ire more appropriately at Wade. Whether the call was right or wrong, there's no question Wade's reaction was inexcusable.
Unless, of course, your ever-forgiving "head coach" is there to excuse it.
This article is
What is the duplicate article?
Why is this article offensive?
Where is this article plagiarized from?
Why is this article poorly edited?

Miami Heat: Like this team?