Eli Manning's SNL Touchdown Dance Must Become Madden Reality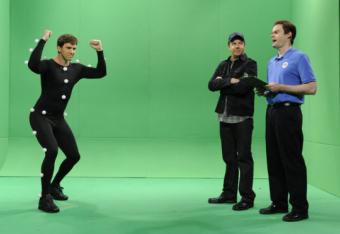 Photo Credit: Better With Popcorn

Things that could make the next Madden video game better include, but are not limited to, even better AI, use of every Hall of Fame player and Eli Manning's silly sandwich dance.
Let's concentrate on the dance that had us all giggling like school girls a couple of weekends ago.
The two-time Super Bowl champion was in fine comedic form for one Saturday Night Live skit, which featured Manning in a motion-capture outfit for the next Madden video game.
For those who were stuck doing something lame like drinking at bars or going to concerts rather than sitting on your fat butt on Saturday night like me, here is the video:
As you can see, some hits, misses and chuckles—nothing revolutionary.
The one part that had me intrigued was the final throes of a frustrated Manning wanting to put his stamp on a celebration dance.
His final attempt was him making a sandwich, then dropping the sandwich. If only we could really motion capture such lunacy.
Yup, that's all I need to have hope that Madden 13 will feature a touchdown dance to end all touchdown dances.
Would Manning dance make Madden a Must-Buy?
The lovely people of Kotaku explained that this video comes straight from EA Sports. However, when they tried to get answers from the artists, they were given no comment.
So, this could be just a couple of geniuses playing around and having a great time, or it could be the best thing to happen to the Madden franchise.
Of course, we have to wonder why Manning is in a Patriots outfit. I won't trouble my brain with that one for too much longer, because I would rather sit back and daydream of Manning making a sandwich as I run up the score.
Follow me on Twitter and we can debate sandwiches.
This article is
What is the duplicate article?
Why is this article offensive?
Where is this article plagiarized from?
Why is this article poorly edited?