Rafael Benitez: Why Ex-Liverpool Boss Deserves a Second Chance
May 16, 2012

Mike Hewitt/Getty Images
Today, Kenny Dalglish was perhaps unceremoniously released from his position as manager of Liverpool Football Club.  After a little under 18 months in charge of the club, Dalglish's sole achievement of his tenure was the club's Carling Cup victory over Cardiff earlier this season, and his reign has been marred by questionable decisions in both the transfer market and the press room.
As such, it seems Liverpool's period of uncertainty and instability, alive and well since the departure of Spaniard Rafael Benitez, will continue to shadow a club with an immensely proud heritage and still-strong expectations and ambitions.  Although various names will and have already been touted as Dalglish's replacement, it's clear in this mind that there is only one man for the job:
Rafael Benitez must return to Liverpool Football Club.
For starters, there are his excellent achievements while at the club. First and foremost, the unforgettable 2004-05 UEFA Champions League Final victory in Istanbul.  After a lackluster season domestically, without a legitimate threat from a genuine forward aside from top-scoring Czech Milan Baros, Benitez guided Liverpool to an unthinkable victory in the final against heavily favored AC Milan courtesy of three second half goals and Jerzy Dudek's heroics between the sticks in the penalty shootout that followed.
This came 21 years after the Reds' last previous triumph in the competition; not since 1984, when, under the management of Joe Fagan, Ian Rush scored 47 goals in all competitions. Benitez also guided the club to the Champions League final two years later, though was unsuccessful in the replay of that 2005 final as Milan triumphed 2-1.
Benitez also experienced some real success in the Premier League as well.  In particular, the 2008-09 season in which Liverpool finished 2nd to Manchester United. This being achieved for the first time since 2002, and only the second time since 1991.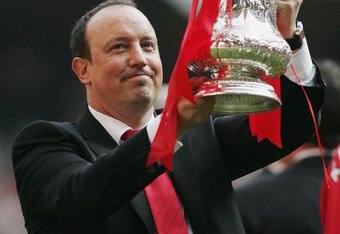 Ben Radford/Getty Images
In addition, in his second season, Benitez took Liverpool to their seventh FA Cup victory courtesy of a Djibril Cisse strike, a Steven Gerrard brace and a penalty shootout victory over West Ham in the last final held at Cardiff's Millennium Stadium.
Then there is also his record in the transfer market.  Although many could attribute his Champions League success to inheriting a side built by Gerard Houllier, some seem to forget that Benitez's first season in charge was one in which Michael Owen, for the first time in his career, did not play for the club.  Although many of the cornerstones of that success—Gerrard, Carragher and Dudek were in place, Benitez introduced some pivotal players into the squad which influenced the squad in the way many of Dalglish's signings haven't done.
In his first season, for a combined total of £16.7million, Benitez brought in two countrymen in Luis Garcia and Xabi Alonso.  Both played for the entirety of that Champions League final and alongside captain Gerrard formed the crux of the Liverpool midfield.  In the following summer, he brought in another Spaniard, one who remains one of the club's most important players—goalkeeper Jose "Pepe" Reina.
In a quick run-through of his other successful transfers, players like Daniel Agger, Dirk Kuyt, Yossi Benayoun, Martin Skrtel and Fernando Torres all contributed plenty to the club during their time there—Agger, Kuyt and Skrtel remain and continue to do so.
Benitez's detractors will rightly point to his numerous failings in the transfer market. Amongst them Jermaine Pennant, Fernando Morientes, Andriy Voronin, Robbie Keane and Alberto Aquilani. However badly those transfers turned out, what is crucial to remember is that for the most part, these five players were experienced and had already had high-quality careers. Thus, they were welcomed at the time as good signings.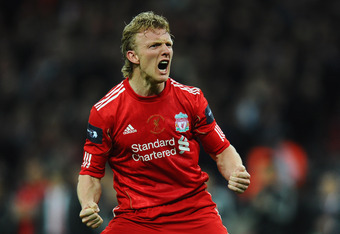 Mike Hewitt/Getty Images
Morientes had experienced success with Real Madrid and AS Monaco, but didn't settle. Voronin was free, Aquilani was injured and Robbie Keane was effectively a £3m loss after his unproductive spell; only Pennant could arguably be seen as a Benitez bust.
The crucial point of this article is that Dalglish, like Roy Hodgson before him, has effectively failed to deliver Liverpool fans' lofty expectations - namely, to consistently excel in the league and, crucially, to be a real presence in continental football.  With their rich history of domestic and continental success, Liverpool is a club used to treading the hallowed heights of football stardom.
Benitez continued predecessor Gerard Houllier's excellent work in bringing both continental and domestic honors to Liverpool's roll of honor.  The football club is in dire need of an injection of managerial security and stability.  With his past successes well-documented, establishing himself as the prime candidate above all others, Rafael Benitez must be the serum that revitalizes Liverpool Football Club.