Clippers vs. Spurs: X-Factors for Each Team in Game 2
May 16, 2012

Justin Edmonds/Getty Images
In Game 1 of the 2012 Western Conference Semifinals, the San Antonio Spurs prevailed 108-92 over the Los Angeles Clippers.
The Spurs didn't play that great, yet they still blew out the Clippers. The Clippers need to win Game 2 if they want any chance in the series.
Here are the X-Factors for each team headed into the second game Thursday night:
Spurs - Boris Diaw
Everyone knows about the Spurs' big three in Manu Ginobili, Tony Parker, and Tim Duncan. They have won many championships together and have a long history together.
But there's another player who stepped up in Game 1, forward Boris Diaw. In just 27 minutes of action, Diaw had a plus/minus of +24 with 12 rebounds, five assists, and three steals. 
Diaw came from nowhere to put up a remarkable Game 1 performance. In the last two games of the Utah series, Diaw made zero shots from the field. 
All his career Diaw has been a role player, but is now a starter with the No. 1 seeded San Antonio Spurs.
If Diaw can be more consistent, the Spurs are going to be hard to slow down.  
Clippers - Flopping
This season the Clippers have developed an identity, "Flop City," due to many of their star players flopping to draw a foul call.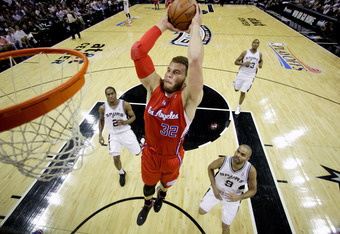 Pool/Getty Images
NBA commissioner David Stern has noticed an increase of flopping in the game, a practice he wants to eliminate.  
David Stern told ESPN,
"I think it's time to look at (flopping) in a more serious way because it's only designed to fool the referee. It's not a legitimate play in my judgment. I recognize if there's contact (you) move a little bit, but some of this is acting. We should give out Oscars rather than MVP trophies."
In the prior series the Grizzlies' Zac Randolph blasted the Clippers flopping.
"It starts with Chris Paul, because Blake didn't really used to flop like that, you know, last year," Randolph said. "Reggie Evans flops, Reggie always flops. I think it started when Chris got (to the Clippers)."
Now, the NBA is aware of the Clippers' blatant flopping during games. The officials are on the lookout for the Clippers flopping, a move Ginobili perfected earlier in his career.
The Clippers aren't going to be able to successfully flop in games anymore; they'll need to find different defensive strategies.
Their ability to fool and deceive the officials is an integral part of their game.