WWE Debate: Why 'Macho Man' Randy Savage Was the Original Mr. WrestleMania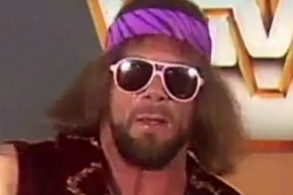 Image Courtesy of www.osmosis-online.com
On May 20 last year, wrestling lost arguably its greatest technician when Randy "Macho Man" Savage passed away.
From a personal standpoint, I always liked Savage more than Hulk Hogan or The Ultimate Warrior. There was something different about him.
He seemed to be more charismatic and work harder than most of the other guys.
I never saw Savage have a bad match. He had an uncanny ability to bring others up to his level.
Whether it was George "The Animal" Steele, Ultimate Warrior or Jake Roberts, Savage was a perfectionist.
WWE's biggest stars tend to shine on big occasions and while Shawn Michaels has a claim to the title, the next 5 slides will show why Randy Savage will always be "Mr. Wrestlemania" to me.
Begin Slideshow

»
This match is widely regarded as being one of the best ever among fans and wrestlers alike. I first saw this match when I was 14 or15 and ever since then I've watched it once or twice every couple of months.
Savage and Steamboat put on a classic in the Pontiac Silverdome in front of 90,000 fans for the Intercontinental Title.
Yes, that's right, the WWF (as it was back then) actually cared enough about the title to showcase it with two of the best wrestlers ever.
The PPV may have been headlined by Hulk Hogan and Andre the Giant, but trust me, this was the main event!
Is it the best Intercontinental Title match ever? In my opinion, yes.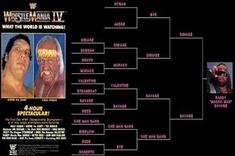 Image Courtesy of www.bleacherreport.com
For the second straight year, Hogan and Savage were focal points of WWE's annual Wrestlemania extravaganza.
Heading into the event, Andre the Giant had screwed Hogan out of the title and sold it to the Million Dollar Man, Ted Dibiase.
WWF President Jack Tunney didn't roll like that though, so he vacated the title and set up a 14-man tournament at Wrestlemania.
Andre and Hogan met each other in the quarter-finals of the tournament and fought to a double DQ.
The two finalists of the WWF Title Tournament were Randy Savage and Ted Dibiase.
By this time, Savage had been working as a face for a few months, whereas Dibiase was firmly entrenched as one of the WWF's top heels.
Their routes to the final couldn't have been more different. Savage defeated Butch Reed, Greg Valentine and One Man Gang before meeting Dibiase.
Dibiase, on the other hand only wrestled twice that night, pinning Jim Duggan and Don Muraco.
Despite seemingly insurmountable odds, Savage rose to the top of the WWF and captured the title to garner his second straight WrestleMania moment.
This was the end of the near year-long run of Savage as WWF Champion. Savage had won his two previous matches at Mania, but this time, he put over Hulk Hogan and lost his WWF Title.
The lead-up to this match centered around the explosion of the Mega Powers team of Hogan and Savage.
Savage turned heel midway through the run because he was jealous of the relationship between Hogan and Miss Elizabeth. Like every guy, he was seeing things that weren't there.
Writer's note: (Randy, if you're reading up there, I've been there my friend!)
Anyway, this match showed Savage at his best. He was in control of the entire match. He spotted everything out.
He did the right thing for business and put over the biggest wrestling star in the world. Savage made Hogan look good.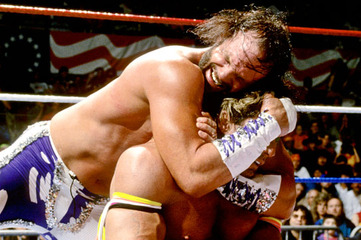 Image Courtesy of therealwrestle.wordpress.com
It's no great surprise that when WWF officials wanted someone to put one of their stars over, they went to Randy Savage.
After his outstanding performance against Hogan at WrestleMania 5, they turned to Savage again two years later when they asked him to put over another limited worker in the Ultimate Warrior.
Macho was no longer aligned with his wife Elizabeth at this point, as he was managed by Sensational Sherri.
Heading into the event, Warrior had refused to give Savage a shot at his WWF Title. Warrior chose to give the returning Sgt. Slaughter a title match at Royal Rumble instead.
Savage interfered and cost Warrior the title. Warrior then challenged Savage to a "retirement match" instead, which Savage accepted, and here we are.
The match followed pretty much the same formula as Savage/Hogan two years before. Savage dominated proceedings.
He managed to nail Warrior with five flying elbow drops, but couldn't get the job done and Warrior ultimately (haha!) won the match.
As memorable as this match is, it's the aftermath that sticks in the minds of wrestling fans. This was the the site of the "Macho Moment."
During the match between Savage and the Warrior, Elizabeth was spotted in the crowd and cameras kept cutting to her as she grew concerned for Savage's well being.
After the match, Sherri came into the ring and attacked Savage, which prompted Elizabeth to charge into the ring and fight off the former Queen and save Savage.
Shocked to see what Elizabeth had done for him, Savage had an emotional reunion with his former wife, which made the Macho Man a hero in the eyes of the fans again.
Again, Macho Man Randy Savage delivered at WrestleMania, despite losing the match.
This is just my opinion, but apart from Ric Flair's match with Shawn Michaels at Wrestlemania 24, this was Flair's greatest WWE match.
Flair had come across to WWE from WCW in 1991, but didn't make much of an impact until January 1992.
At the Royal Rumble in 1992, Flair won the Rumble match to claim the vacant WWF Championship. Flair drew number three in the Rumble match and lasted a then-record nearly 60 minutes.
WWF had initially planned a match for the ages between Flair and Hogan at Wrestlemania, but Hogan's hiatus following the WWF's steroid scandal put paid to that.
Instead, Macho Man Randy Savage challenged Flair for the WWF title as part of the double main event at WrestleMania 8.
The storyline leading up to the match involved Flair taunting Savage by claiming that he had a prior relationship with Savage's wife Elizabeth and that he had the pictures to prove it.
The photos were later revealed to be doctored and Savage again delivered a performance full of quality, emotion and intensity to wrestle the title from Flair in a 25-minute classic.
This match would prove to be Savage's last ever memorable Wrestlemania moment.
What a way to walk out.
There's no better way to end this topic than by simply sitting back and listening to some of Macho's epic promos and some highlights of his career.
This video is the tribute package put together by WWE shortly after he passed away.
Hopefully, I've managed to convince you that Macho Man was indeed the original "Mr. Wrestlemania" and that he rightfully deserves his place in the WWE Hall of Fame.