Everyone has a favorite part of Aaron Rodgers. Whether it's his cannon-like throwing arm, his deceptive speed, or for the ladies, his butt, Rodgers can appeal to anyone.
However, it's what goes on in his mind that makes him so dangerous and exciting to watch. Of the quarterbacks currently in the NFL, Rodgers might have the most vengeful mindset of any of them.
And in football, vengeance can be an entertaining thing.
Everyone knows the story of Rodgers. He was unwanted coming out of high school, no one went after him coming out of community college, the San Francisco 49ers didn't choose him to lead their franchise, and 22 other NFL teams passed on him before the Packers called him up.
Most people just assumed his work ethic was the product of trying to prove the doubters wrong, but I think it comes from a darker part of his mind. Rodgers wants to make the doubters show that passing on him was one of the greatest mistakes they'll ever make, and when he gets the chance, he proves it.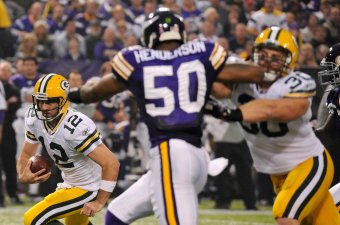 Hannah Foslien/Getty Images
In his two career games against the San Francisco 49ers, Rodgers has thrown for a total of over 640 yards, 5 touchdowns, no interceptions, and completed over 70% of his passes. He's also added 50 rushing yards.
In the 2011 playoffs against the Atlanta Falcons, John Abraham managed to sack Rodgers and proceeded to mock his touchdown celebration. How did Rodgers respond? He rushed for a touchdown later in the blowout win and did "the belt" once again. Even Rodgers said it was his favorite belt to date.
The list can go on and on, but the thing is, it doesn't just apply to teams that doubted him, but fans and analysts that still do.
After his first full season as a starter in 2008, analysts doubted his ability to win close games. Rodgers responded by winning the first game of the 2009 season by throwing a game-winning touchdown pass against the Chicago Bears.
Coming out of college, people thought that Rodgers wasn't athletic enough to make plays when a play broke down. However, since he became a starter, the Packers QB has rushed for over 1,100 yards and 16 touchdowns. Not too bad for a pass-first quarterback that has only played extensively for four seasons.
The overall point I'm trying to make is that if Rodgers manages to hear what the doubter are saying, he will go out of his way to prove them wrong. Whether it was his faulty throwing motion coming out of college, his athleticism, his attitude, or even his clutch gene, Rodgers will always try his best to come out on top.
That, in my mind, is what makes him so entertaining.