Strikeforce: Barnett vs. Cormier Info and Predictions for the Main Card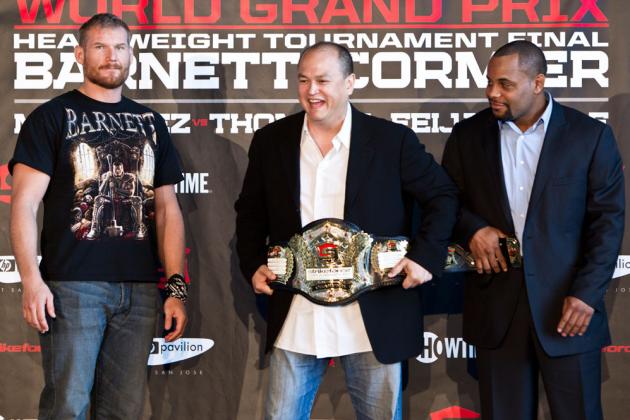 Esther Lin/Forza LLC/Forza LLC via Getty Images
The Strikeforce Heavyweight Grand Prix was set to be the jumping off point for the promotion to compete with the UFC. Comprised of seven of the best heavyweights in the world plus Brett Rogers, the winner of the tournament would have a real claim to being the best heavyweight in the world.
This weekend the Grand Prix comes to a close with Josh Barnett facing Daniel Cormier in the finals. The winner of the bout will hang around in the promotion for one more fight against a yet-to-be named UFC heavyweight. The loser is likely to be directly transferred over to the UFC.
In the co-main event, Gilbert Melendez faces Josh Thomson for the third time in his career. The bout is for Gilbert's lightweight belt. With a win, it's arguable to say that Gilbert will have cleaned out the Strikeforce lightweight division.
The undercard airs Saturday night on Showtime Extreme at 8:00 pm ET. Switch over to Showtime at 10:00 pm ET for the main card. Sorry West Coast, but it'll be delayed for you guys.
Begin Slideshow

»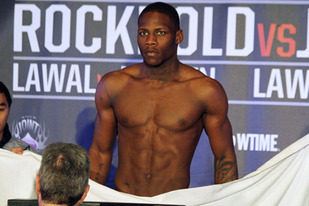 Via MMAJunkie.com
In the opening bout of the Showtime broadcast, Nah-Shon Burrell faces Chris Spang.
I'm being totally honest when I say that this fight being on the main card surprised me, especially with Gesias Cavalcante fighting in the prelims. I can't for the life of me figure out why two complete unknowns are on the main card of a Showtime broadcast. Actually, I have one guess which is that they needed a main event for the Showtime EXTREME broadcast. That is the only reason I can figure for putting Burrell and Spang on the main card.
Nah-Shon Burrell is a three fight veteran in Strikeforce and impressed fans at Strikeforce: Overeem vs Werdum against Joe Ray. He's an explosive fighter who is very fun to watch when the fight is on the ground as he's highly creative in his scrambles and takedowns. He's solid on his feet as well and can finish the fight with punches or kicks. He lacks experience so a concern for Nah-Shon is his fighting IQ.
Chris Spang has even less experience than Burrell and is coming into the fight on a loss. He's not really that dynamic of a fighter and has put himself into bad situations in fights. He has rudimentary submission skills and decent stand up. If cage IQ is a concern for Burrell, it definitely has to be an issue with Spang.
For Strikeforce to book a fight between a three fight winner and a one fight loser, that leads me to believe that they want to push Burrell. It won't be an easy fight as Spang is a game opponent, but I just don't see Spang winning this fight.
Prediction: Nah-Shon Burrell by Unanimous Decision.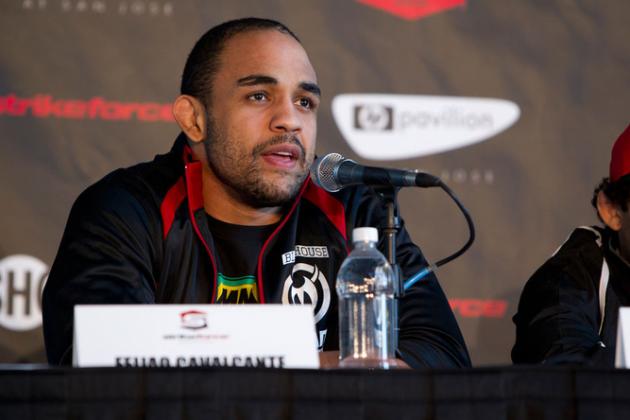 Esther Lin/Forza LLC/Forza LLC via Getty Images
In light heavyweight action, Rafael Cavalcante faces Mike Kyle in the second fight of the Showtime broadcast.
Rafael Cavalcante is the former Strikeforce light heavyweight champion who is on the road back to the title after dropping it to Dan Henderson. Mike Kyle is the fighter who always seems to be in the cage, but has never put together a win streak to deserve a title shot.
Cavalcante is one of the best light heavyweights in Strikeforce and a disciple of UFC middleweight champion Anderson Silva. He is very strong in the clinch and has underrated BJJ (Brazilian Jiu-Jitsu). He excels working inside as he has real power in his punches and brutal knees. He's also made real improvements to his wrestling and takedown defense. There's concerns about his conditioning as he tends to fade in fights that go into later rounds.
Mike Kyle is one of the most infamous fighters in MMA. In the past he's been a bit of a hell raiser and has been disqualified for soccer kicking a grounded opponent and then continuing to hit his opponent after the referee stopped the fight. He has scary power in his hands and decent wrestling which he usually uses to keep the fight standing. His conditioning is a question as he's better suited for heavyweight than light heavyweight.
This is an interesting fight as it will be a test of Cavalcante's chin. If he can survive Kyle's boxing and power punches, he has the ability to win the fight. His strength in the clinch will be the deciding factor and I expect him to end the fight with knees.
Prediction: Rafael Cavalcante by TKO in the second round.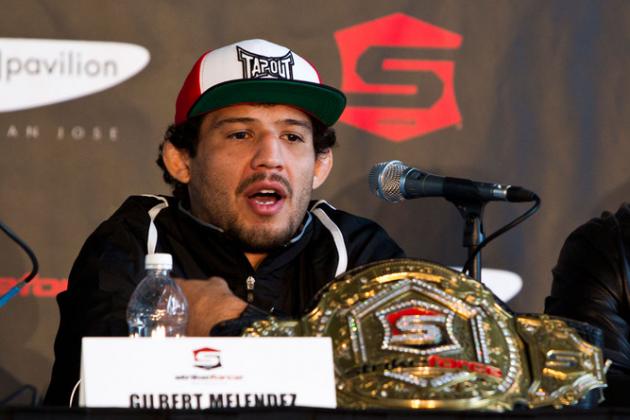 Esther Lin/Forza LLC/Forza LLC via Getty Images
In the co-main event of the night, Gilbert Melendez defends his Strikeforce Lightweight belt against Josh Thomson.
This hasn't garnered as much fan interest as you might come to expect from a title fight. This is the third time that Thomson and Melendez will meet in Strikeforce and I think this fight just kind of comes off as a bit forced due to no clear contenders being available. Josh Thomson is the oft-injured lightweight who took a lackluster decision over KJ Noons to earn the shot while Melendez is the Strikeforce champion who would rather be fighting in the UFC.
Josh Thomson is a very well-rounded fighter. Solid on both the feet and on the ground, he doesn't really have any noticeable holes in his MMA game. His conditioning was a bit of a concern in the Noons fight as he appeared to gas out in the third round. There's also the issue of the current rumor that's being tossed around that he is coming into this fight with a knee injury. While Thomson has denied any such issues, if he is coming in injured, he's going to be fighting with a real disadvantage.
Gilbert Melendez would rather be fighting elsewhere. As Strikeforce champion, he's run through everyone that match-maker Sean Shelby has placed in front of him. He has great boxing and wrestling skills as well as submissions due to training with the Cesar Gracie fight team. He doesn't have any noticeable holes in his game and continues to look better with each outing. There's only the question of, "does he still care?" about the Strikeforce belt.
This fight is Gil's fight to lose. He has looked awesome lately and continues to improve. He also has made an argument for being the best lightweight fighter in the world. I see this being an entertaining, albeit one-sided affair, with Gilbert Melendez running through Josh Thomson within three rounds.
Prediction: Gilbert Melendez outworks Josh Thomson to a third round TKO.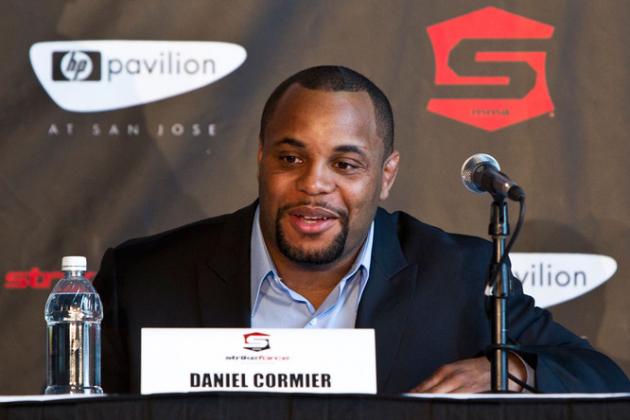 Esther Lin/Forza LLC/Forza LLC via Getty Images
In the main event of the evening, Josh Barnett meets Daniel Cormier in the Strikeforce Heavyweight Grand Prix finals.
This is probably the most interesting fight on the card as it will tell us a lot about both fighters. In one corner is perennial Top 10 fighter Josh Barnett who has been one of best fighters in the world for over a decade. In the other corner is the new comer who has dominated every opponent he's faced with a combination of world class wrestling and legitimate punching power.
Josh Barnett usually has a wrestling advantage over his opponents as he rarely fails to get the fight to the mat. As a catch-as-catch-can wrestler, he excels on the ground and has the grappling knowledge to submit an opponent with arm locks and leg locks. In recent years he's also become a solid striker and has developed power in his hands. He's not a super technical striker, but the force behind his punches more than makes up for that.
Daniel Cormier will always have the wrestling advantage over any of his opponents. As a former Olympian, he's arguably the best wrestler in MMA and has shown both Greco and freestyle skills inside the cage. He also has very scary power in his punches as seen in his fight against Antonio "Bigfoot" Silva. That fight is what caused fans to crown him "The Black Fedor" as he had the same striking style as Fedor Emelianenko.
On the feet I'd say these two fighters are fairly even. Cormier is the smaller fighter, but has more punching power in my opinion. Wrestling would also be Cormier's advantage though I think it's not as big of an advantage as people believe. Grappling and submissions are Barnett's clear advantage. We've never seen Cormier work from his back and defend submissions. Barnett is one of the best submission-grapplers in the business.
Prediction: Josh Barnett has trouble getting the fight to the ground and Daniel Cormier defeats him by TKO in the second round.