UFC on Fuel 3 Results: Head-to-Toe Breakdown of Jose Aldo vs. Chan-Sung Jung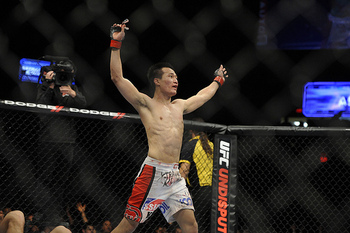 Credit: Rafael Suanes-US PRESSWIRE
Chan-Sung Jung's surprising win over Dustin Poirier has thrown him directly in line for a championship match against Jose Aldo.
He's gone 3-for-3 in his UFC career and has notched up two Submissions of the Night, one Submission of the Year, one Knockout of the Night and a Fight of the Night along the way.
He's the most exciting MMA talent to ever come out of South Korea, but if he is pitted against Jose Aldo, he'll be facing the man some consider the best pound-for-pound fighter in the world.
Here's how the match between the two could go down.
Striking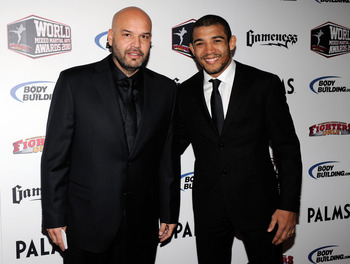 Ethan Miller/Getty Images
Jose Aldo is unquestionably one of the best strikers in MMA.
His Muay Thai is of the highest calibre. His explosiveness, power and technique have led to eight stoppages in his last 11 fights.
Few fighters are able to stand toe-to-toe with him. Just ask Urijah Faber's legs or Mark Hominick's forehead.
As for Chan-Jung Sung, even though he has demonstrated unquestionable power—on show in his seven-second knockout of the aforementioned Hominick—he is in essence a brawler.
He has an enviable chin and owes his nickname, The Korean Zombie, to the relentless way he delivers damage and takes punishment.
This will be an unwise tactic against Aldo. Few can endure the kind of punishment the Brazilian is able to deliver, and with his elusive footwork and ability to explode in and out of range, Chan-Sung will not want to stand toe-to-toe with him.
Advantage: Aldo
Takedowns/Takedown Defence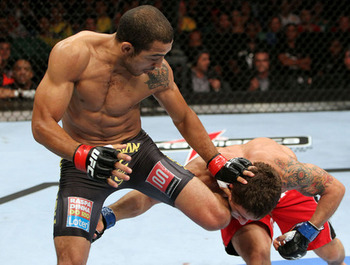 From http://www.mmamania.com
In his fight against Dustin Poirier, Chang-Sung Jung was able to take his opponent down in almost every round—catching his leg kicks, tripping him off the cage, charging with double-legs—the Korean Zombie displayed a host of takedown techniques.
But such techniques may be completely neutralised by Aldo's takedown defence.
Against Chad Mendes, probably the best wrestler in the division, the Brazilian stayed planted on his feet throughout the match, expertly resisting all of Mendes' attempts to put him on his back.
It is hard to imagine Chang-Sung having better luck in this aspect of the game.
Advantage: Aldo
Top Game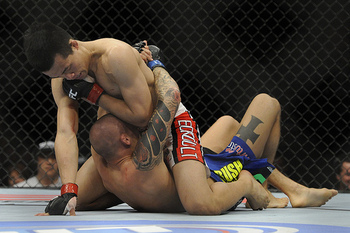 Credit: Rafael Suanes-US PRESSWIRE
On top, Chan-Sung Jung is one of the best in the division.
He has heavy hips, which can control most opponents, and his smooth transition to submissions means he's a threat whether he's unleashing ground-and-pound against his opponents or going for the tap-out.
But he's also susceptible to sweeps, especially as he likes to vary up his attack from the top and not just grind out the round.
This will leave him open to Jose Aldo's black-belt jiu-jitsu skills.
Aldo, on the other hand, rarely gives up the top position. He has devastating ground-and-pound and has ended fights like this on numerous occasions.
Advantage: Aldo
Submissions/Submission Defence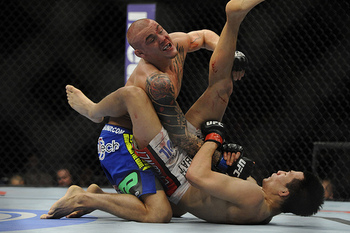 Rafael Suanes-US PRESSWIRE
Despite being a jiu-jitsu black belt, Jose Aldo only has three submissions in his 21-fight career.
His only loss is also a submission.
Admittedly, that was seven years ago, but Aldo's standup and takedown defence means he's rarely had to face a significant threat on the ground.
Chan-Sung Jung, on the other hand, has some of the best submissions to his credit in the whole of the division.
His "twister" against Leonard Garcia last year night won Submission of the Year, and that was just one of four submissions in his last eight fights. All of those demonstrate his technical brilliance on the ground and his ability to seamlessly transition from one hold to another.
Advantage: Chan-Sung
Athleticism
From http://www.ufc.com
Admittedly, neither fighter has the most enviable cardio.
Jose Aldo, mainly due to how explosive he is, runs out of gas all too quickly for a champion.
But then Chan-Sung Jung is no cardio machine, either. He fights at a furious pace and in later rounds looks decidedly weakened.
However, Aldo's anaerobic capacity, strength and explosiveness are second to none.
He can control fighters much bigger than him and throw strikes at lightning speed. He can match Chan-Sung for pace and then some.
As far as pure athleticism is concerned, Aldo will be more than a handful for Chan-Sung.
Advantage: Aldo
Variables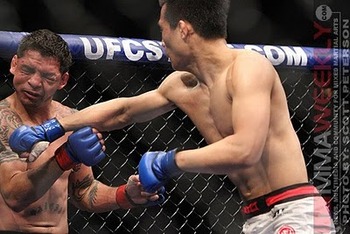 From http://blog.mmaratings.net
For Chan-Sung Jung, his heart and ability to brawl is key.
Jose Aldo doesn't acquit himself well when being pushed, so the Korean Zombie will need to force the pace and back the champion up.
He will also need to take him down.
This may be a tall order in the opening rounds of the match, but if he can take the Brazilian into the championship rounds, Chan-Sung could turn the match in his favour.
The Korean has a distinct reach advantage and could push Aldo back up against the cage and pick him off, as long as he can prevent Aldo's clinical counter-strikes.
Aldo could feasibly finish this match early. He has an ability to keep the fight standing against the best, and he can do so against The Korean Zombie. With neat footwork and counter-striking, Chan-Sung's legendary chin may not stand up too well.
There's also only so many leg-kicks any man can take, and there's every chance Aldo could drop him on his back.
That's not a position the Korean wants to be in. Aldo has a great top game and could finish the fight from the top if it goes there.
Prediction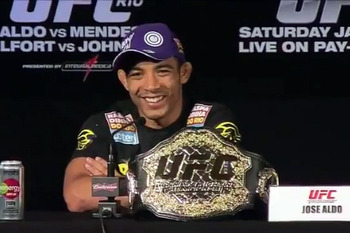 From http://www.5thround.com
Chan-Sung Jung may have pushed himself to the top of the deck with his submission victory against Dustin Poirier, but whether that makes him ready for Jose Aldo is a completely different matter.
Aldo has a remarkable ability to stuff a takedown and is without equal on his feet.
The match will turn on Chan-Sung's ability to push the pace, but ironically, it's this forward momentum that could land him in trouble.
Whether he can protect himself against Aldo's attack while pushing forward and wear him down into the later rounds will decide which way the match goes.
Prediction: Jose Aldo, TKO second round
Keep Reading