Holly Sonders: Golf Channel Hottie Seriously Engaged to Erik Kuselias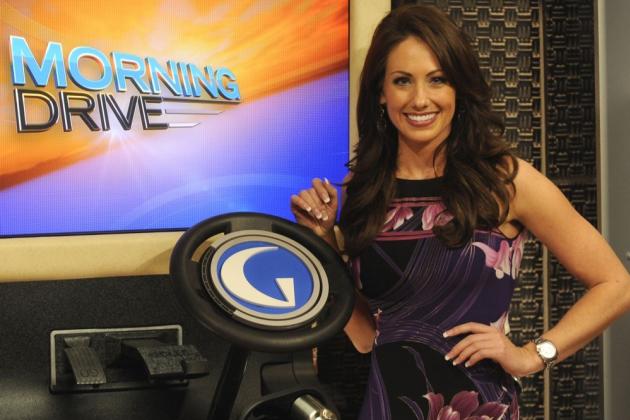 Photo Credit: Busted Coverage
It's a great day to be Erik Kuselias, because he is engaged to the best thing to come out of the Golf Channel. It's also a nifty day to be you, because we break it all down with a Holly Sonders slideshow.
Look at you lucking into the best thing on the Internet machine today.
Don't worry about pinching yourself because this is all very real. That goes for Erik Kuselias too, a man that continues to find fortune no matter what he steps in.
Busted Coverage's Jay Koot reports the two are now engaged as well as that Kuselias has been reassigned from his gig with Morning Drive over at the Golf Channel.
The damage has been done as he is now set to marry his beautiful former co-host.
Let's breakdown all that is Sonders, Kuselias and a marriage that we rather not believe is actually about to happen.
Begin Slideshow

»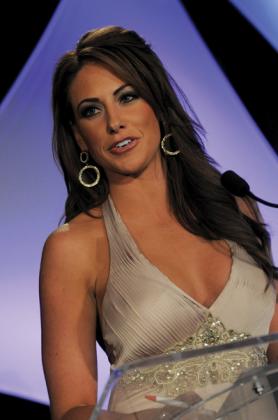 Photo Credit: Busted Coverage
Holly Sonders: She is a 25-year old host of Morning Drive and Golf School on the Golf Channel.
Erik Kuselias: He is a 42-year old former ESPN analyst, and now former co-host of Morning Drive. According to Wei Under Par, the card-carrying MENSA member, may already have his next gig all lined up.
To be clear, Kuselias, a former ESPN personality whose contract wasn't renewed in 2009, was not fired, according to Golf Channel spokesperson Dan Higgins.

"Erik has been working with the NBC Sports Network and been on assignment with 'NBC Sports Talk,' where he's done a great job, so his focus is being shifted to that, instead of Morning Drive," said Higgins via phone.
So he gets involved in a relationship with a co-host, something that seems to be frowned upon, and then lands on his feet.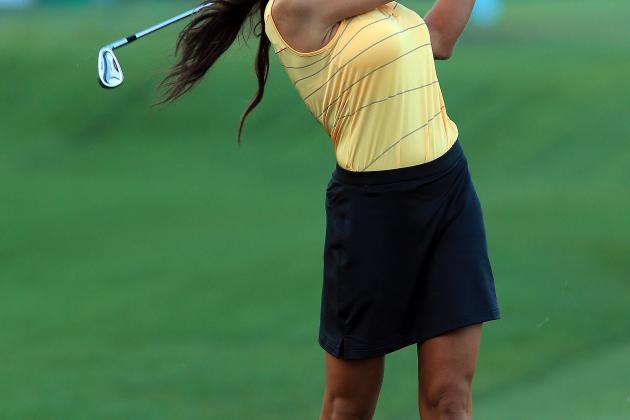 David Cannon/Getty Images

By now you may have noticed this will be a little light on the Kuselias' pictures. I hope you will forgive me in that regard.
For those uninitiated, there is reason to be puzzled by these turn of events.
Deadspin ran a report back in 2009 entitled, ESPN Horndog Dossier: Erik Kuselias.
That's where a few things were brought to light about the then-ESPN employee that painted a pretty lame picture. Among the highlights is a drunk Kuselias offering to a fellow ESPN employee, "I would like to (expletive) you."
The second highlight to this reel is that Kuselias was married at the time.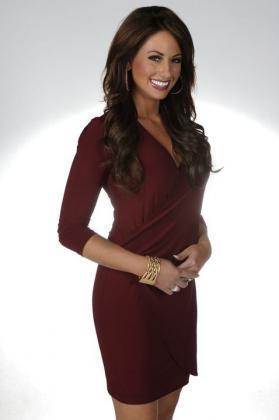 Photo Credit: The Big Lead
Let's continue our tirade on Kuselias for just a moment longer. Then we can properly enjoy the remaining Sonders pictures like God intended.
The Stephanie Wei report reminds us that this "reassignment" is actually something of a promotion to NBC Sports.
The opportunity is not lost on the TV personality who lands with both feet firmly on the ground.
The follow tweet comes courtesy of Kuselias' Twitter feed:
Thx @golfchannel & @GCMorningDrive! I may be moving up to CT to host @NBCSportsTalk but I won't forget my NBC/golf channel family roots!

— Erik Kuselias (@fantasyEK) May 13, 2012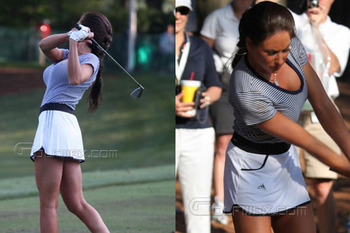 Photo Credit: Busted Coverage
We shall cease and desist with all of our ranting and raving, because it's obvious that this beauty is quite taken with the suave Kuselias.
It doesn't take a MENSA member to see what he sees in her. The two have apparently been living together since last December, according to Wei.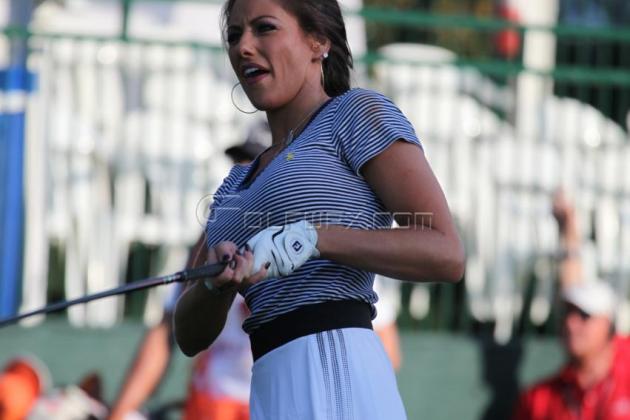 Photo Credit: Busted Coverage
Apologies to all you nice guys and worthwhile bachelors out there, because this lady that is engaging, intelligent and athletic is off the market.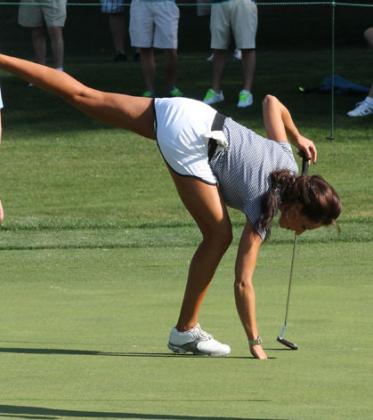 Photo Credit: Busted Coverage
I have done a great deal of soul searching to find an admirable reason to include this picture of Sonders picking out her golf ball.
I will let you know if I find one.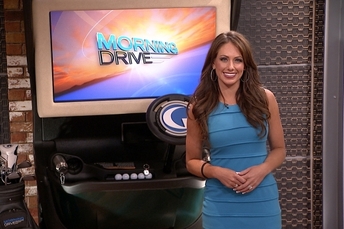 Photo Credit: Holly Sonders
We need to change the tone of this article from the sad and somber mess it has become. I mean, it's not like Sonders is going anywhere.
Sure we don't like the beauties to get down with the boorish frat guy, but such is life. We will still enjoy Sonders as she sashays on the TV box.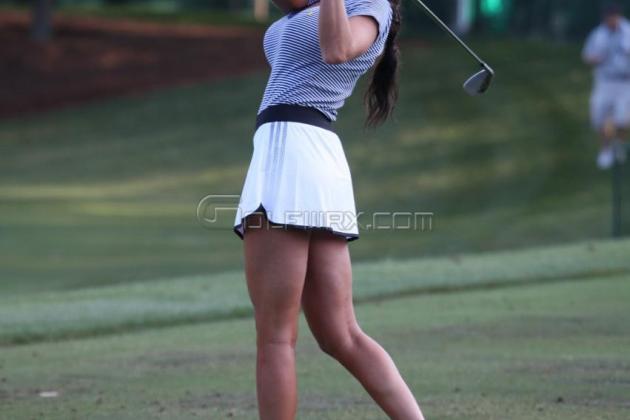 Photo Credit: Busted Coverage
Here is yet another gratuitous shot that I am sure will light up your day and carry you well into the evening drive.
At least, I know it did that for me.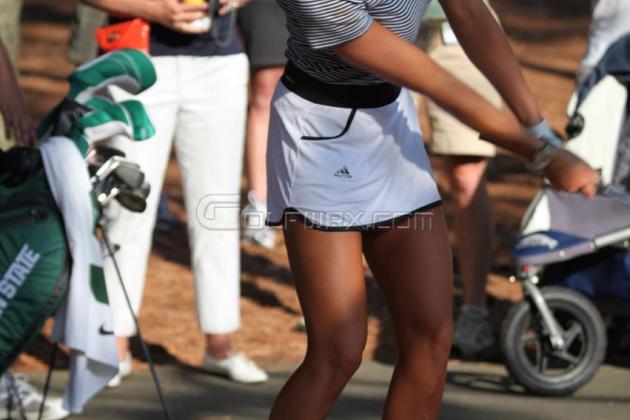 Photo Credit: Busted Coverage
After a few slides to get used to the idea, we would now like to offer our sincerest congratulations to the wonderful couple.
I am sure there will be decades and decades of marital bliss. I will go ahead and guarantee it.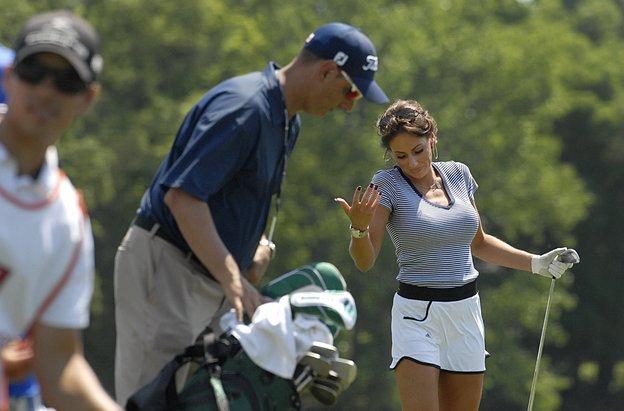 Photo Credit: Busted Coverage
This pretty much encapsulates how I feel about the whole story.
I hope you enjoyed our little jaunt through a love story so pure that Disney should have filmed it. Let us know what you think in the comments.
Follow me on Twitter and we can all fight over pogs.